Mission Adventure 2010--Daily Journal
Day 13, Monday, July 19th
Mission Trip to Towaoc, CO
Ute Mountain Ute Indian Reservation
July 7-July 20, 2010
Latest update: 07/25/2010.
Team Members: (from JUMC) Paul Rogers, Teresa Rogers, Jim Starkey, Connie Starkey, Tammy Sue Moore, Paul Hoffman, Anita Hoffman, Steve Mann, Gary Buss, Becky Buss, Debra Beehler, Micah Rogers, Mariah Rogers, Caitlyn Wenger, Sarah Miller, Augie Farwig and Maggie Farwig.
Team Members: (from Sunnycrest UMC in Marion, IN) Ronda Huston, Angel Rea, Jack Wood, Connie Wood, Heather Huston and Lizzie Wood.
Day 13, Monday, July 19th
Day 13 started out as a normal day. Typical Midwest weather of high humidity that we are used to having in Indiana. A sharp contrast to the 10%-20% humidity we had in Cortez.
Our planned activity for today was to visit the Gateway Arch in St. Louis, Missouri in the afternoon before supper. But, as we neared St. Louis, we encountered some difficulties. First traffic started backing up due to a traffic accident. As we were sitting in the traffic, our driver of the "white van", Jack, noticed the battery gauge was dropping. We notified the "gold van" and they advised us that they were hearing a lot of brake noise. Super hot and now this.
A quick check on the laptop found us a car parts store within a few blocks of our location. As suspected, the alternator was bad. The car parts store directed us to a repair shop and we held our breath as all the lights on the dash started lighting up. We found the repair shop. They were able to fix us up within a couple hours and we were on our way to find the "gold van". While the "white van" was being fixed, the "gold van" had located a shop to replace their front brakes. We thank the repair shop owner and workers for their professionalism and dedication. We arrived late in the day but they took the time, even overtime, to help out-of-town strangers.
Unfortunately, we missed out on our visit to Gateway Arch, but God had been with us throughout this ordeal. Before leaving for our motel in Illinois, we had a great supper buffet.
Next stop, Pontoon Beach, Illinois just across the Mississippi River. The only photo for the day was this little "lighthouse" as we crossed the Mississippi.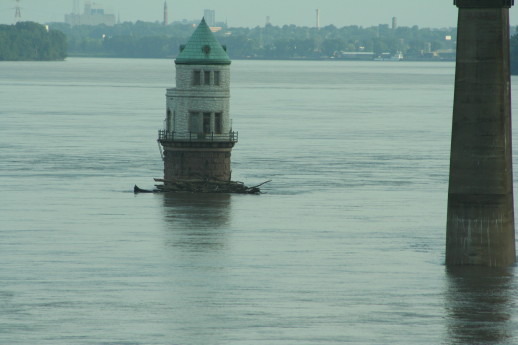 ***Jump To Another Day***
Day 1 Day 2 Day 3 Day 4 Day 5 Day 6 Day 7 Day 8 Day 9 Day 10 Day 11 Day 12 Day 13 Day 14