Mission Adventure 2010--Daily Journal
Day 11, Saturday, July 17th
Mission Trip to Towaoc, CO
Ute Mountain Ute Indian Reservation
July 7-July 20, 2010
Latest update: 07/25/2010.
Team Members: (from JUMC) Paul Rogers, Teresa Rogers, Jim Starkey, Connie Starkey, Tammy Sue Moore, Paul Hoffman, Anita Hoffman, Steve Mann, Gary Buss, Becky Buss, Debra Beehler, Micah Rogers, Mariah Rogers, Caitlyn Wenger, Sarah Miller, Augie Farwig and Maggie Farwig.
Team Members: (from Sunnycrest UMC in Marion, IN) Ronda Huston, Angel Rea, Jack Wood, Connie Wood, Heather Huston and Lizzie Wood.
Day 11, Saturday, July 17th
Day 11. The week was a busy one but has gone quickly. Our work in Towaoc is done...at least for now.
We not only left memories behind for the people of Towaoc, but we left them a quilt wall hanging for their church. Anita organized this project and, along with her helpers, put in a lot of time during the week to put this quilt together.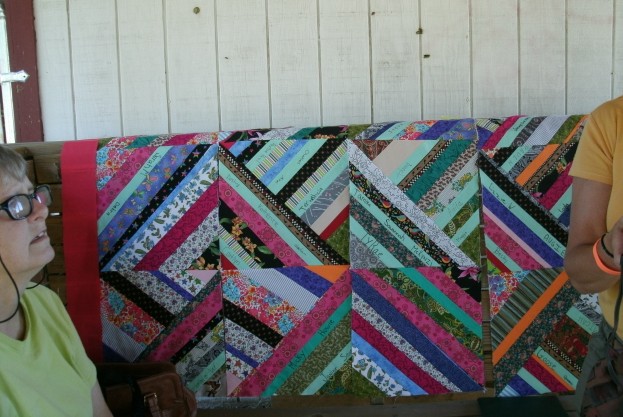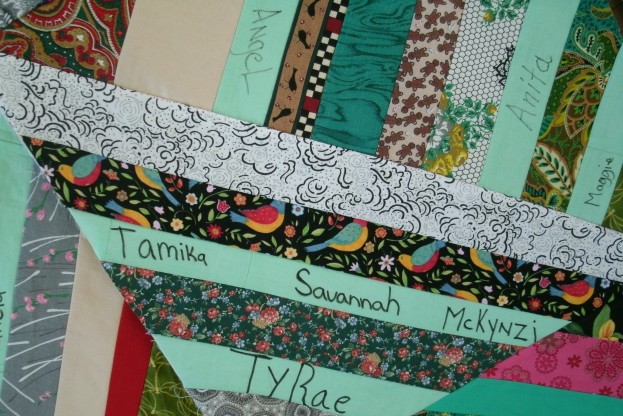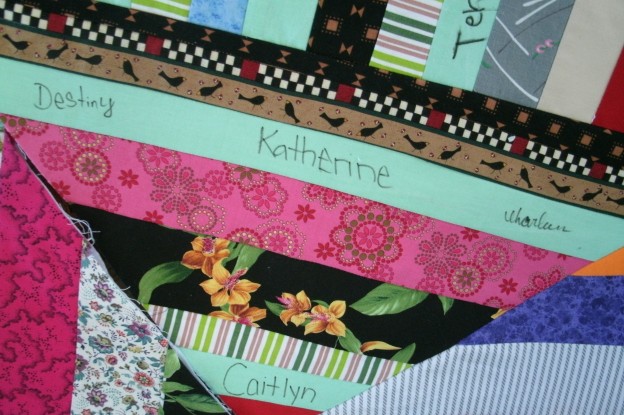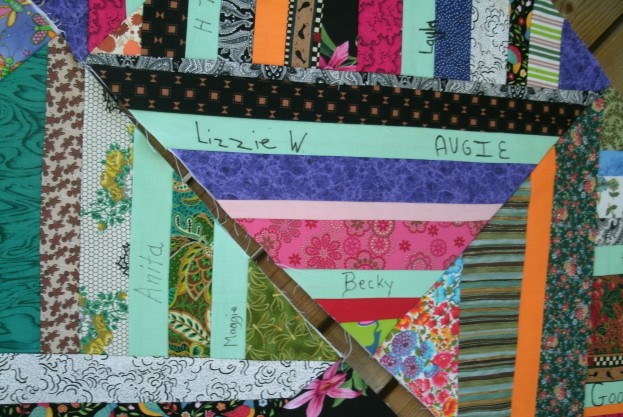 Early to rise for our journey back to Indiana. Our journey back took us through some back roads of southwest Colorado on our way to Colorado Springs where we would spend the night at a KOA. God's creation of our great country was again revealed to us. The winding and steep roads took us to our highest elevation of 11,312 ft. at Monarch Pass, CO. The views were breathtaking. The Blue Mesa Reservoir was an awesome sight. This reservoir stretched well over 30 miles as we followed it upstream.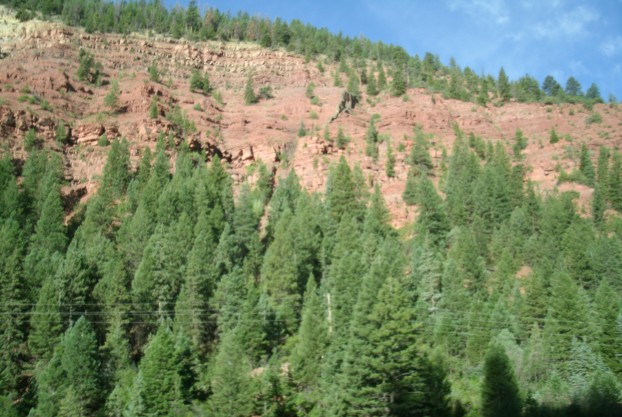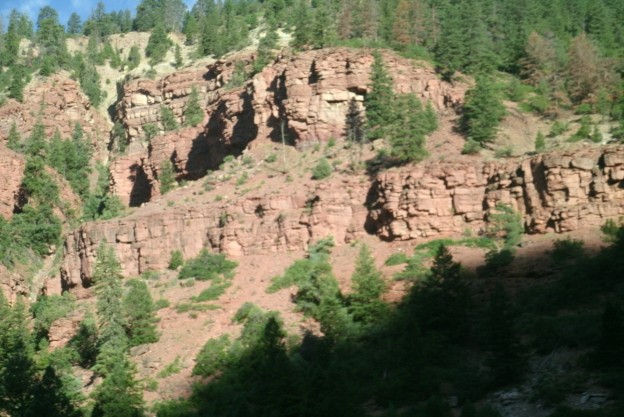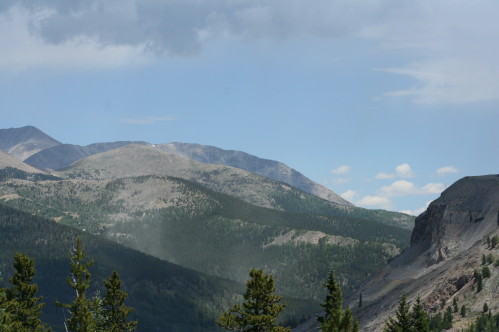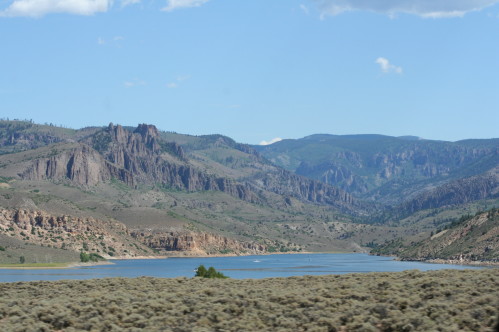 In Colorado Springs, we went to the Flying W Ranch for a Chuckwagon Dinner. But first, we browsed the shops. After dinner, we were entertained by the Flying W Wranglers with their country music. They also had a great sense of humor with a bit of comedy added to their performance.
Mission Team at the Flying W Ranch. Mariah and Lizzie relax before dinner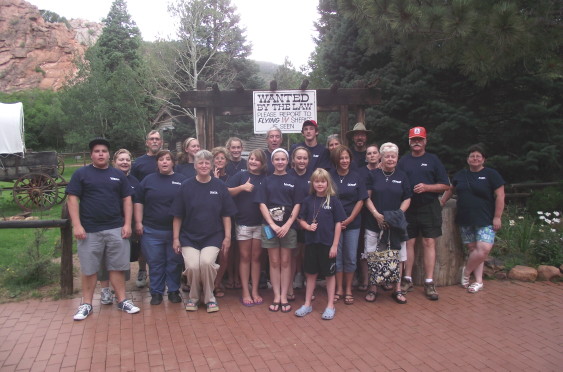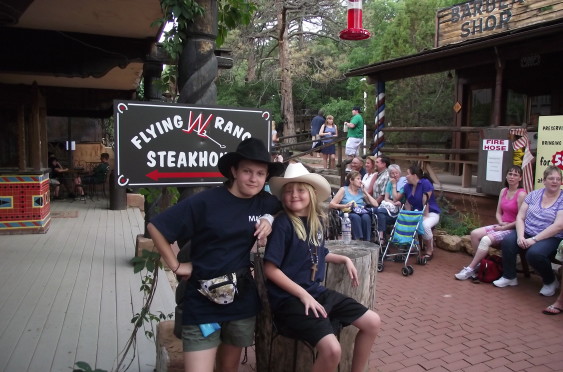 Waiting for the dinner bell. Worth the wait. One of the Flying W Wranglers singing.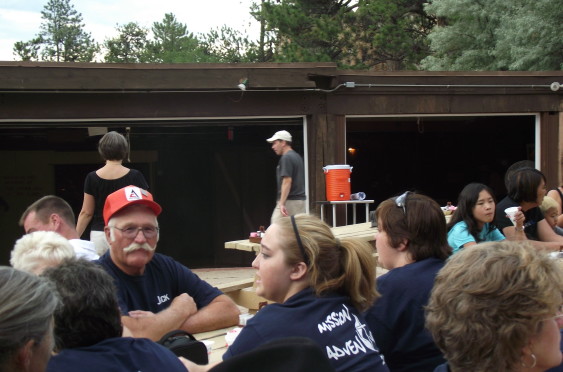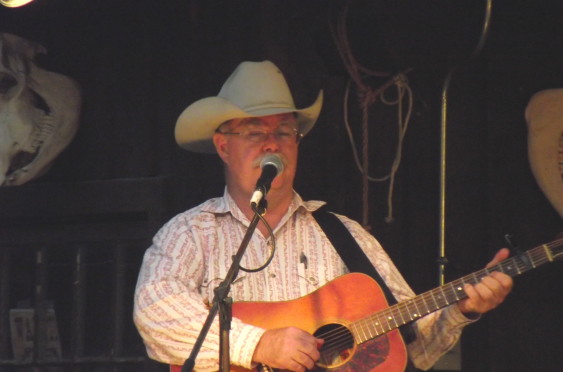 ***Jump To Another Day***
Day 1 Day 2 Day 3 Day 4 Day 5 Day 6 Day 7 Day 8 Day 9 Day 10 Day 11 Day 12 Day 13 Day 14