2014 Vacation Bible School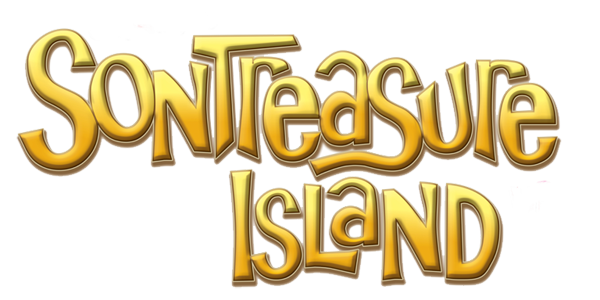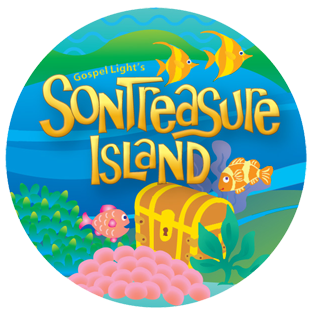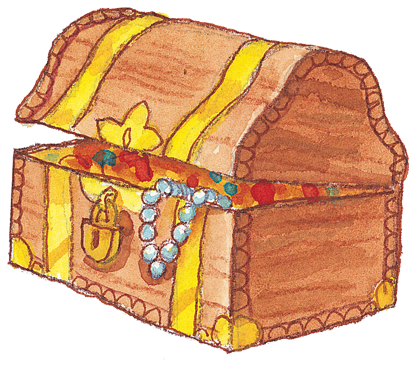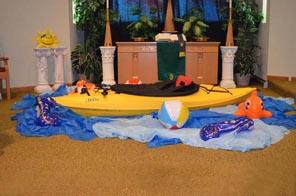 The 2014 Vacation Bible School began on Sunday evening, June 22nd with Registration.
Registering the children are Geneva Cook, Becky Metcalf and Nancy Miller.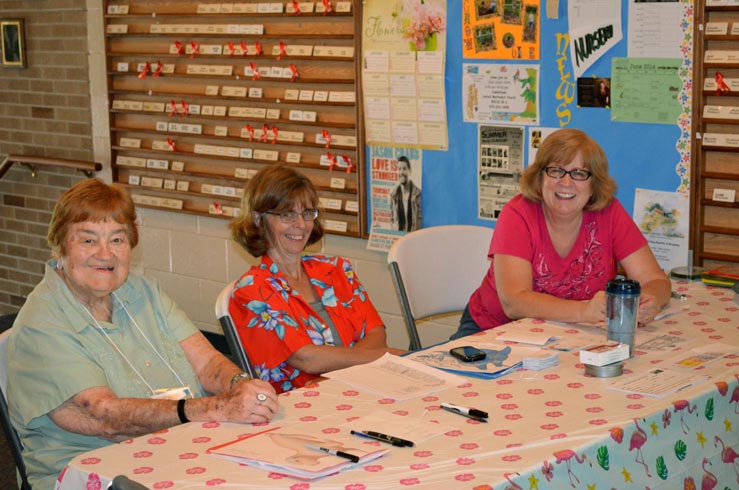 After registration and the beginning of each day,
the children were provided a light meal before starting their evening activities.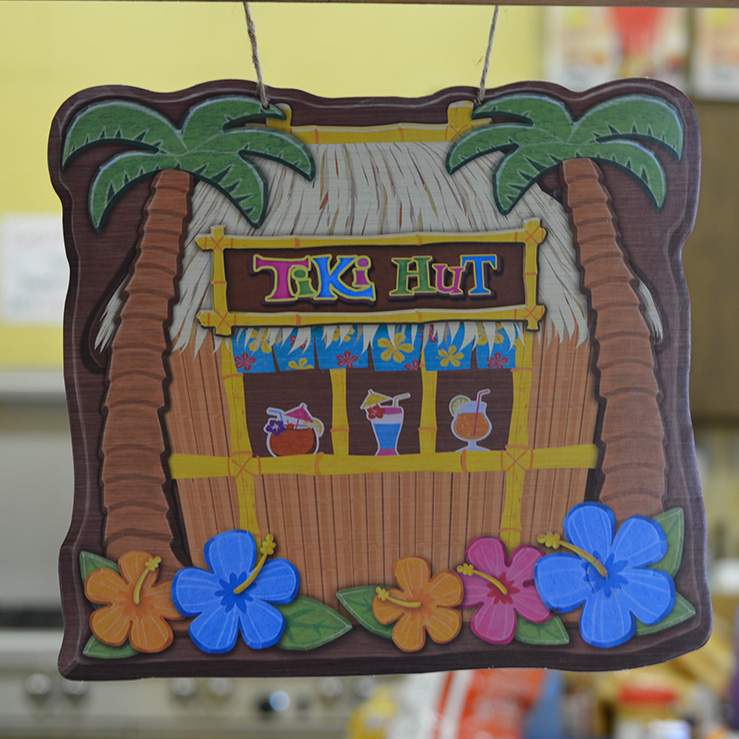 Jill, Connie, Rita & Mariah prepare to serve the children.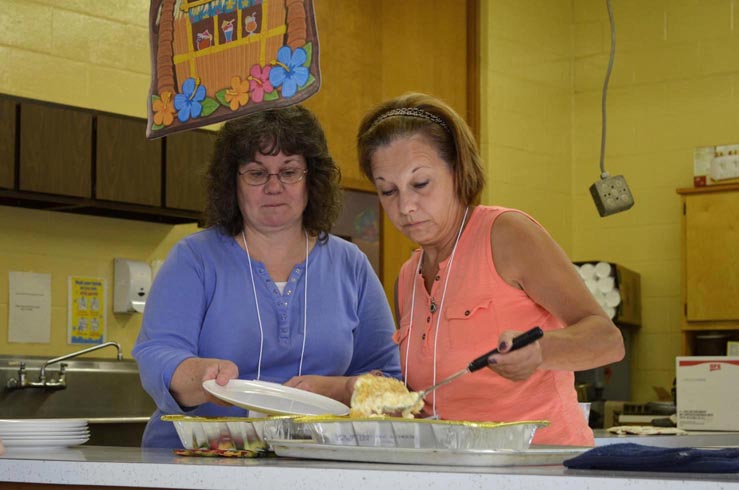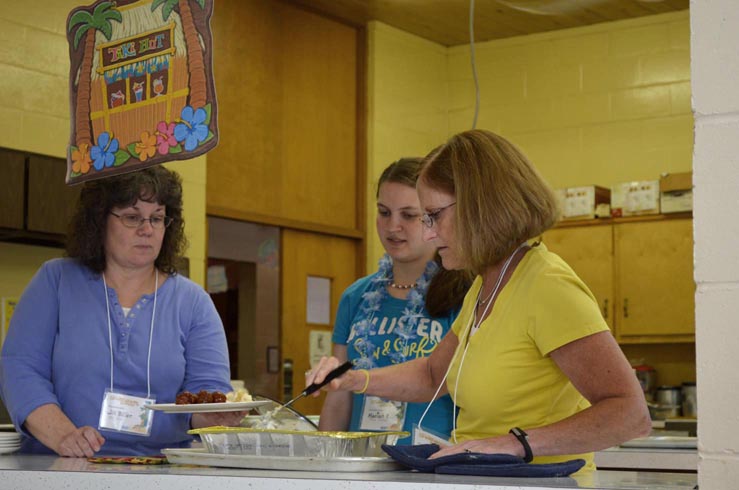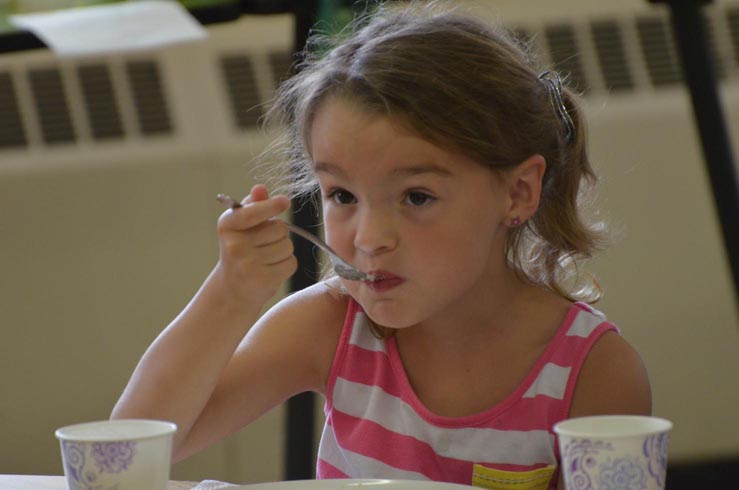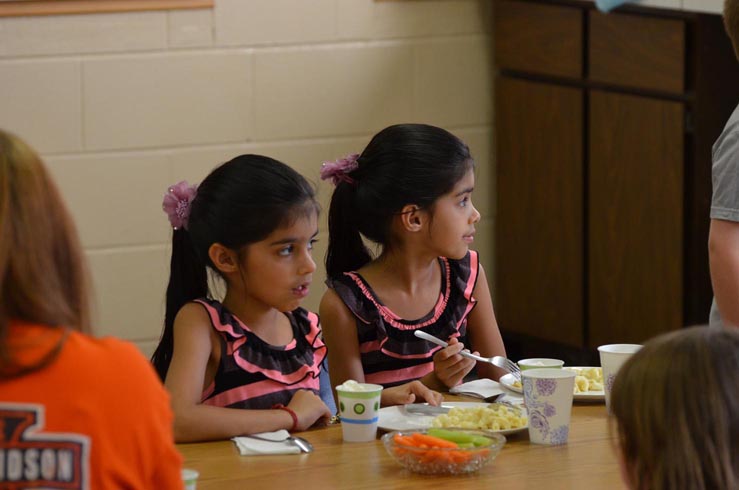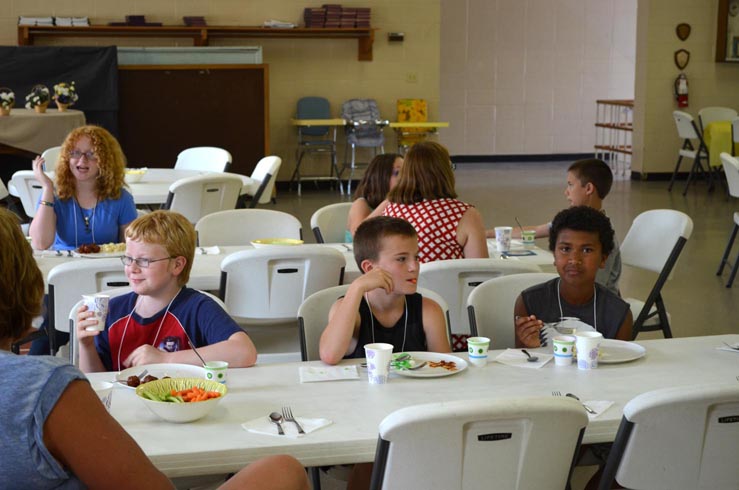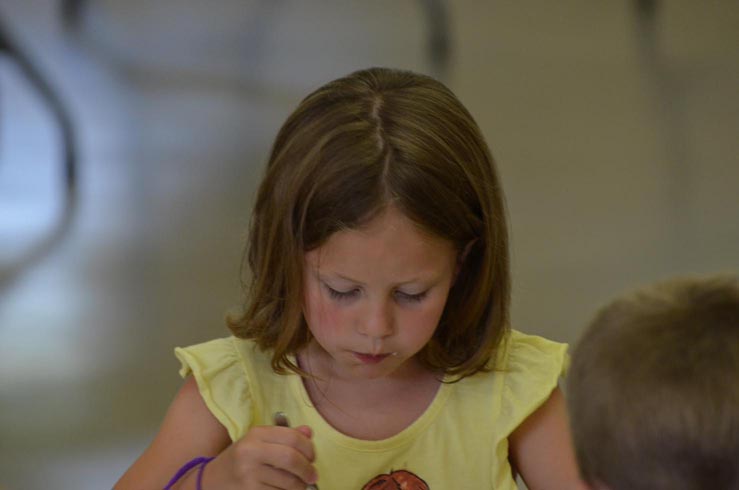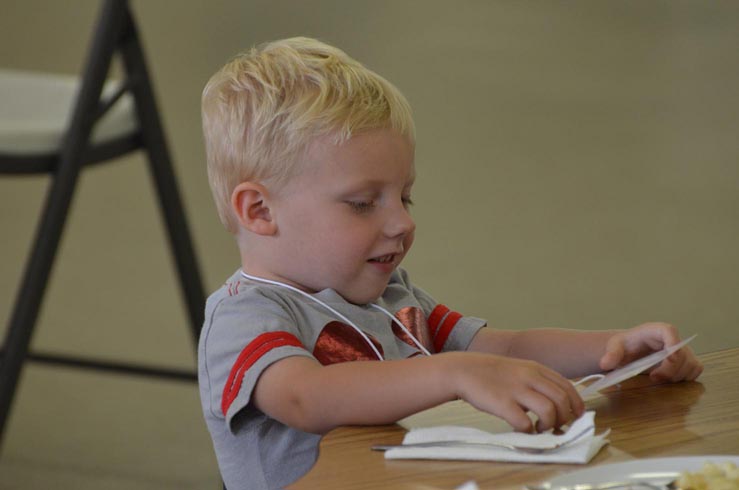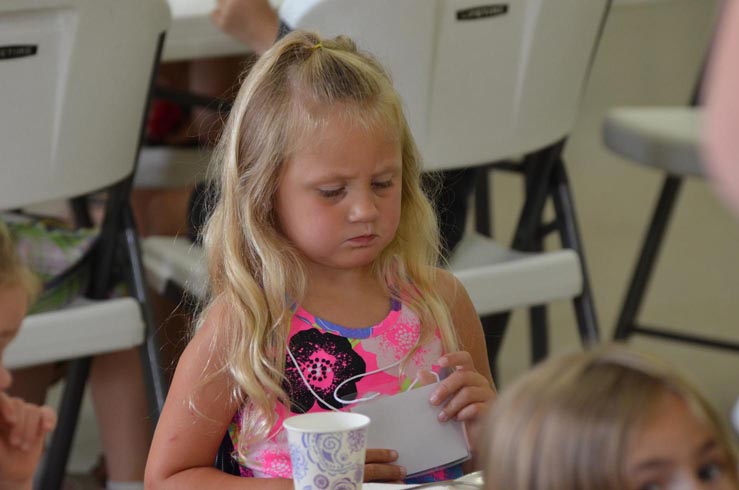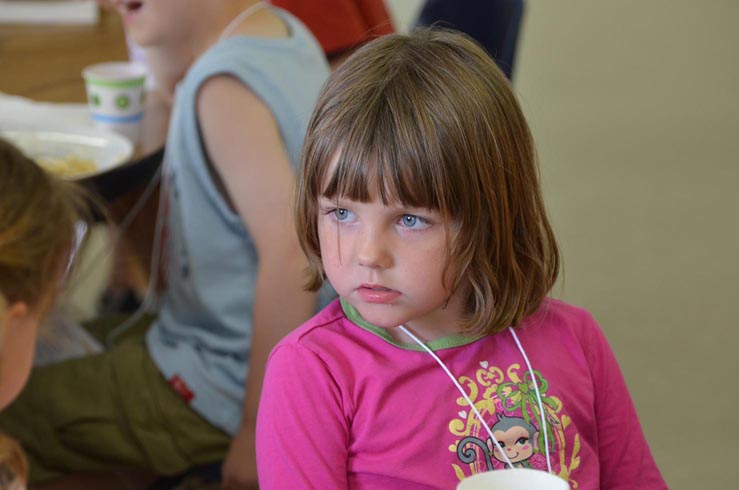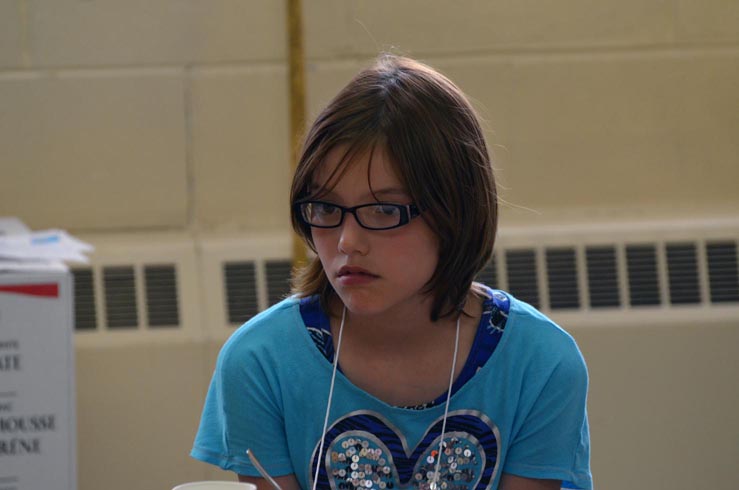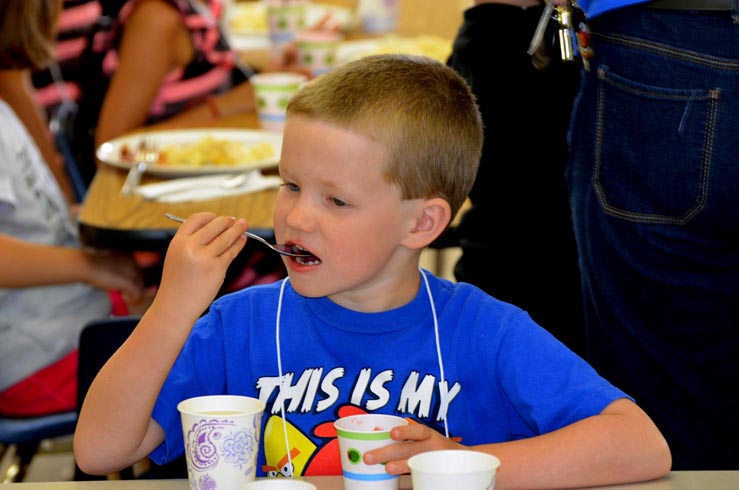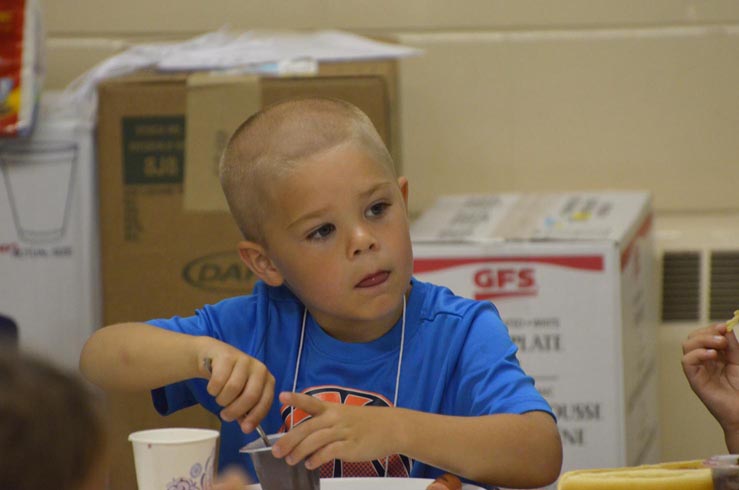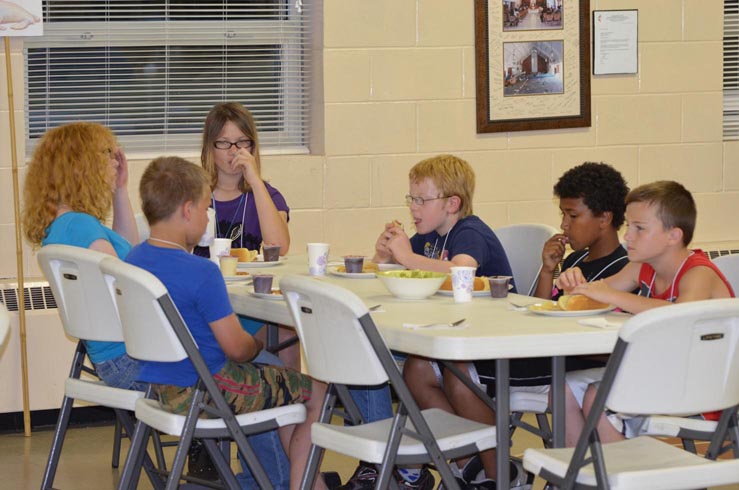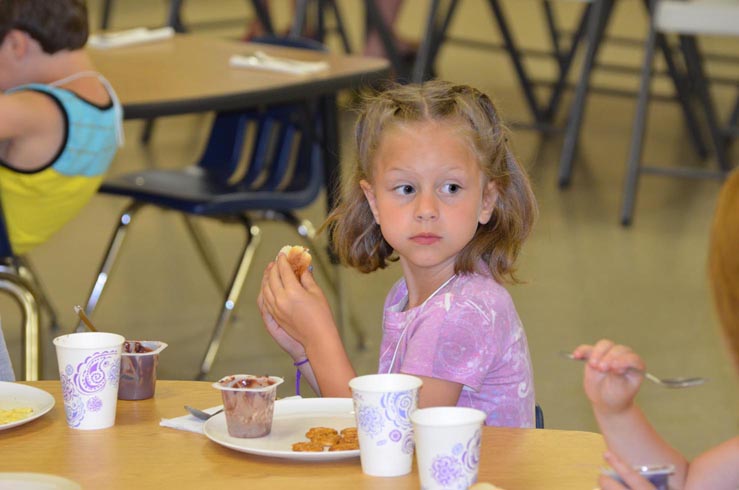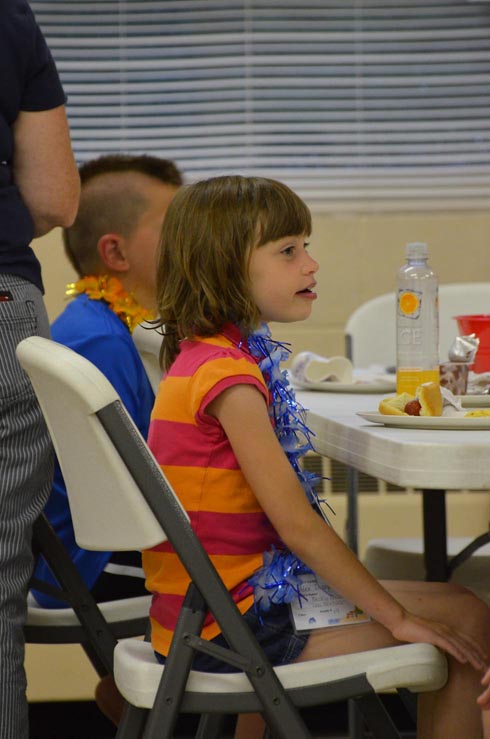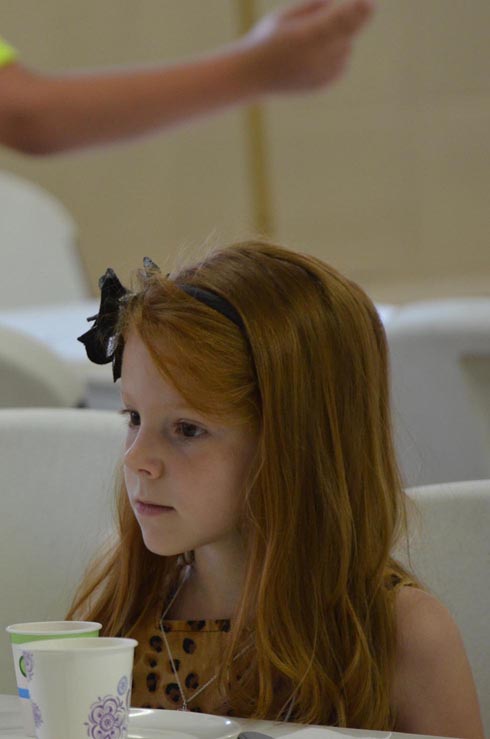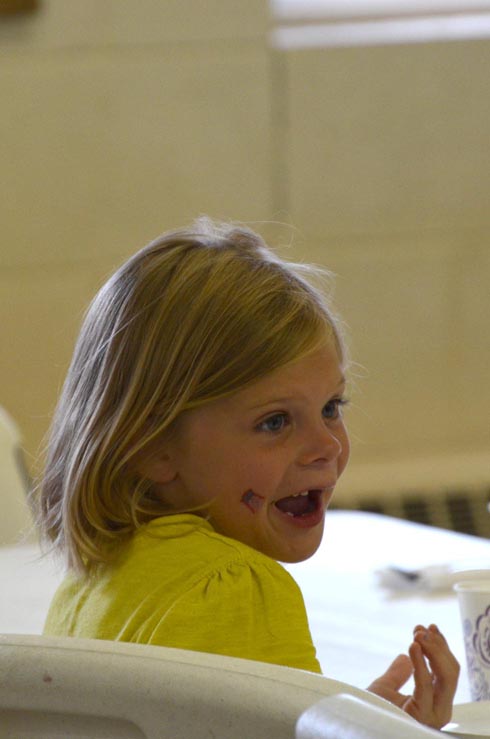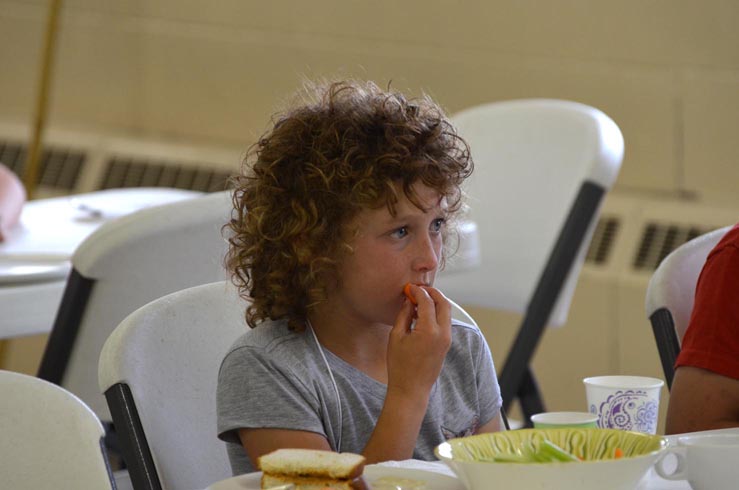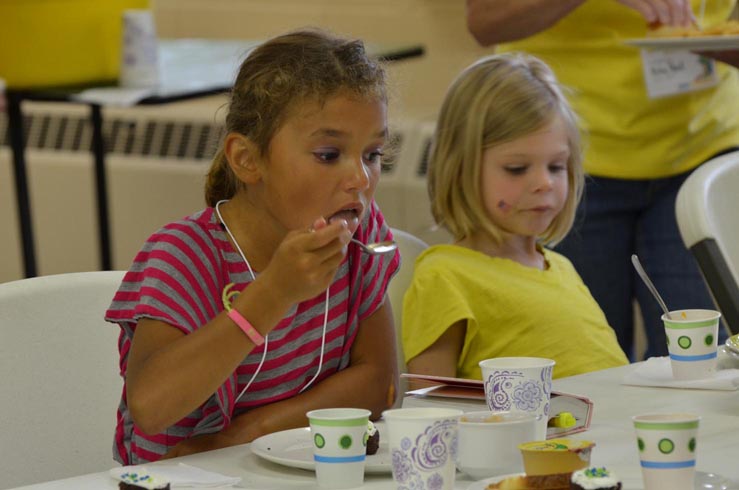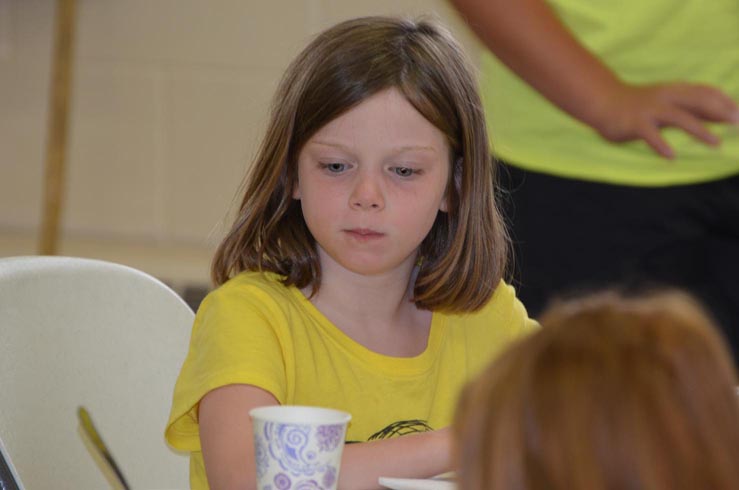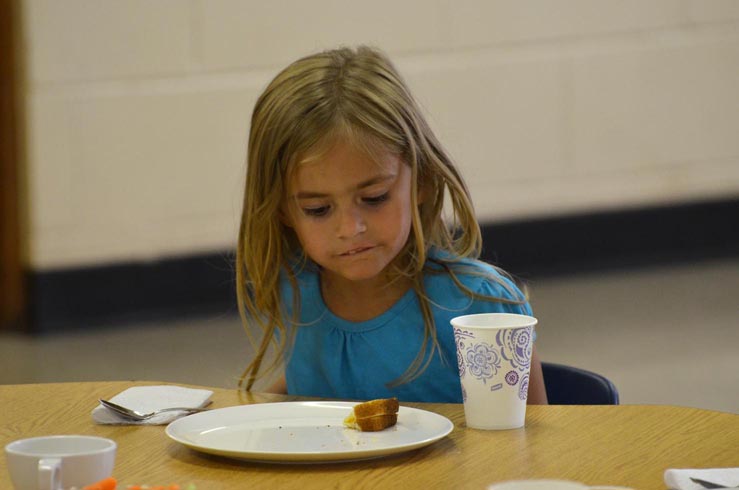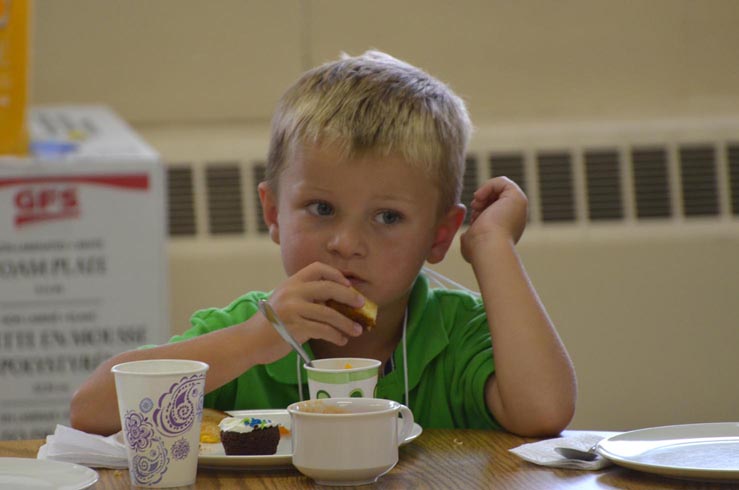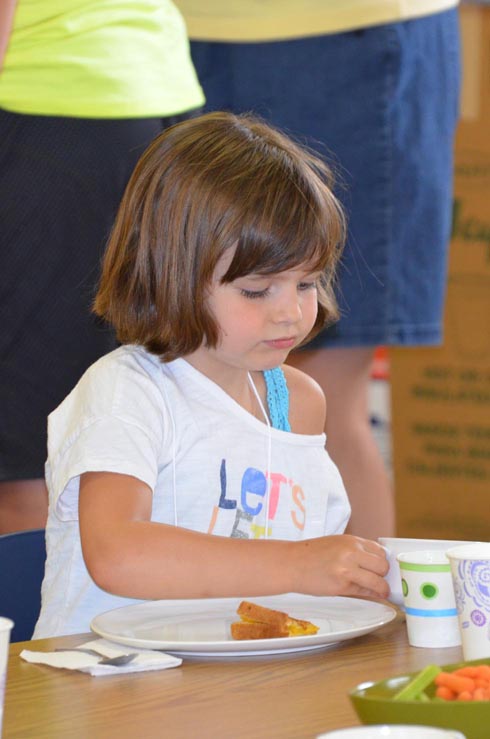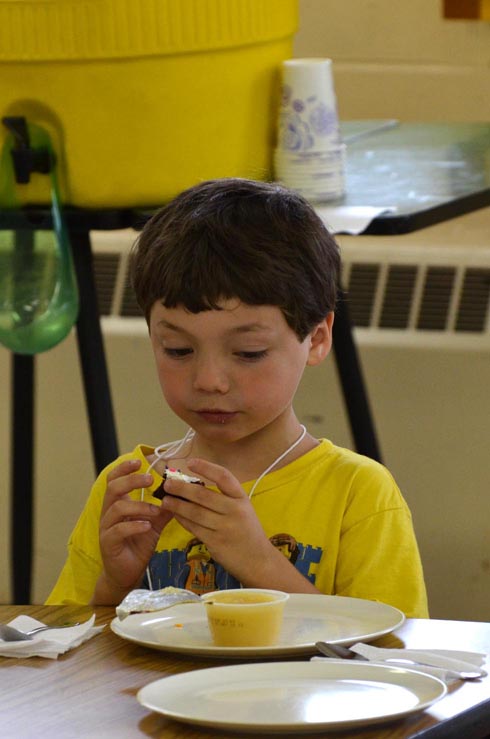 Maggie, working as Assistant Director for her DECA project,
opened each evening with prayer and the daily Scripture.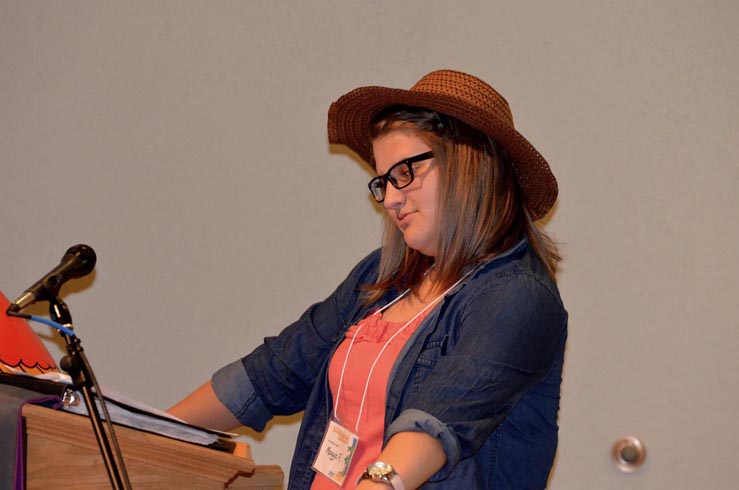 The main Bible Theme for the week was 1 Corinthians 13.
Each day had a specific topic relating to 1 Corinthians 13 and 1 John 4:9.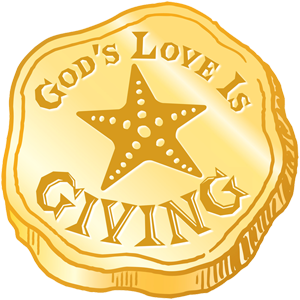 Day 1 focus was "God's Love is shown in Jesus".
This was further emphasized by the Bible verse from 1John 4:9.
"This is how God showed his love among us: He sent his one
and only son into the world that we might live through him."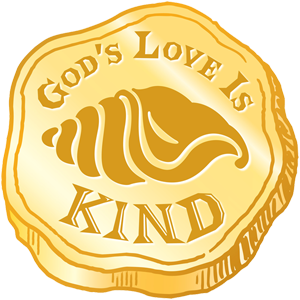 Day 2 focus was "God's Love is kind and patient".
The Bible verse for today was from 1 Corinthians 13:4.
Love is patient, love is kind. It does not envy, it does not boast, it is not proud."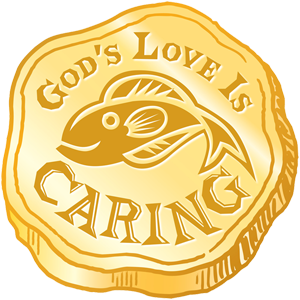 Day 3 focus was "God's Love is for everyone".
The Bible verse for Day 3 was from 1 Corinthians 13:5.
"Love is not rude, it is not self-seeking."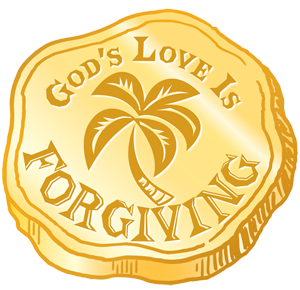 The focus for day 4 was "God's Love is forgiving".
The Bible verse was from 1 Corinthians 13:5-6.
"Love is not easily angered, it keeps no record of wrongs
Love does not delight in evil but rejoices with the truth."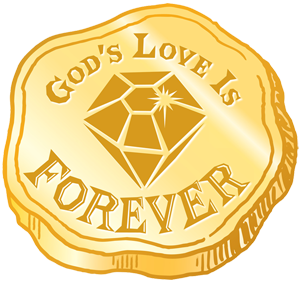 And finally for day 5, the focus was "God's love never fails".
The bible verse for the final day was from 1 Corinthians 13:7-8.
"Love always protects, always trusts, always hopes, always perseveres.
Love never fails".
The children learned about each day's focus in
Classes, Crafts, Songs, Skits, Stories and Games.
Singing
The learning began each day with songs and skits provided by the Jamestown Youth Group.
Mariah & Alaina led the children in singing.
(Video may load slowly depending on your Internet connection.)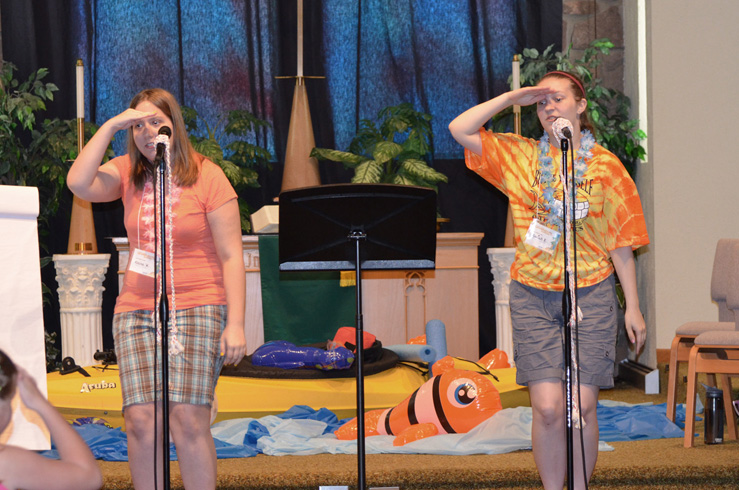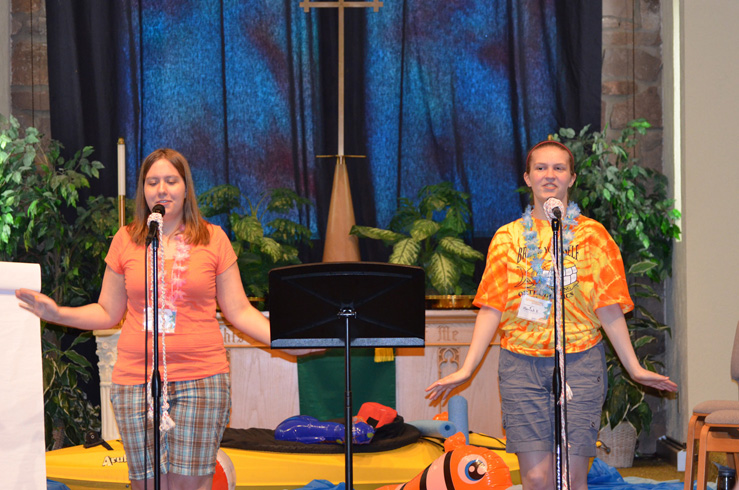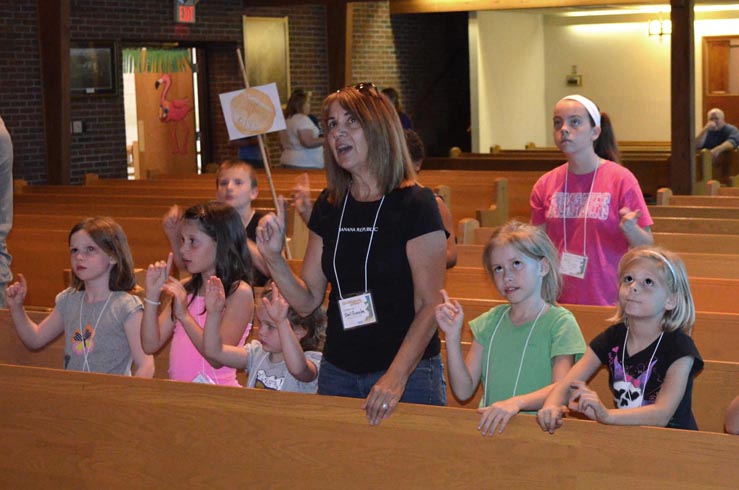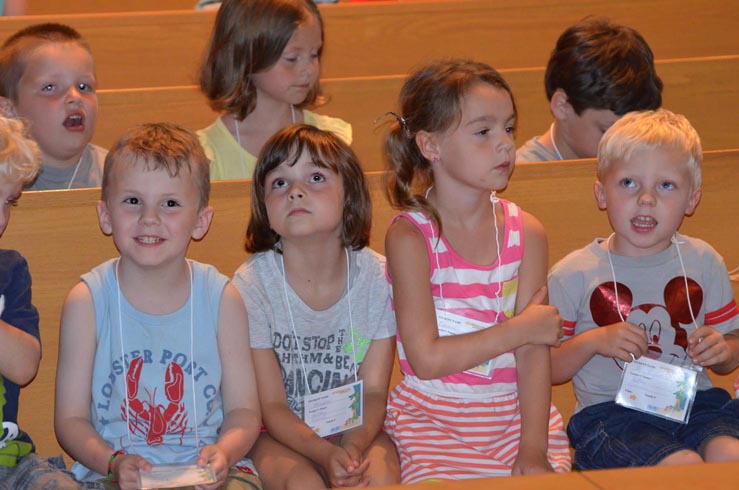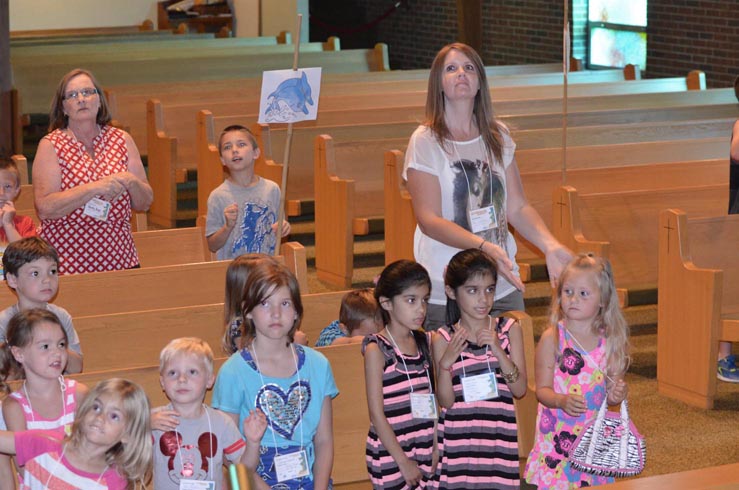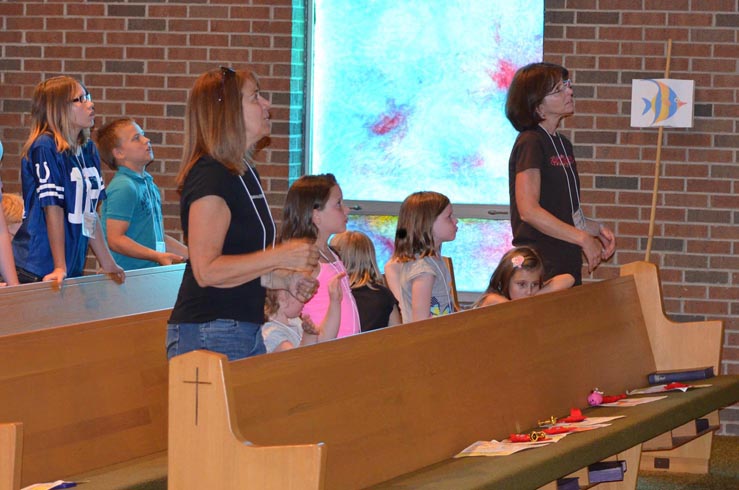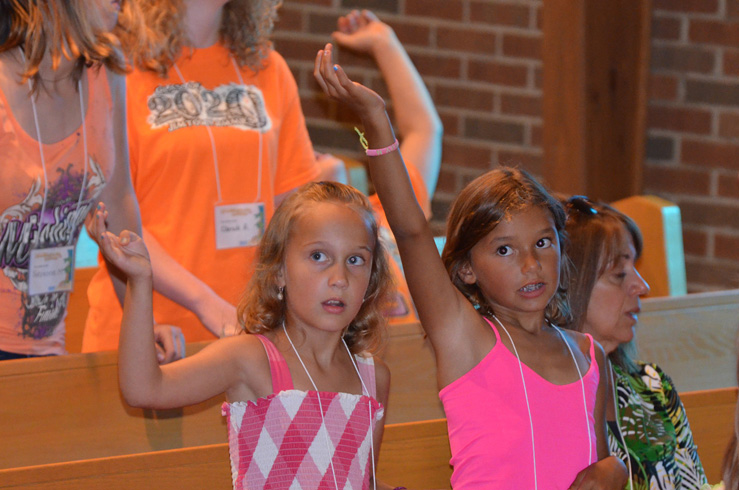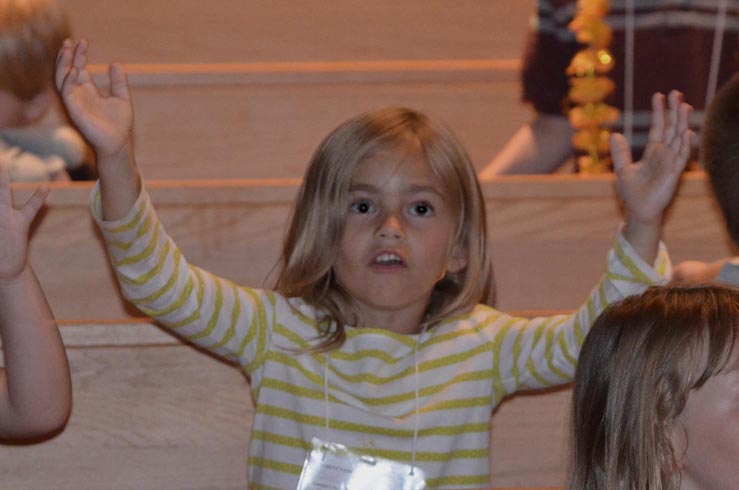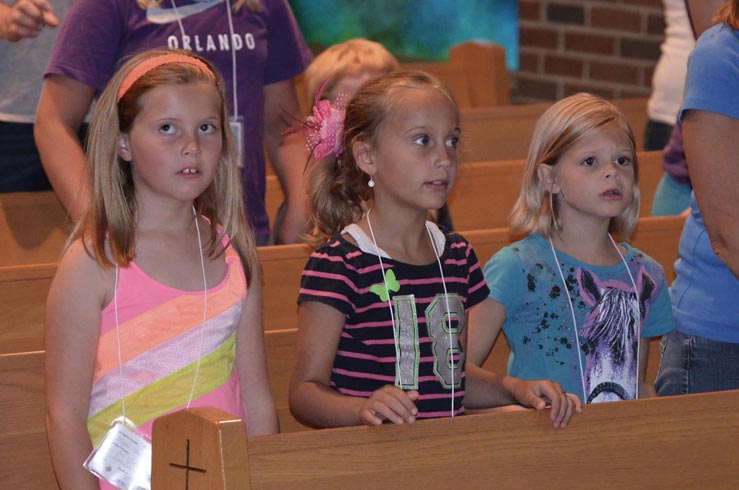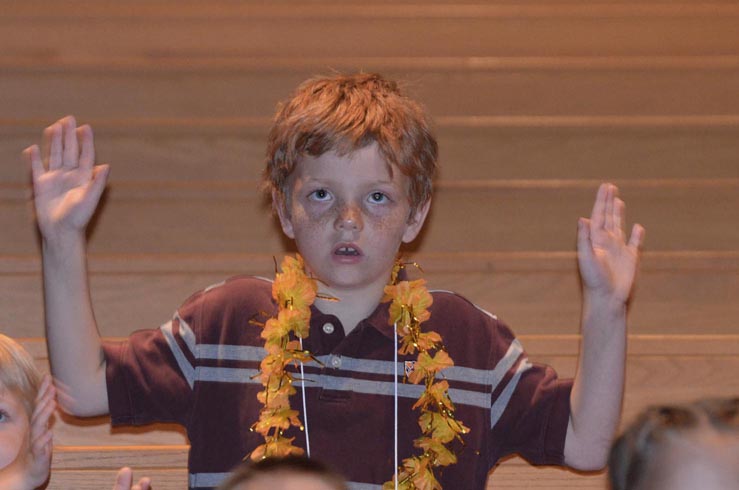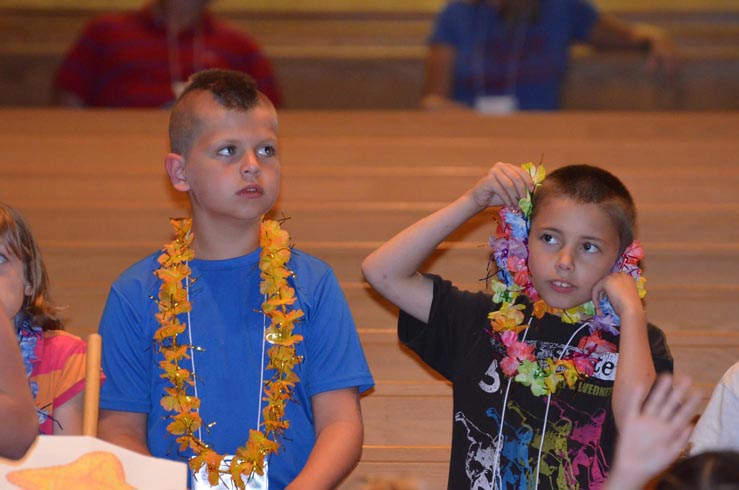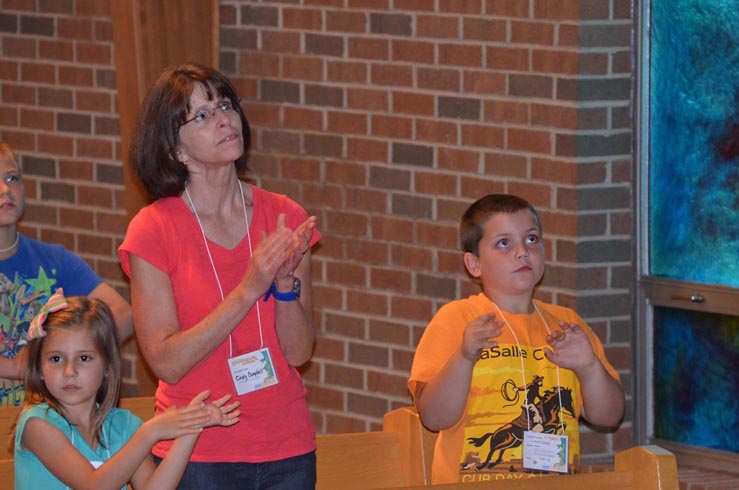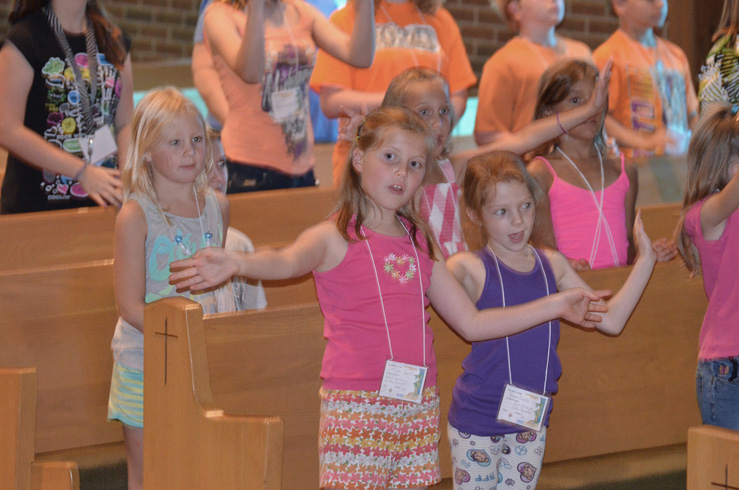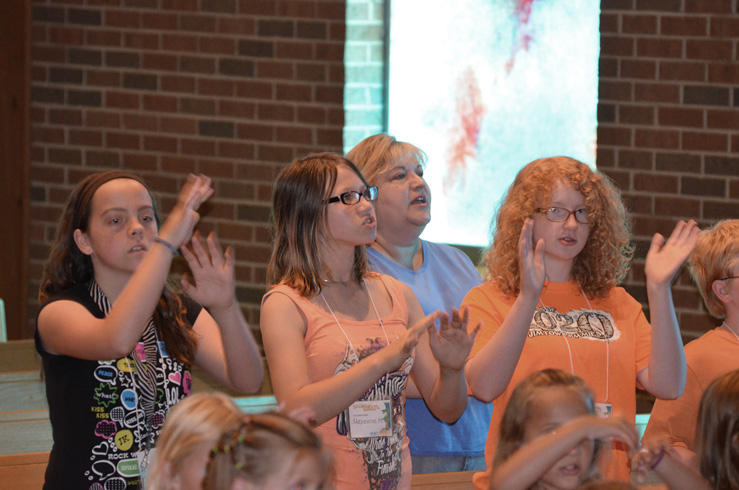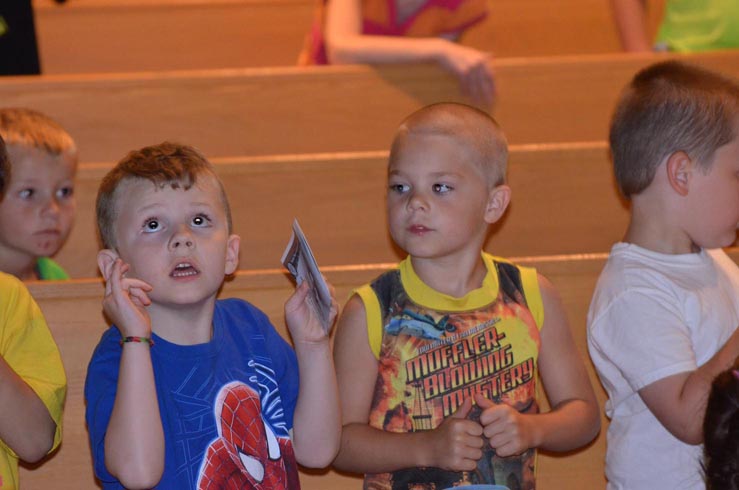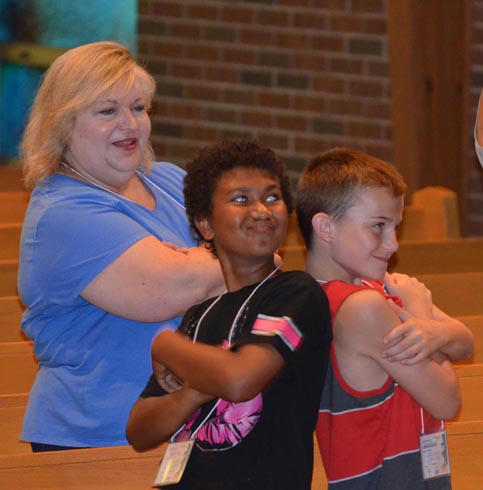 Daily skits were performed by members of the Youth Group.
From left to right; Abby, Brandon, Alaina, Katie, Jacob B. (back),
Maggie (seated), Rachel, Mariah, Paige & Carlee.
Absent: Jacob K.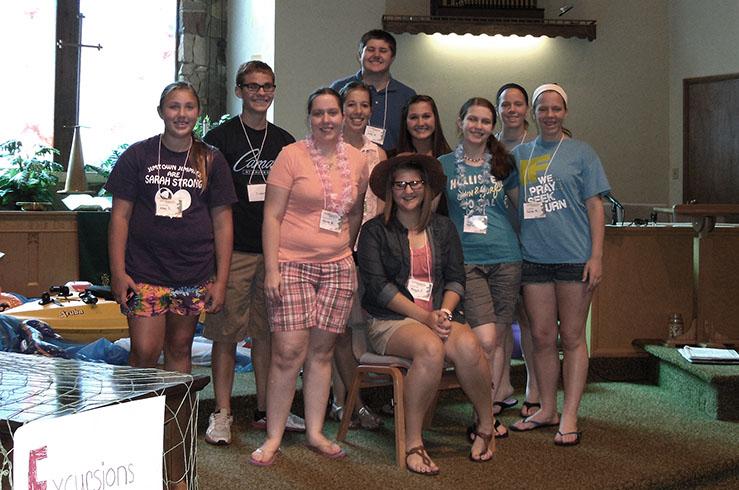 Day 1 - Better to Give
It's Captain Cooky's birthday! Coco, Krumbs and Pearl are giving him a surprise. But how surprised will these island friends be if they discover Pearl's big secret?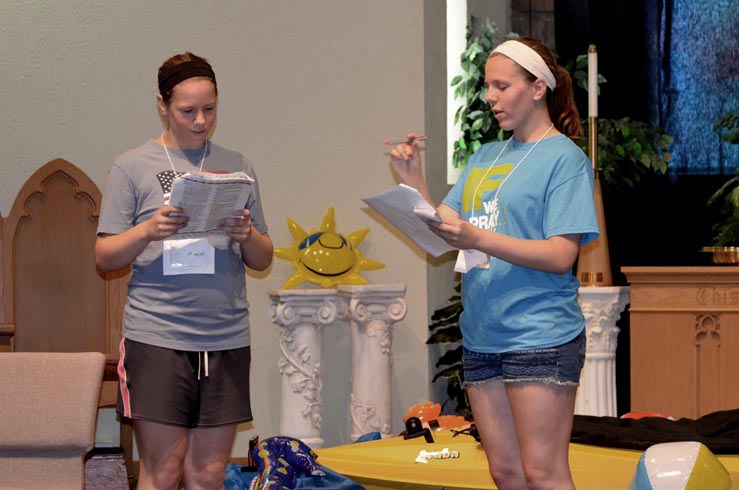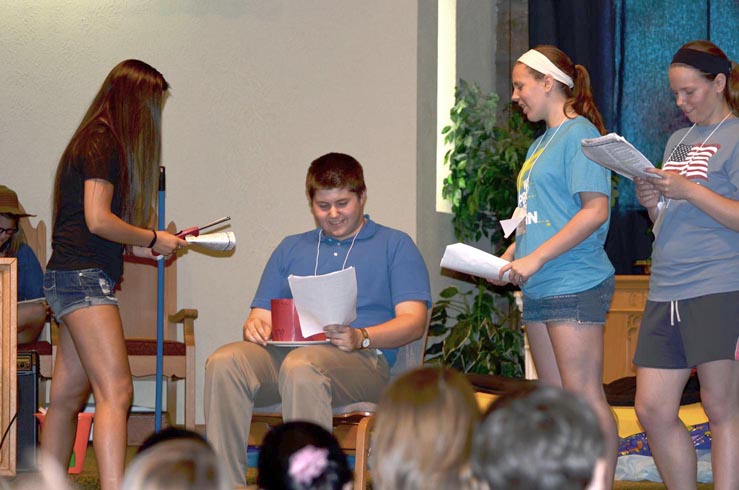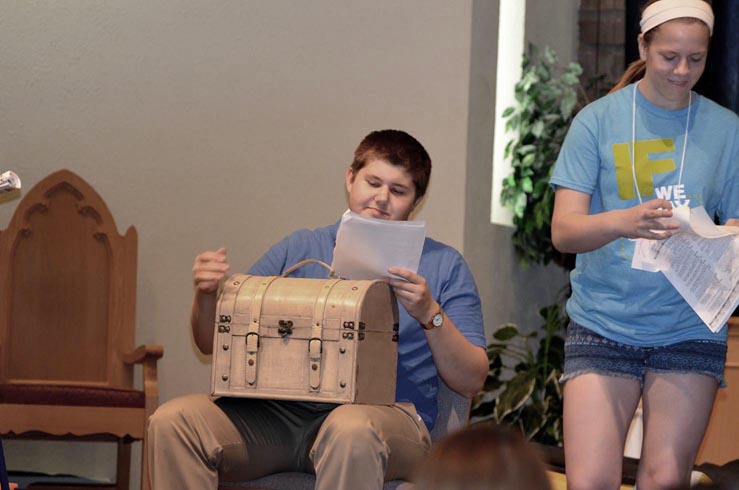 Day 2 - A Kind Port in a Storm
Pearl attempts to find the hidden treasure but gets seasick! Captain, Coco & Krumbs help the islanders prepare for a big storm. Will their kindness teach Pearl to care about others and their problems?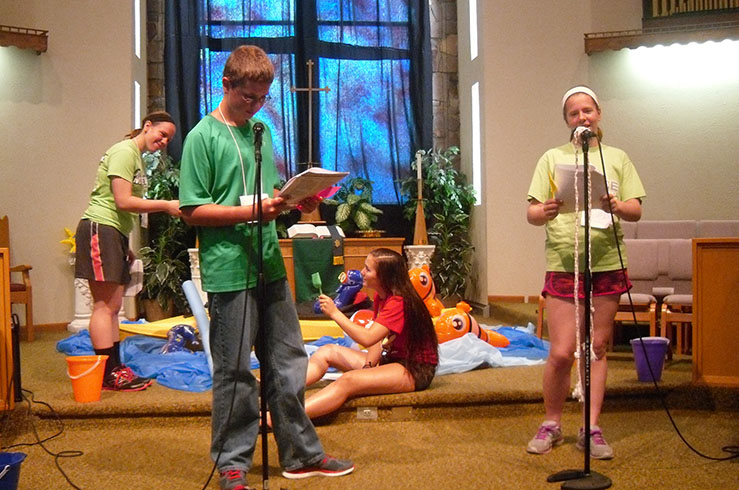 Day 3 - Caring, Daring and Sharing
Krumbs decides nobody likes her and that she'll leave the island.
But she discovers that though she isn't perfect, others do care for her.
Meanwhile, Pearl is busy solving treasure map clues.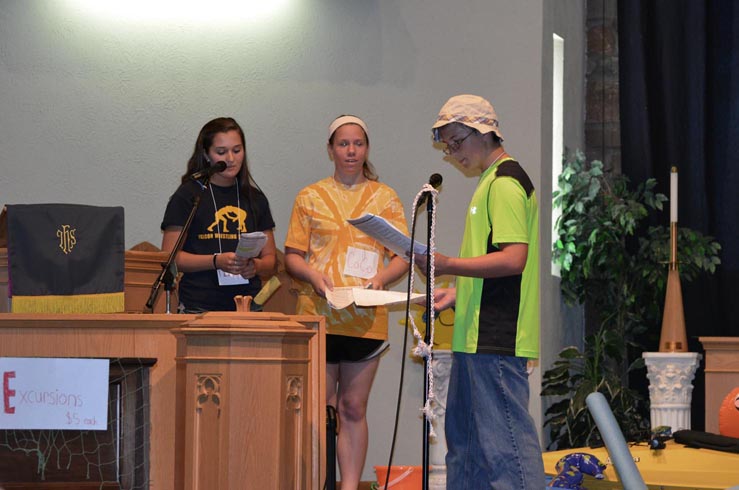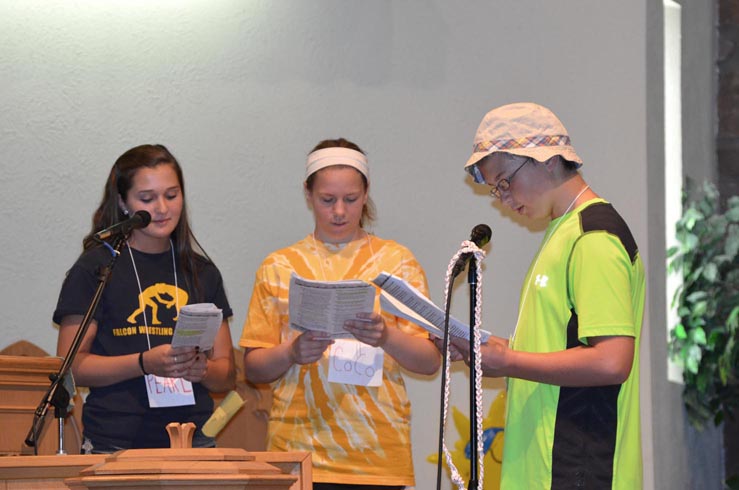 Day 4 - Truth and Forgiveness
Captain, Coco and Krumbs are shocked to find out that Pearl Shellfish is really Sugar Cooky. More importantly, Pearl figures out that being forgiven is more important than any treasure.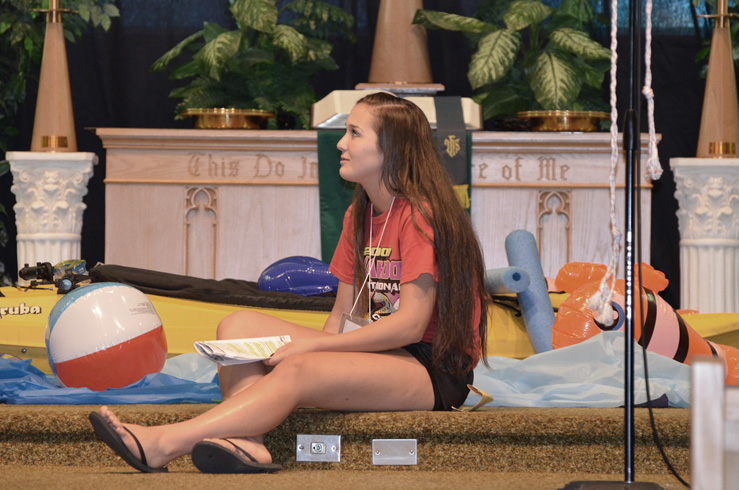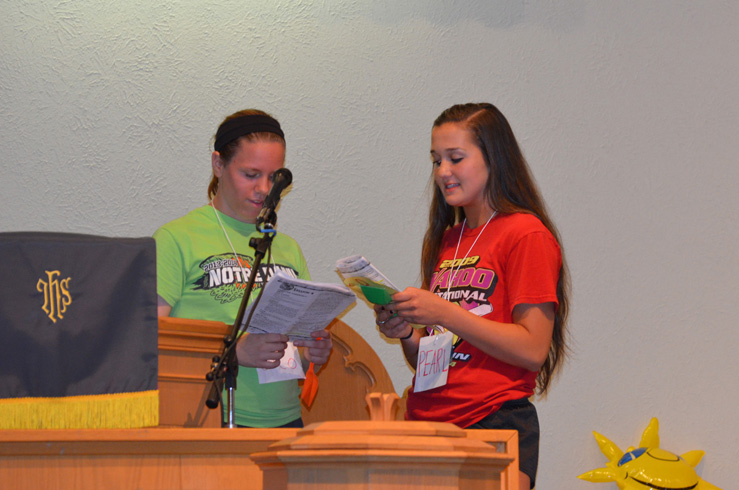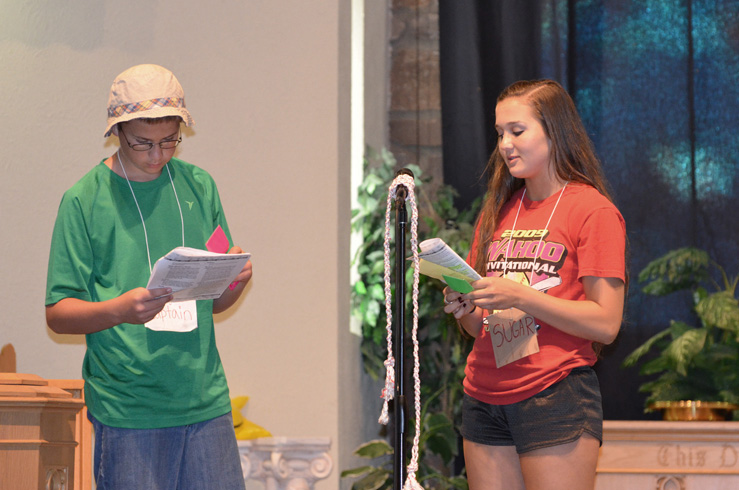 Day 5 - Forever Friends
Captain Cooky's family treasure is found! But it isn't what anyone expected.
Instead, they find something more important than gold, jewels and money.
They find clues in the treasure chest that leads them to the answer.
They find God's love—the REAL treasure at SonTreasure Island!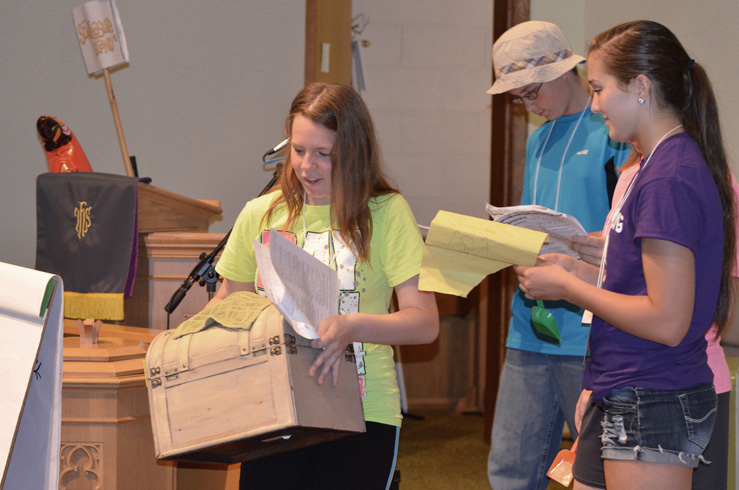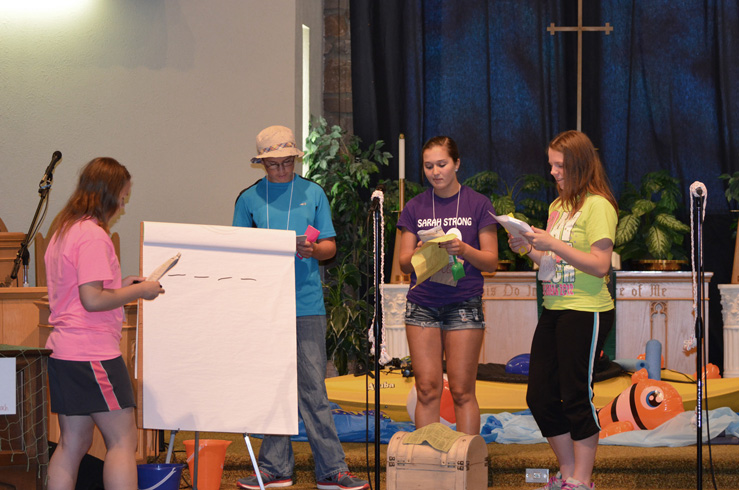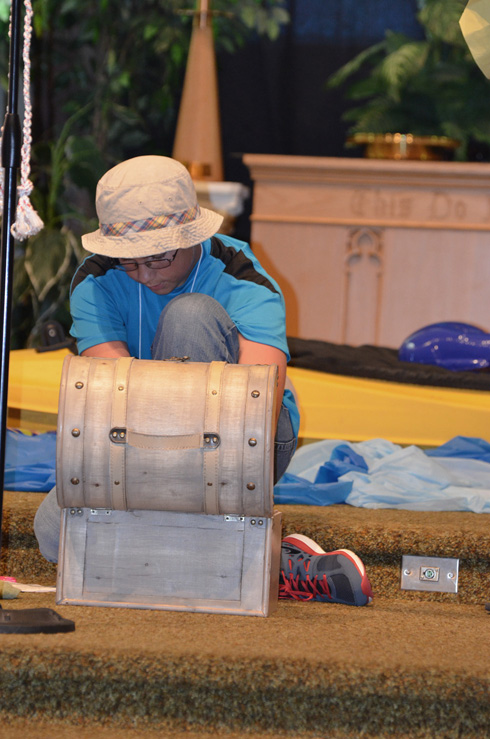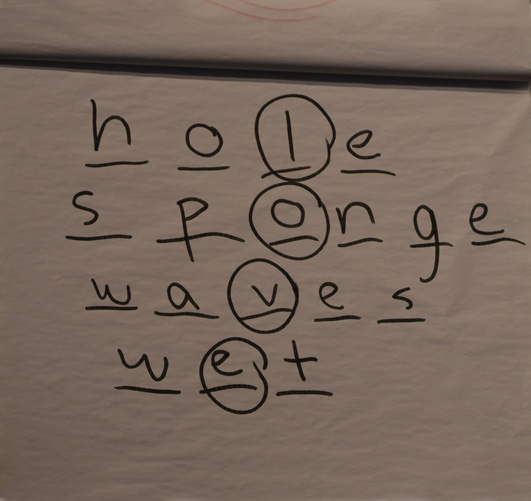 L-O-V-E... God's Love!
The children were divided into four groups for Classes, Crafts, Games and Story time.

Starfish-Preschool children
1st & 2nd grade children

3rd & 4th grade children

5th & 6th grade children
Classroom Time
Each day the children spent time in class discussing the daily topics.

Kathy and Corina lead the preschool children in class with the help of some Youth.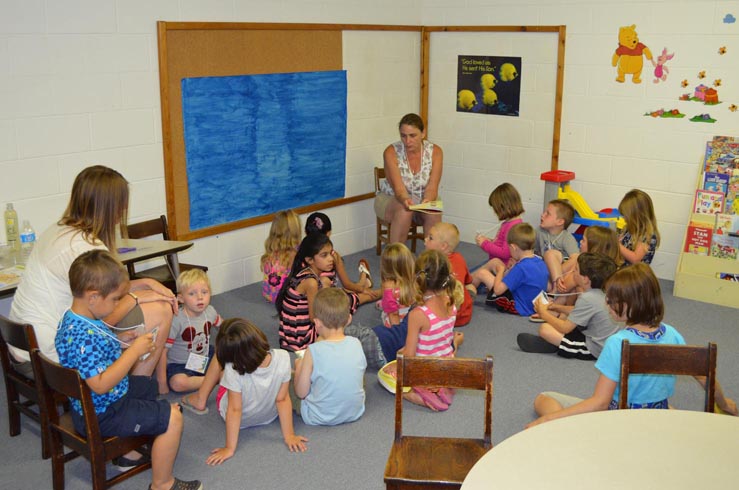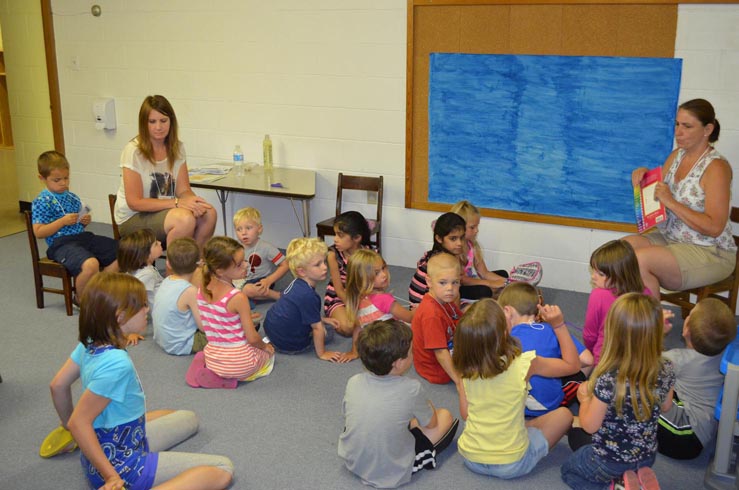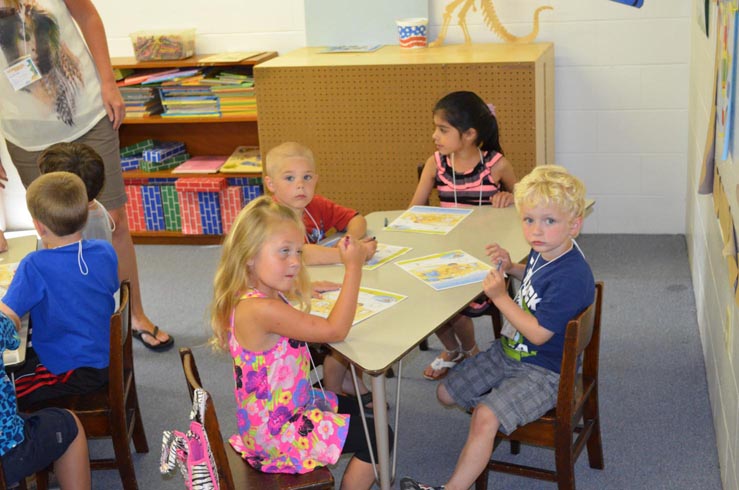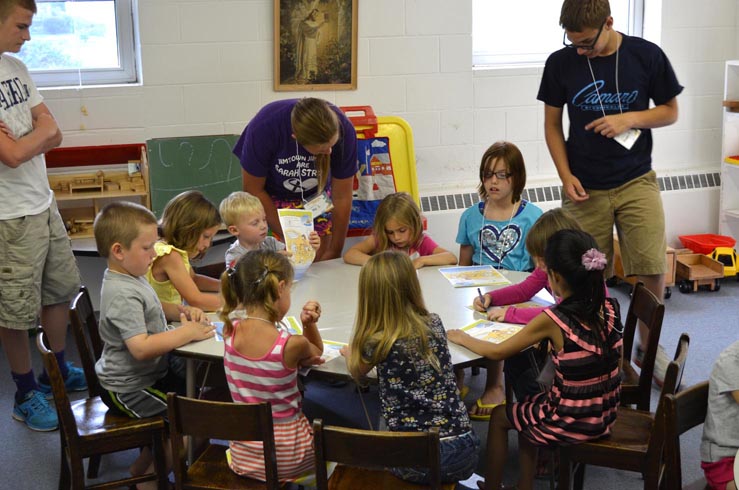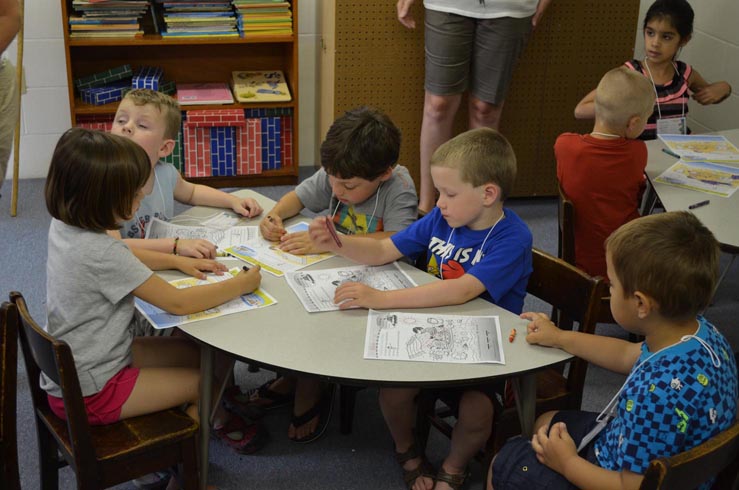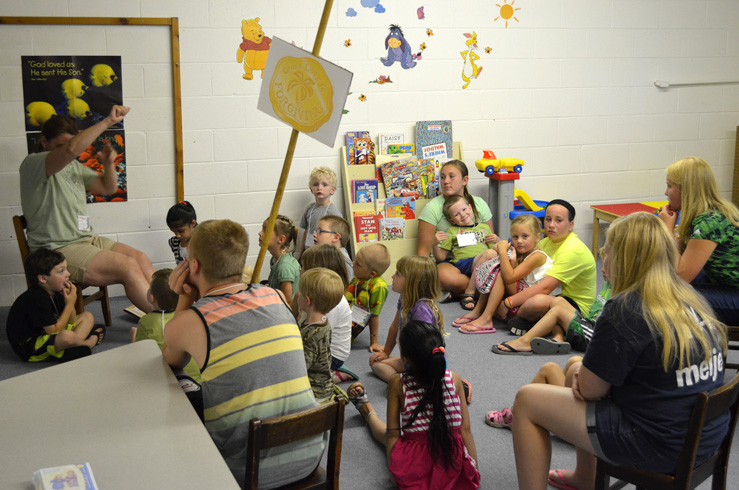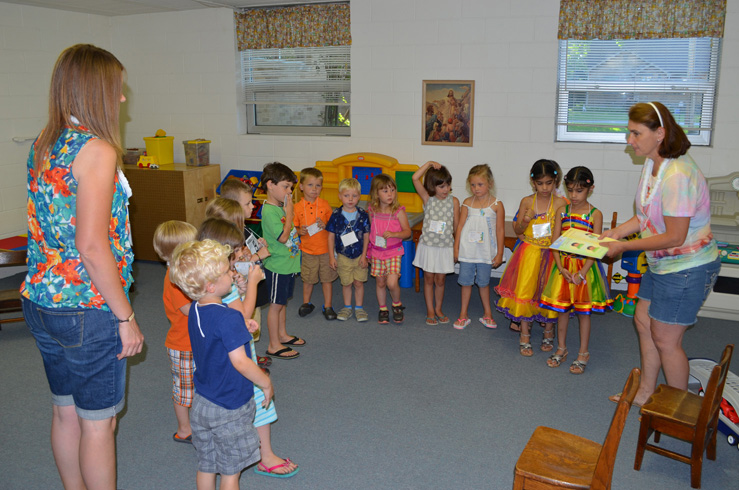 Cindy and Gail were the teachers for the 1st & 2nd grade children.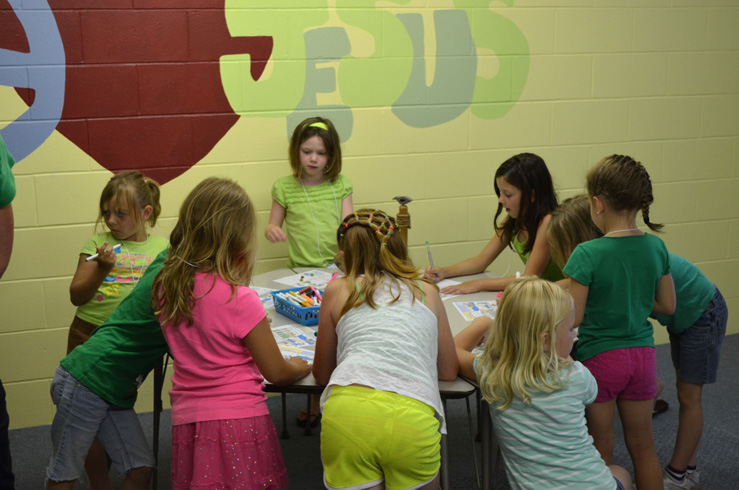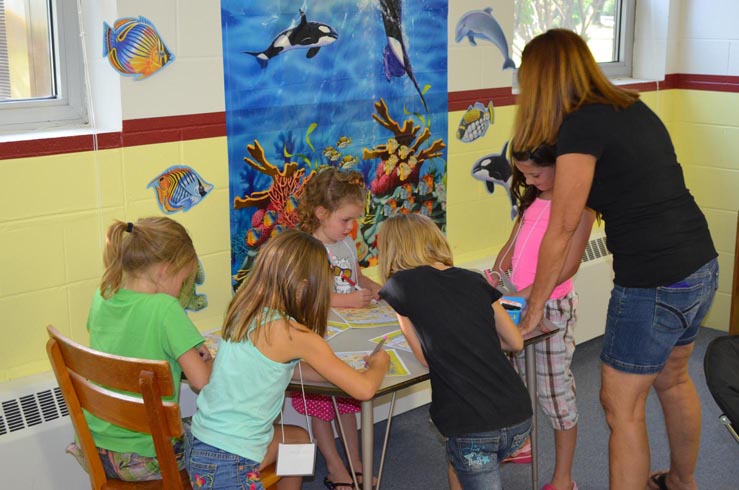 Becky, assisted by Katie, teaches the 3rd and 4th grade children.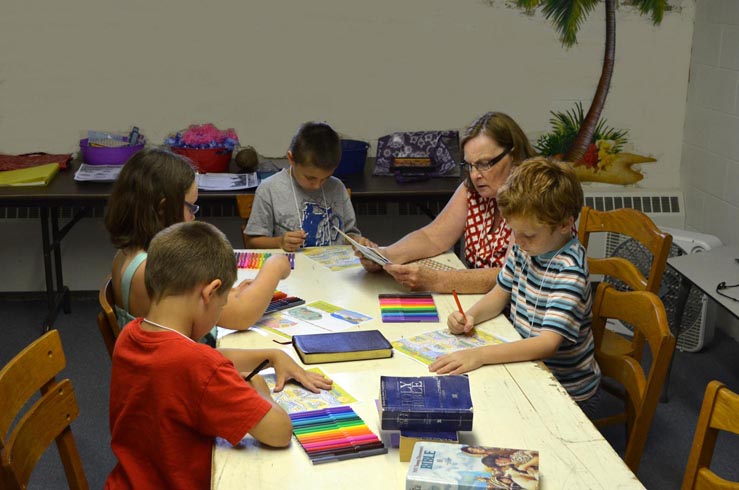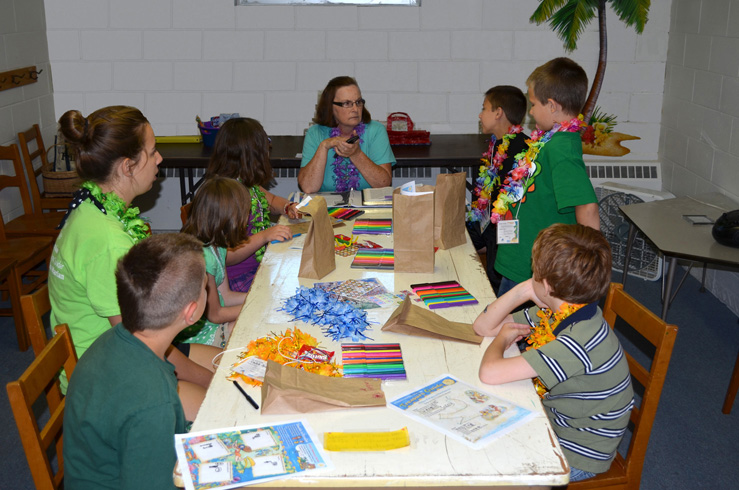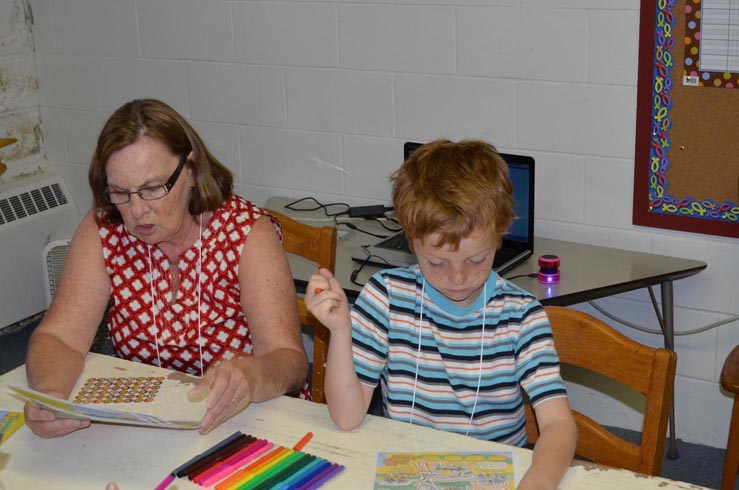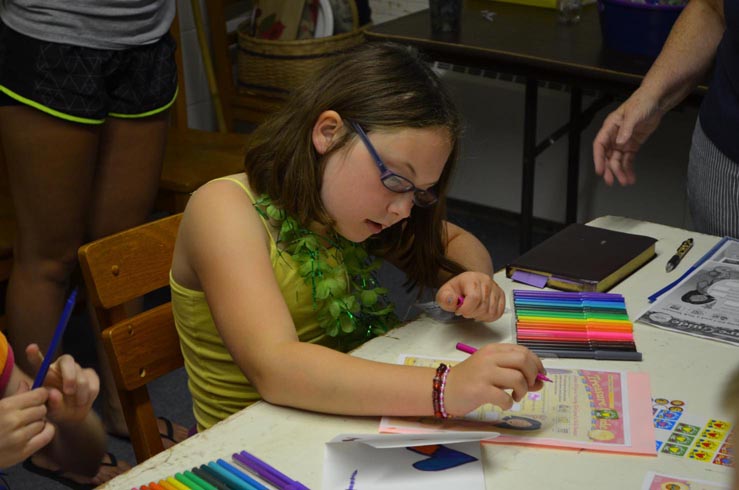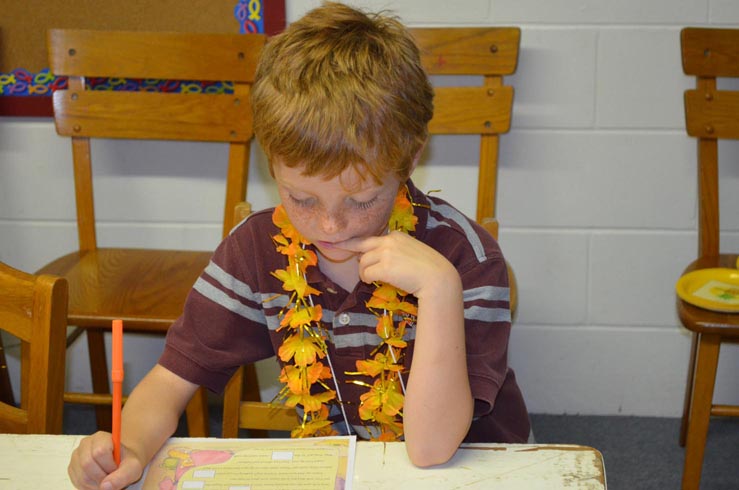 Carlee helps the children in their classroom.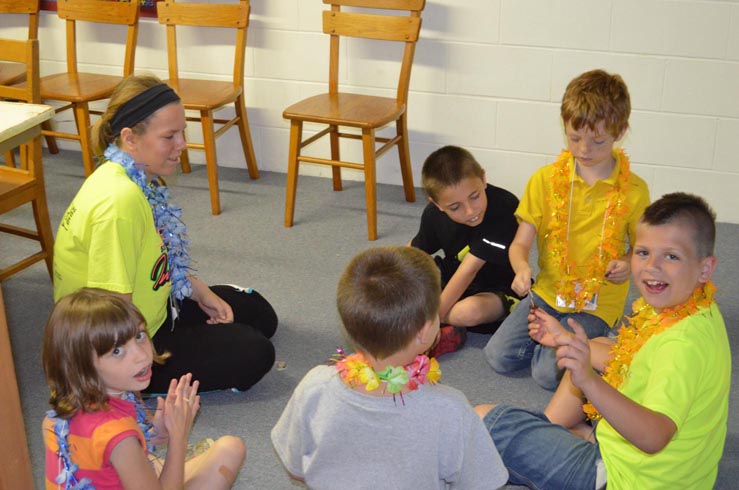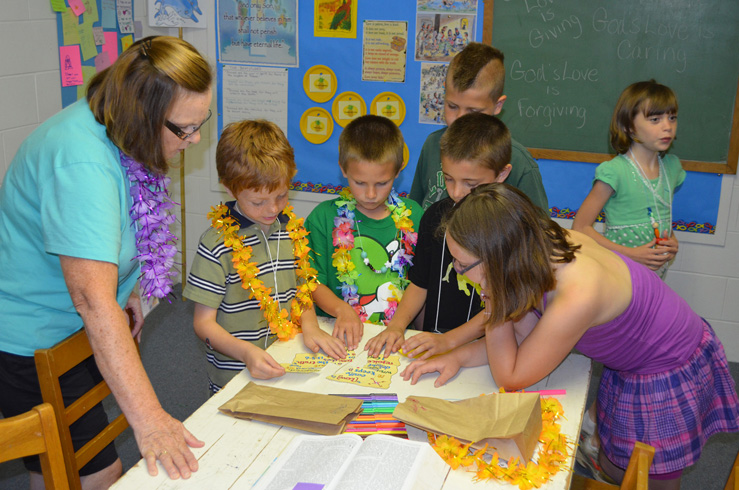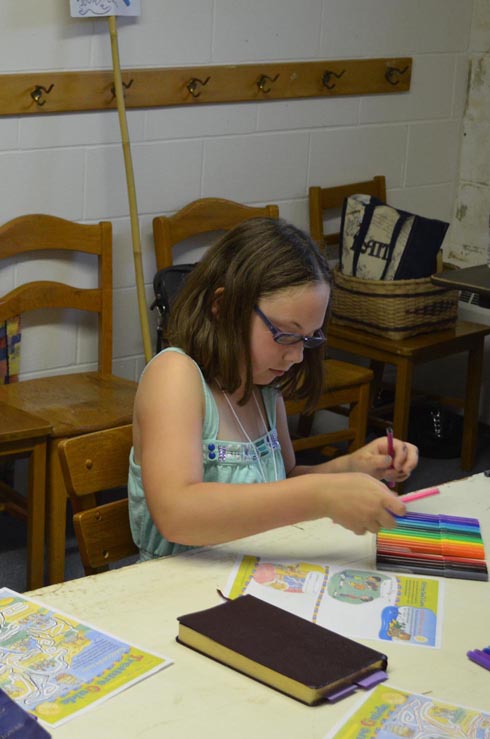 Children listen intently to their teachers,Teresa & Linda.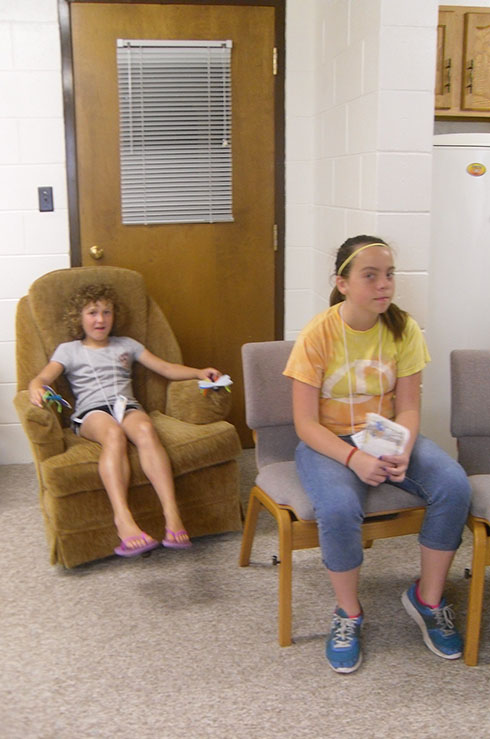 Craft Time
Craft time was a fun time for the children to be creative.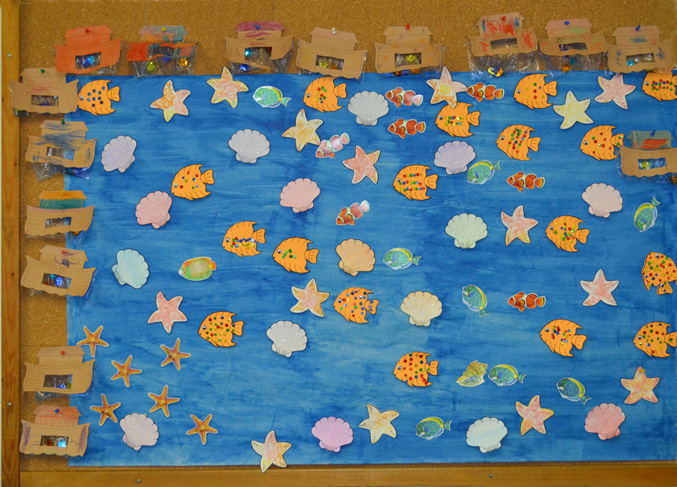 Abby & Corina help the preschool children with their fish craft.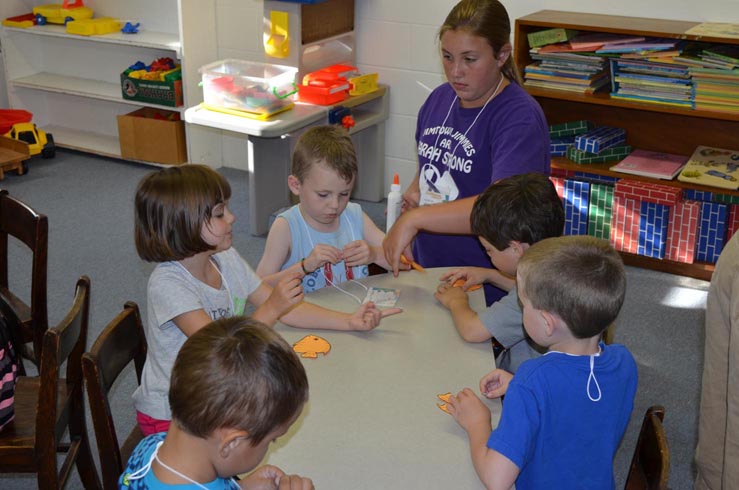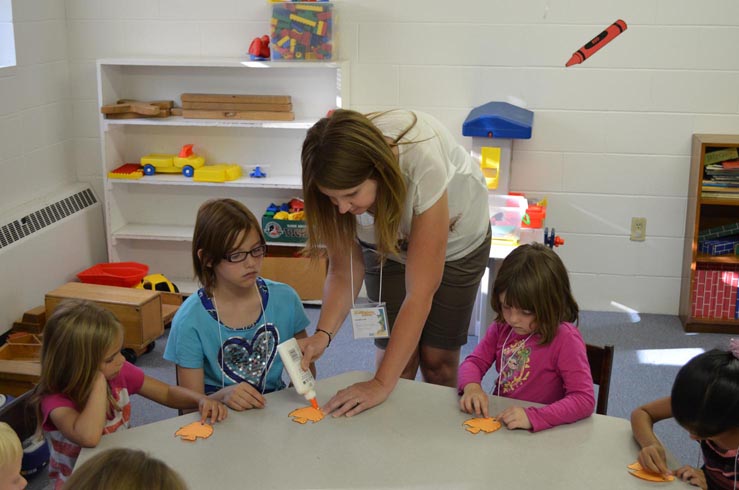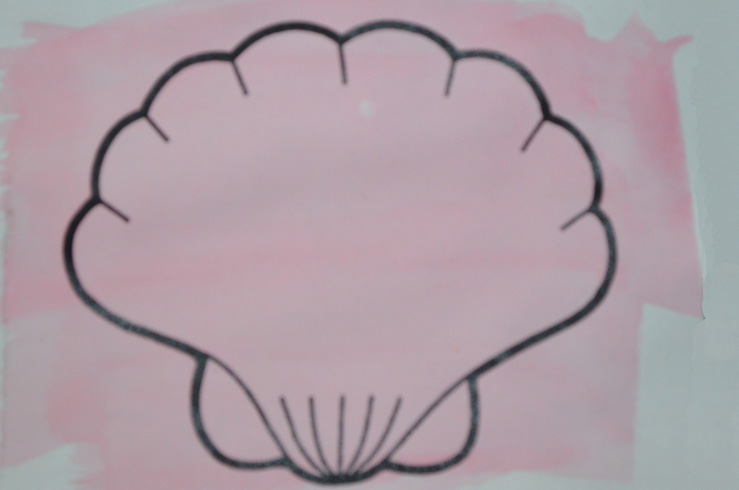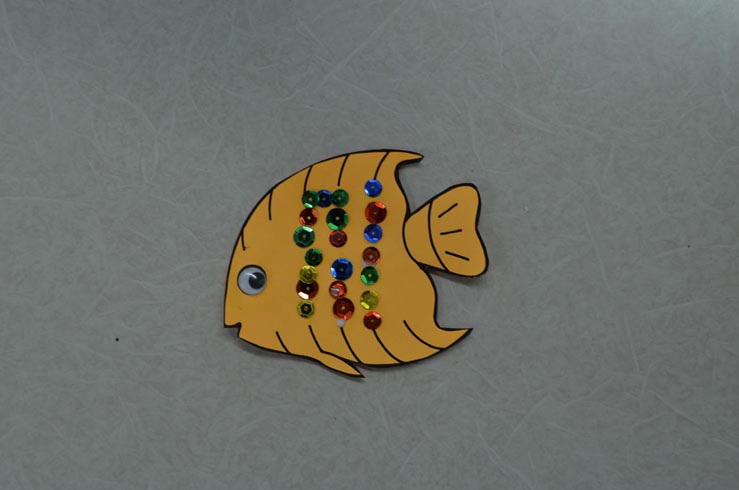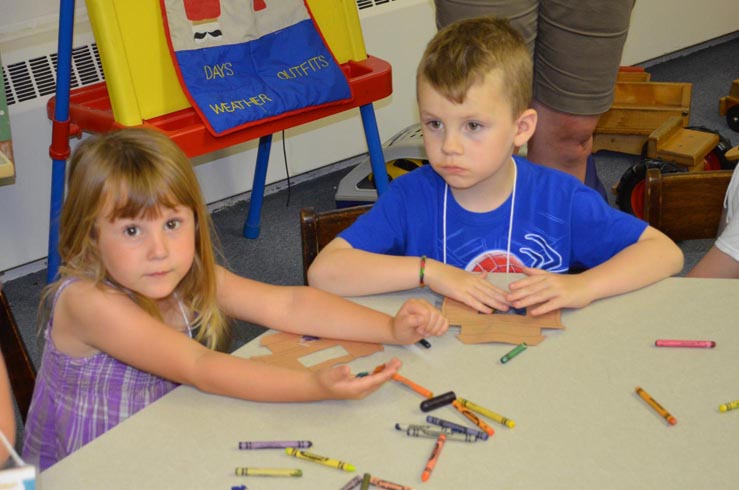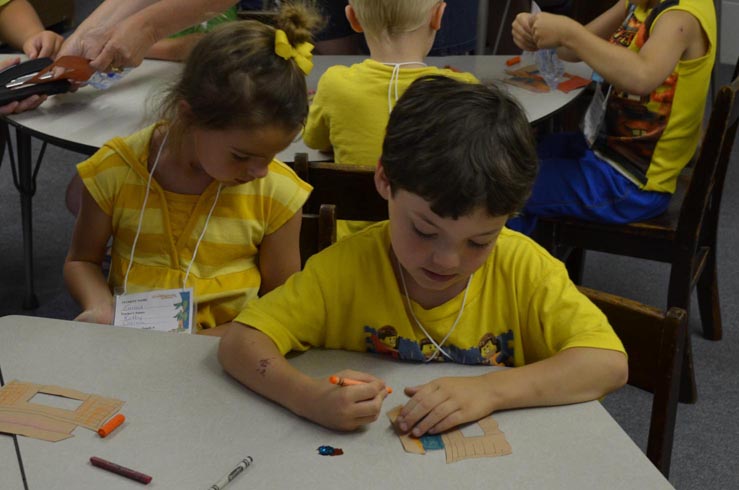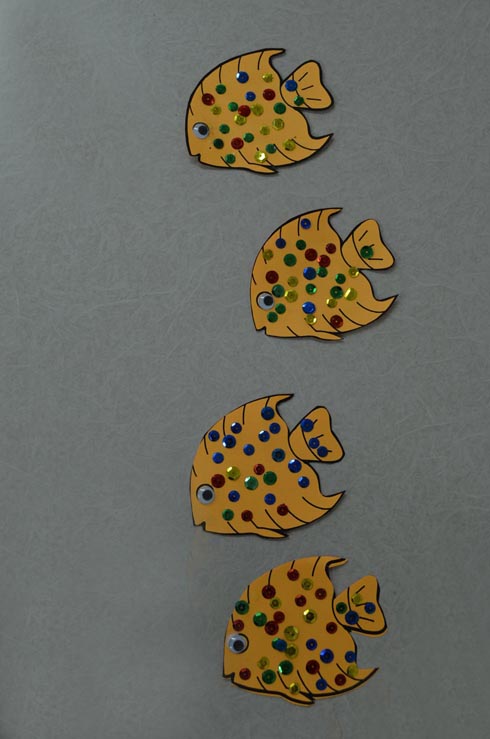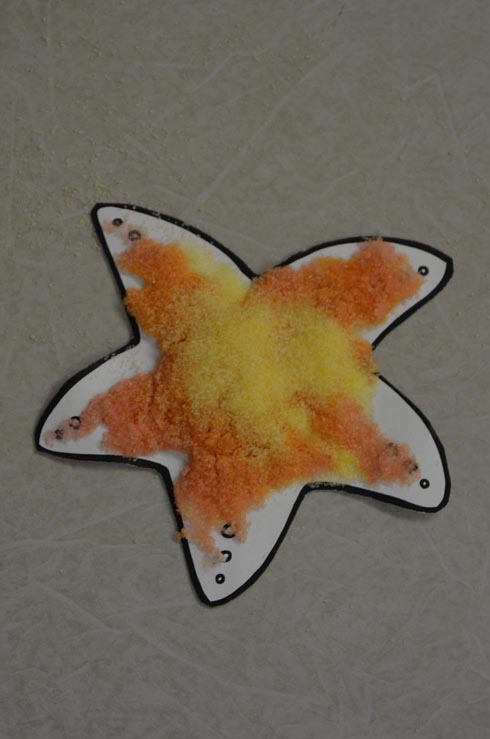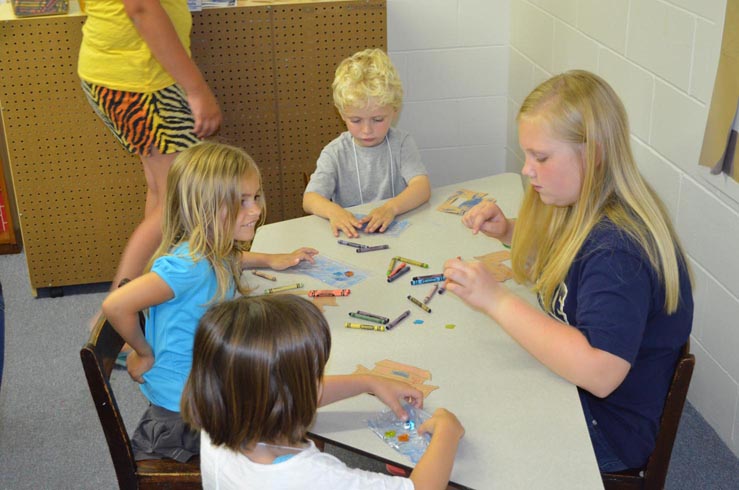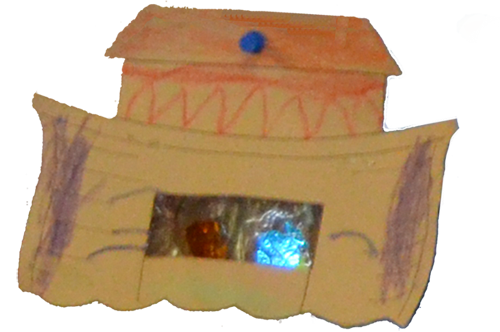 Rita, Roberta, Lana and Linda helped children with their crafts.
The teachers also pitched in to help the children with their crafts.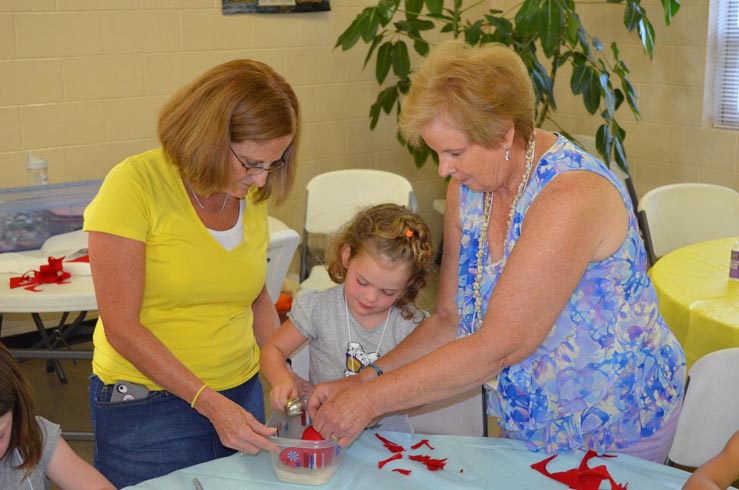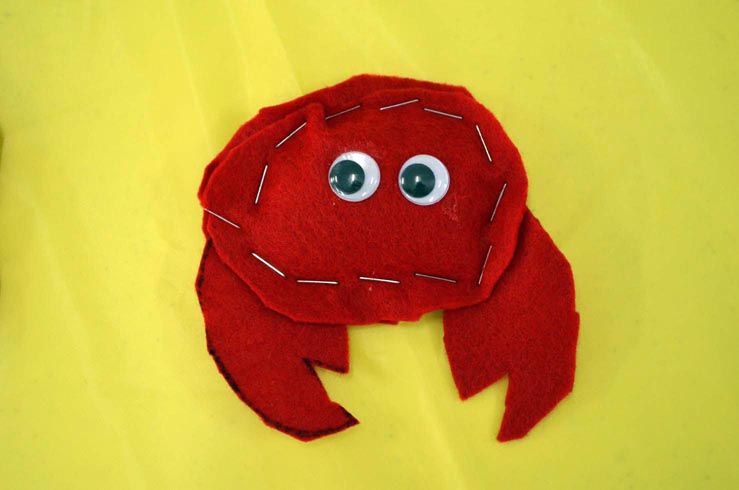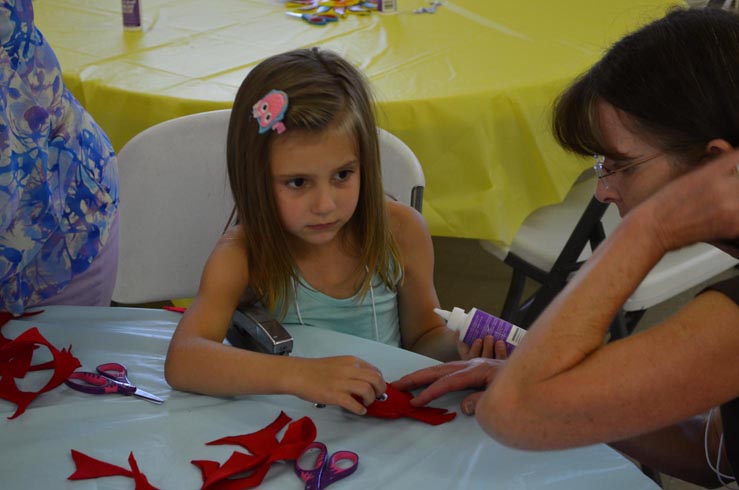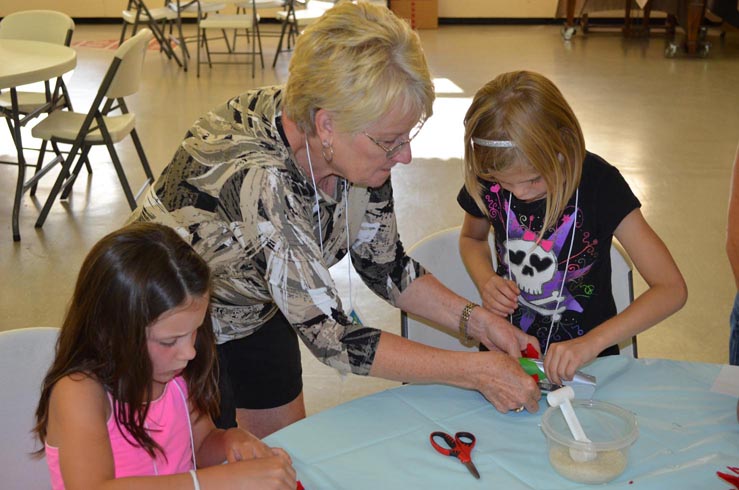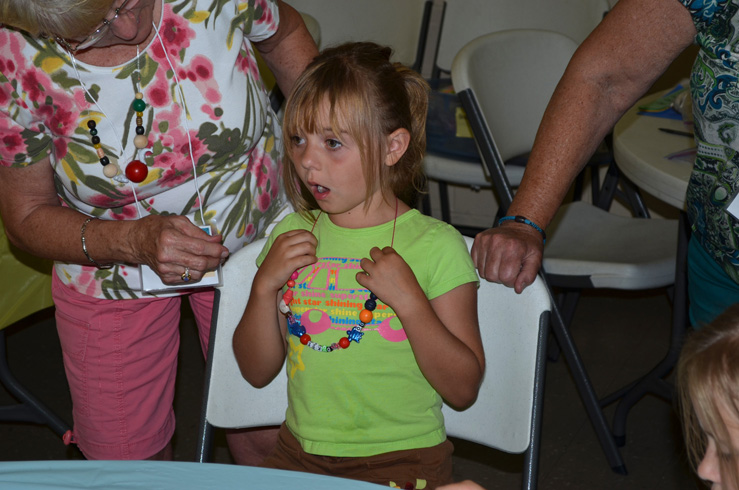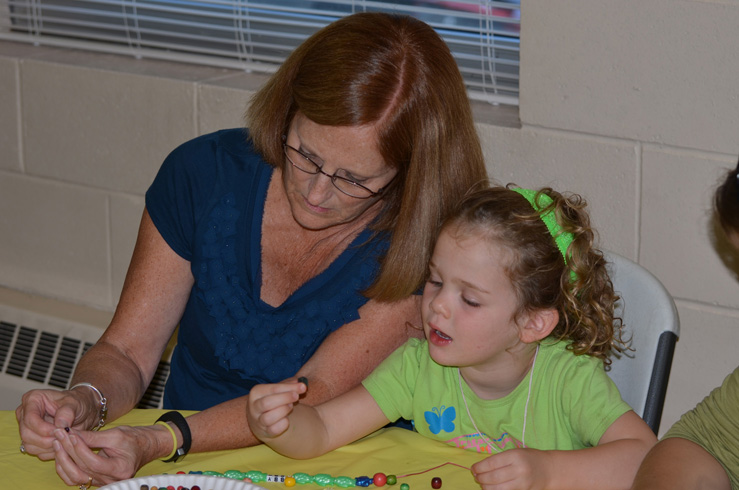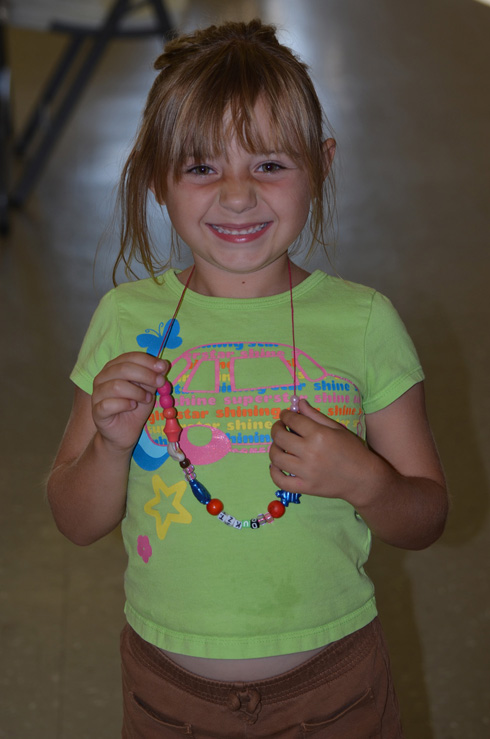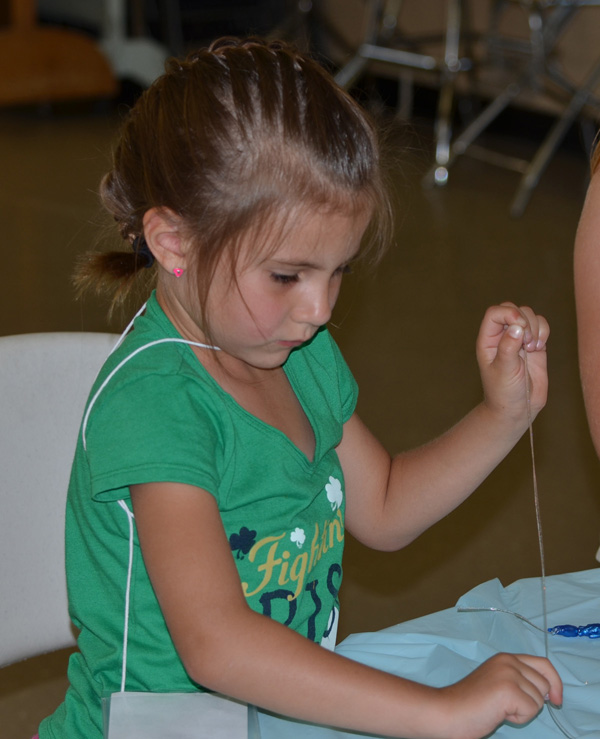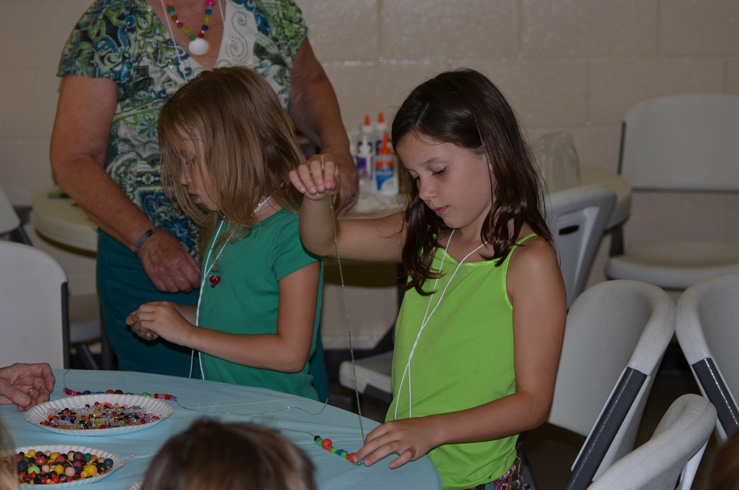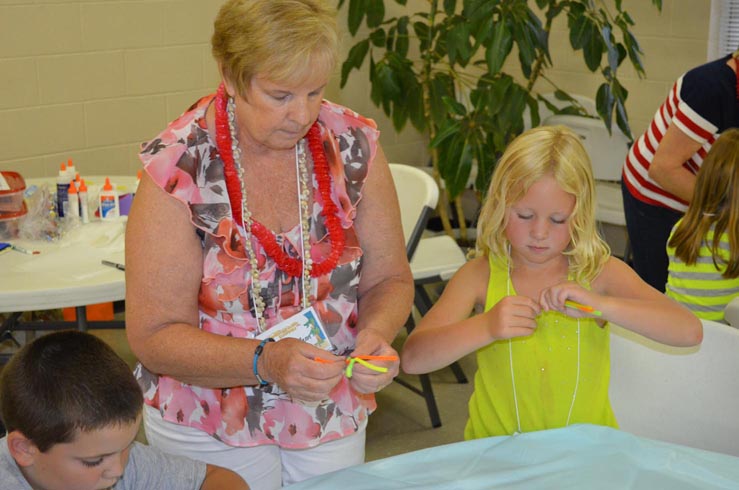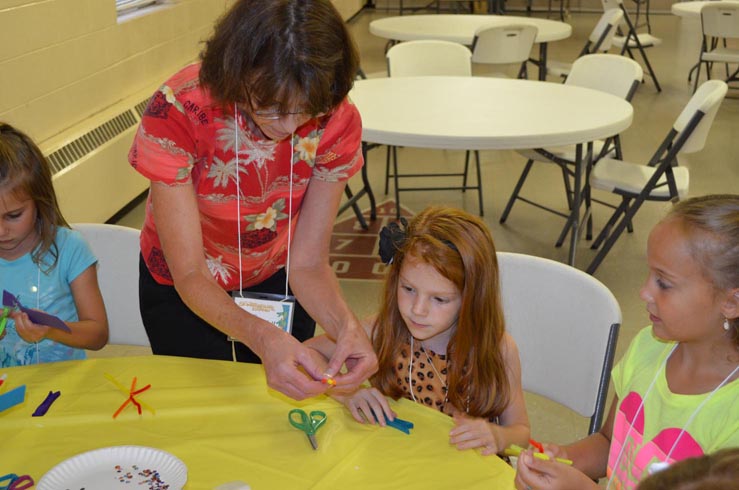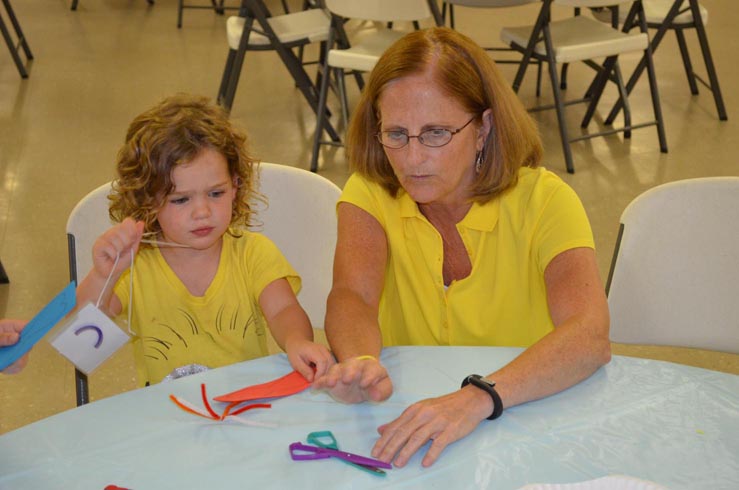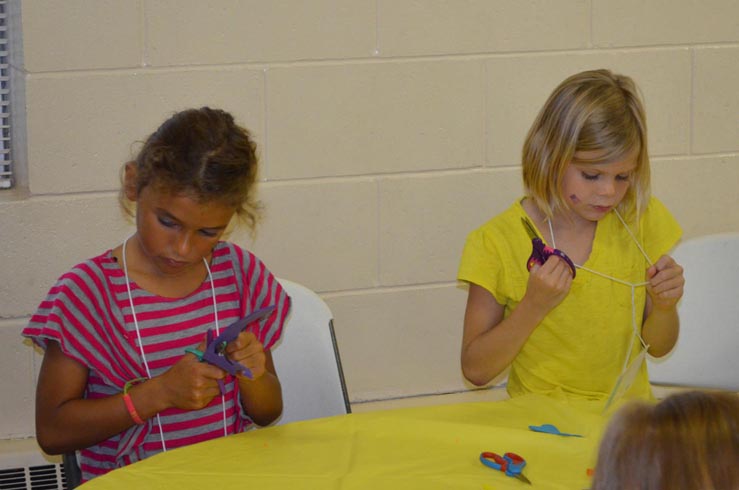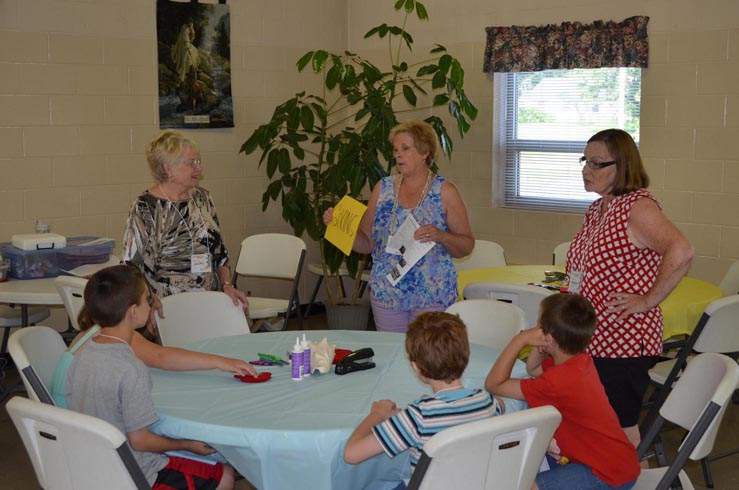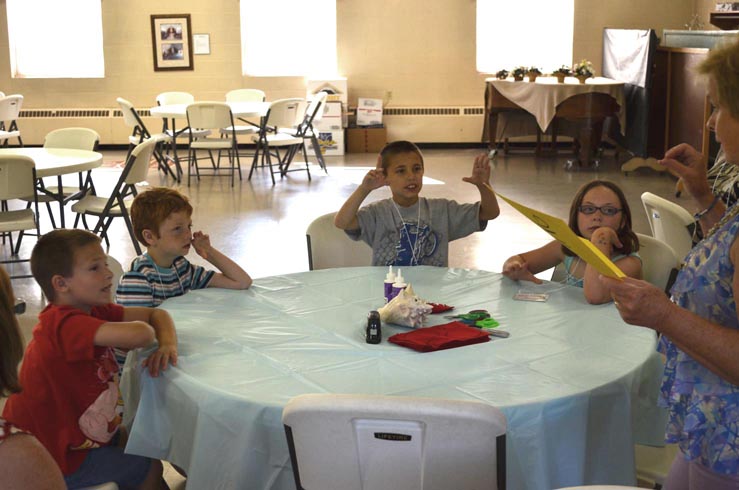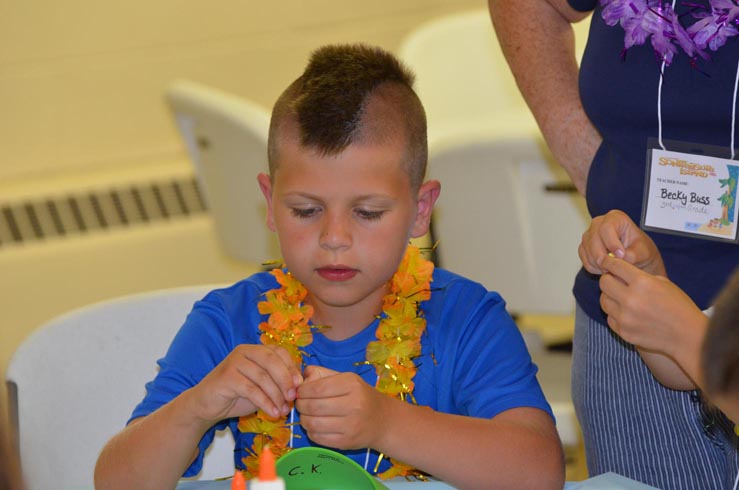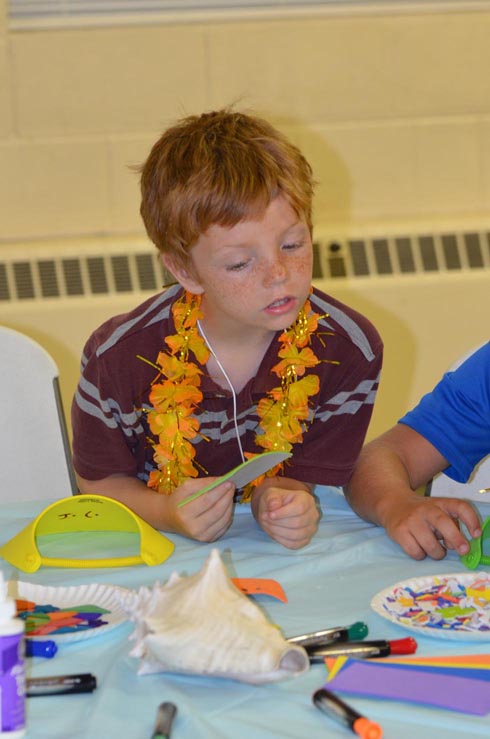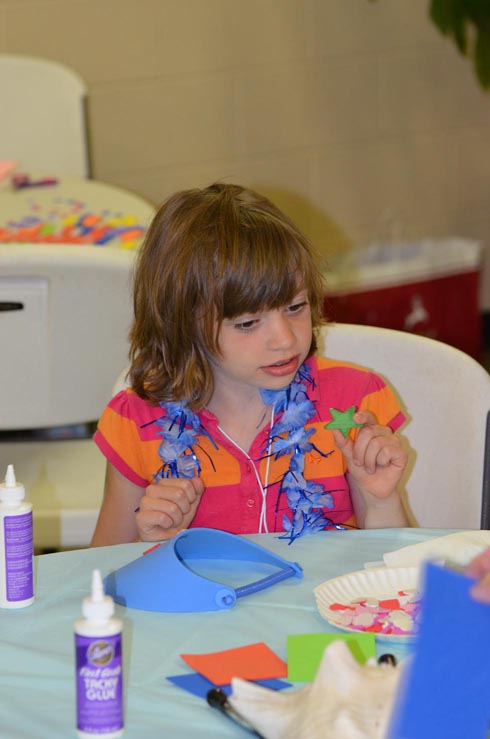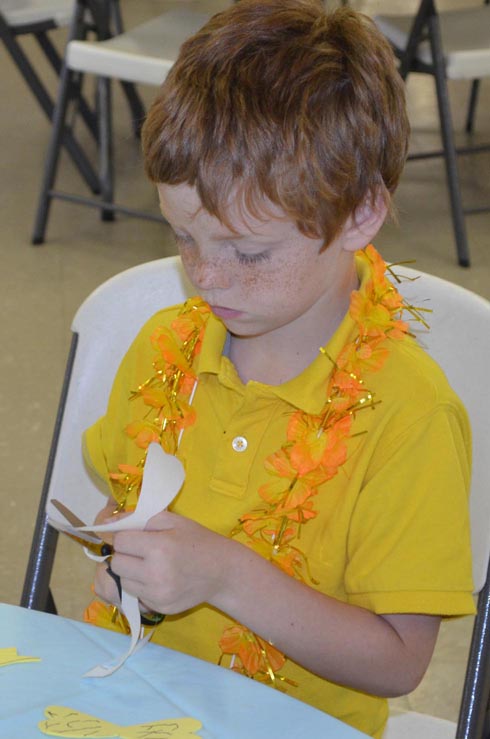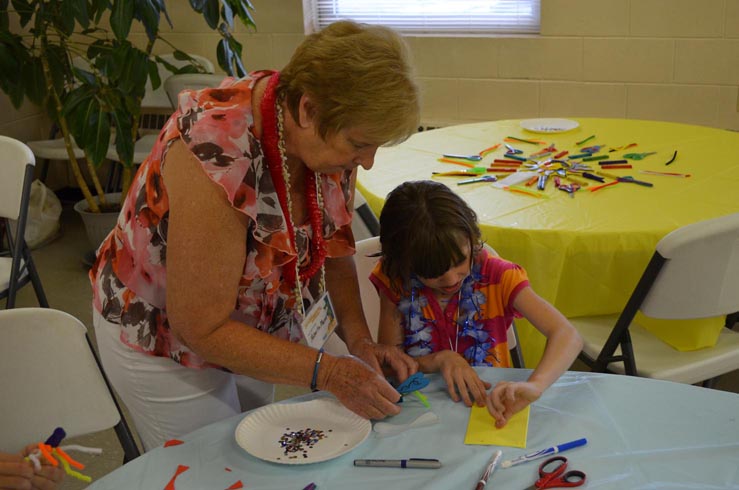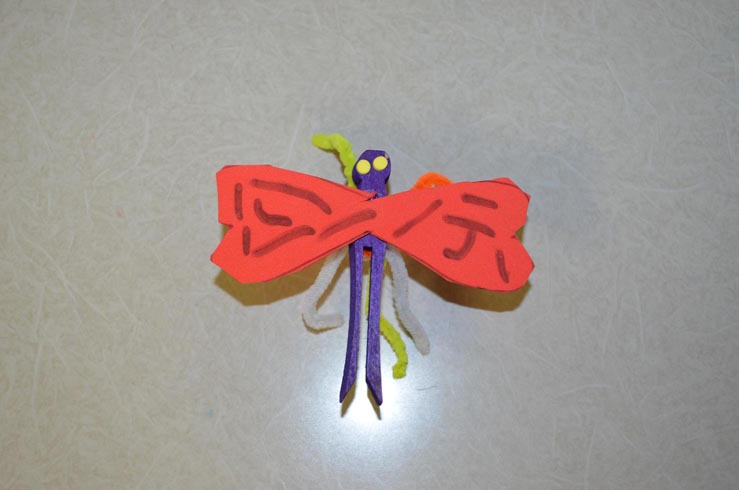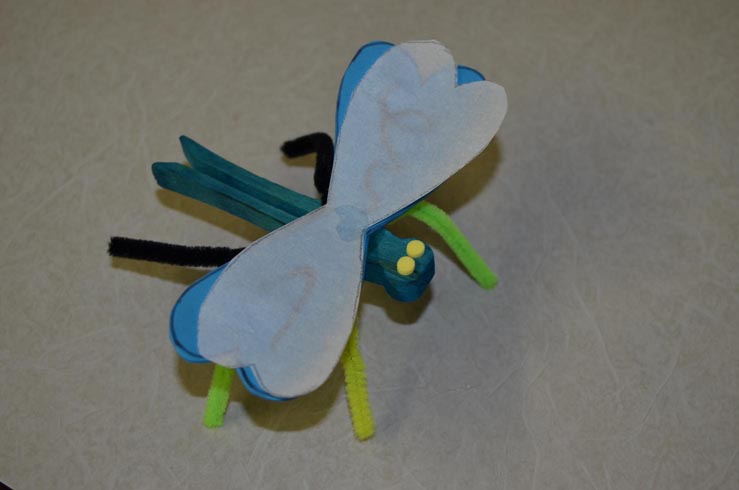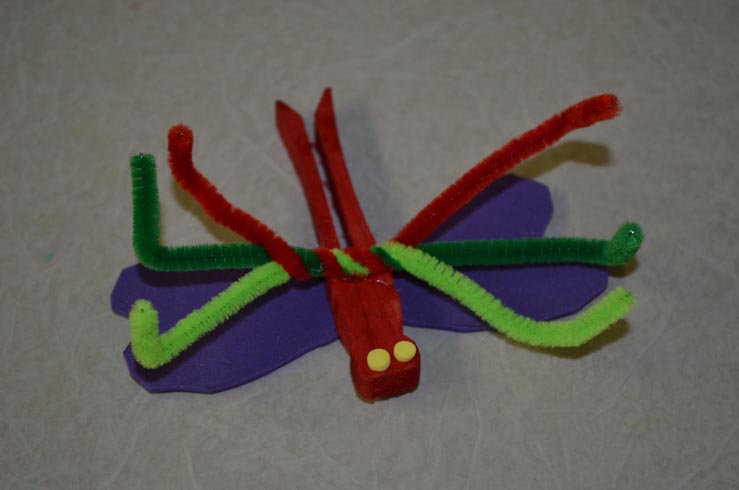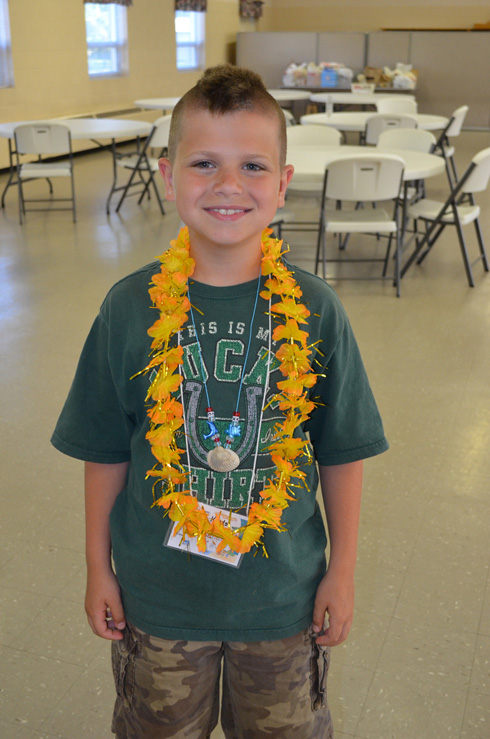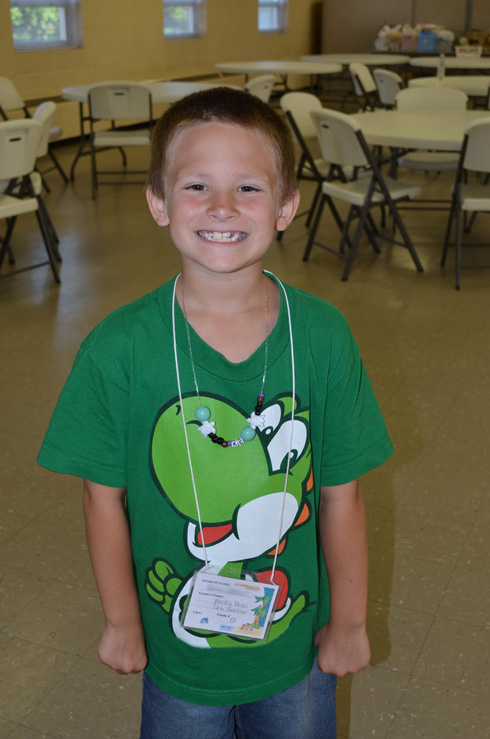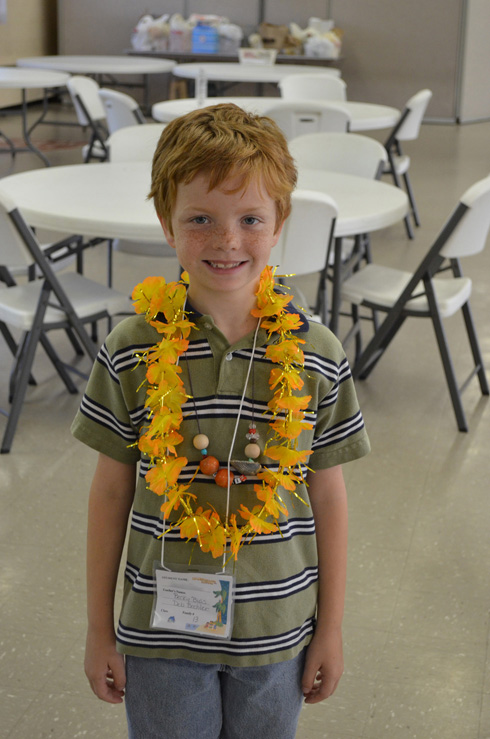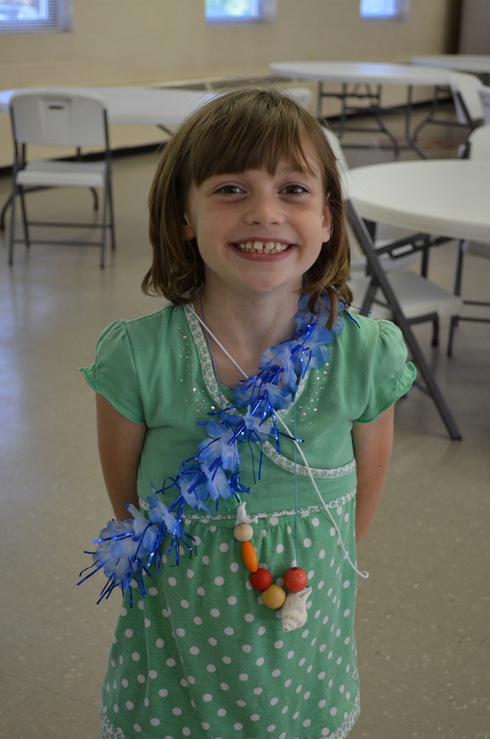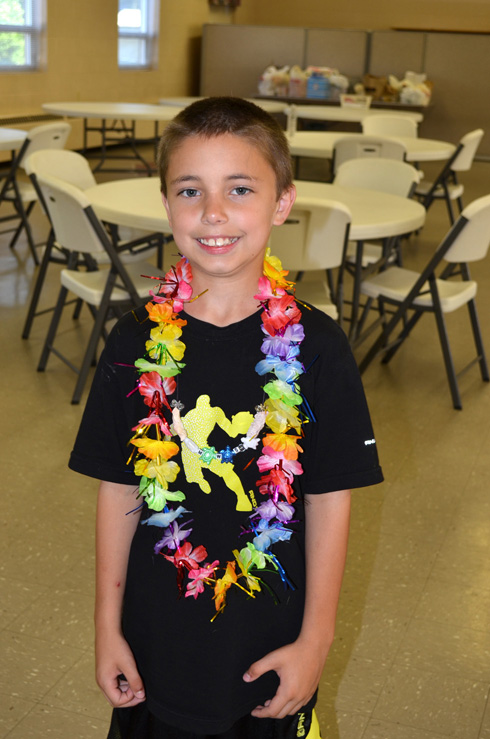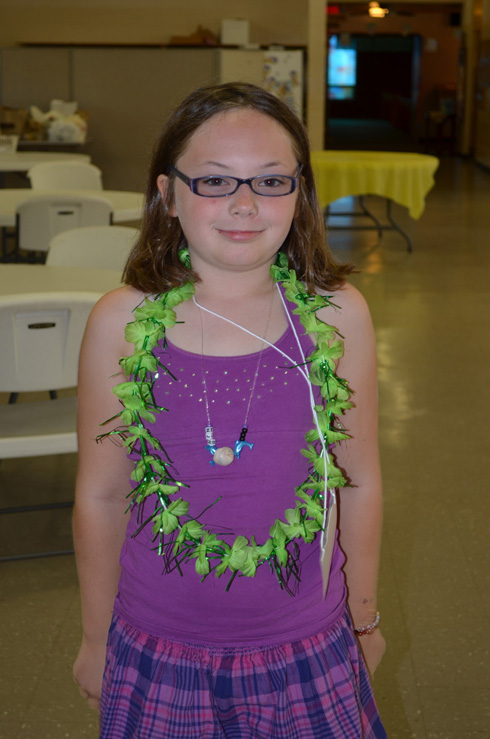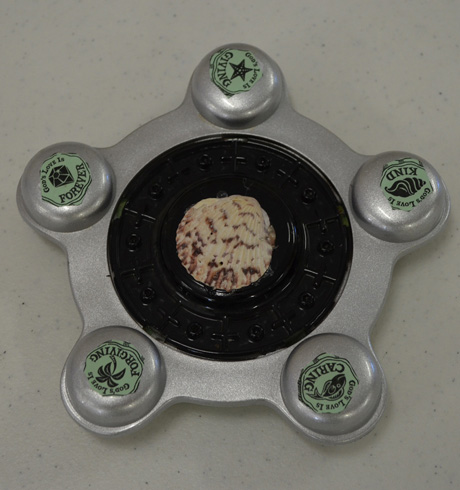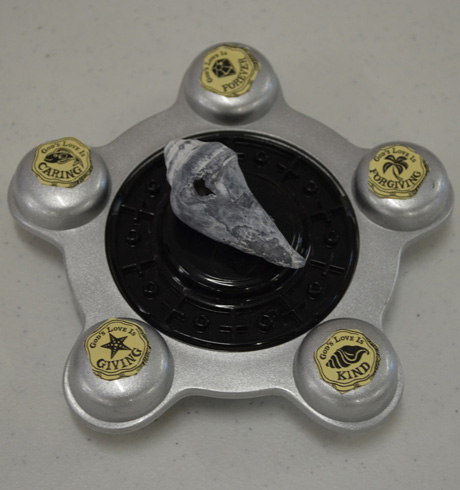 Linda & Teresa help their children with some crafts.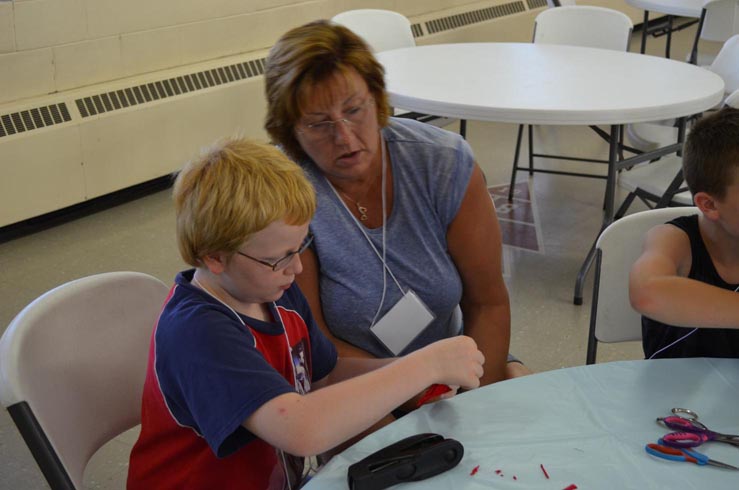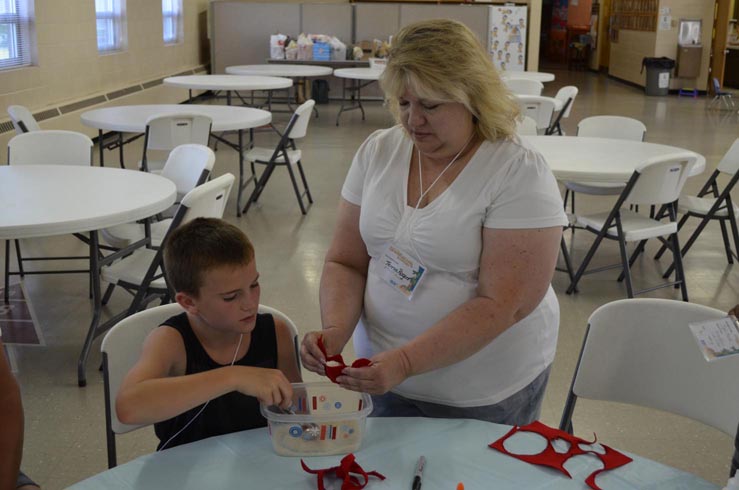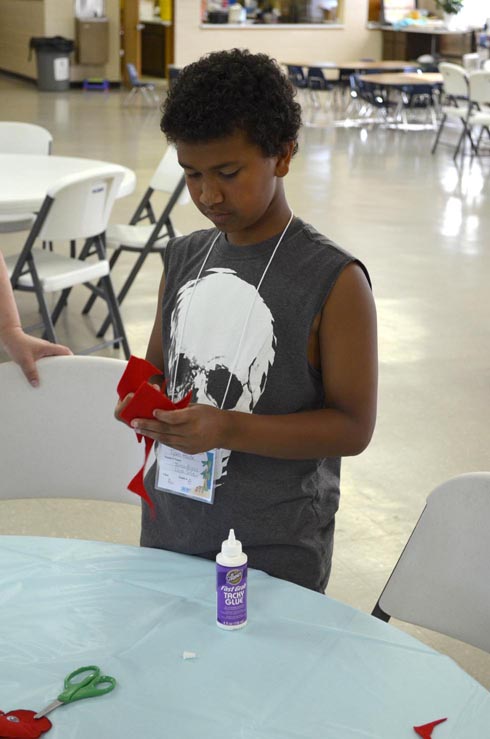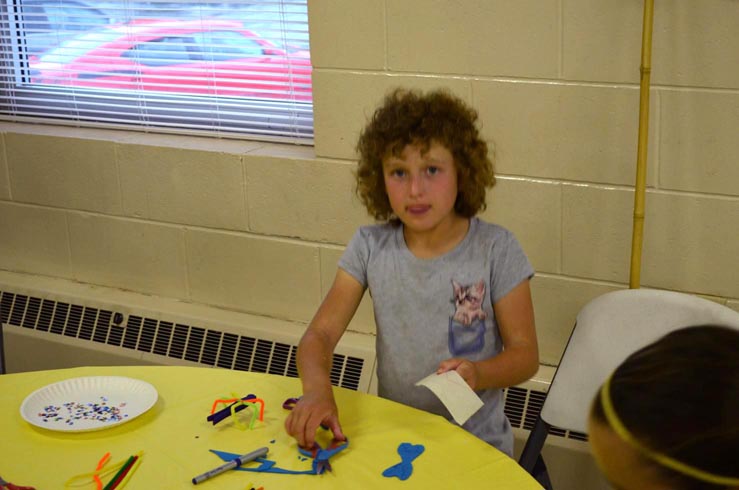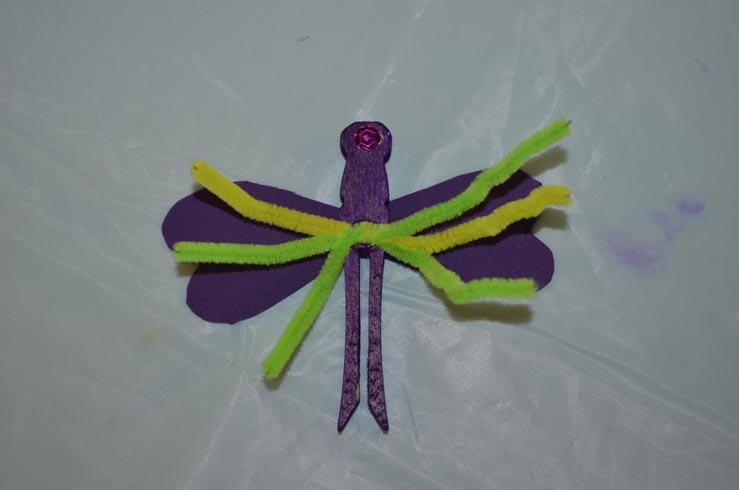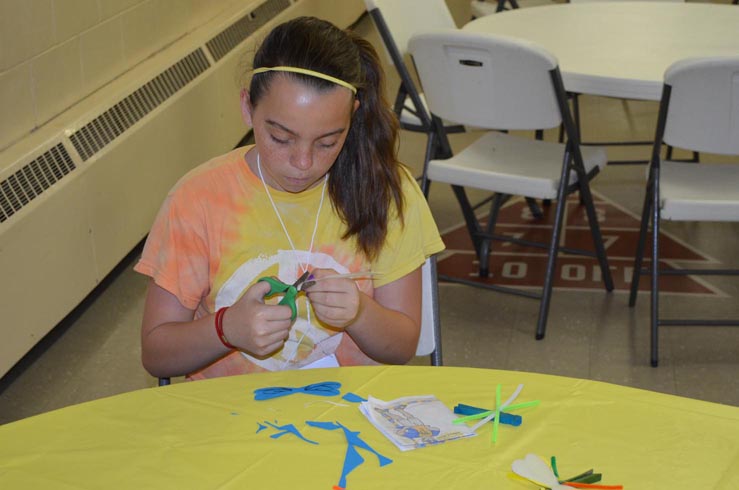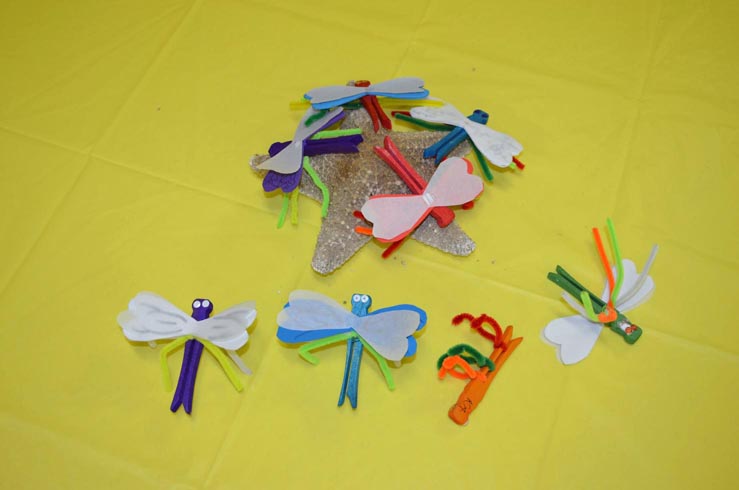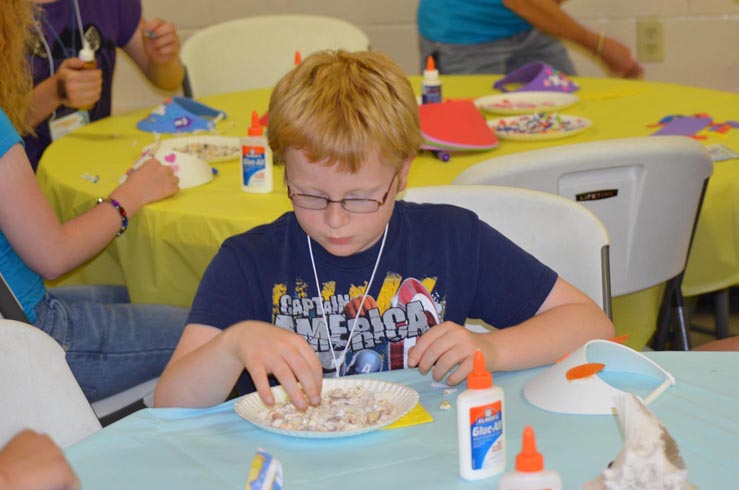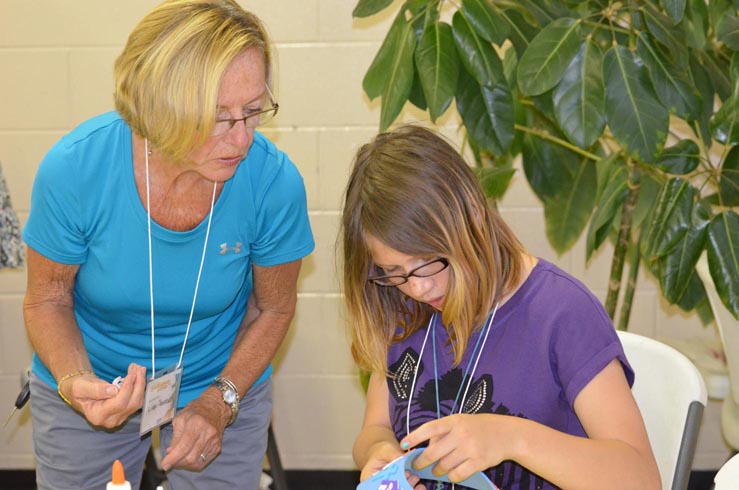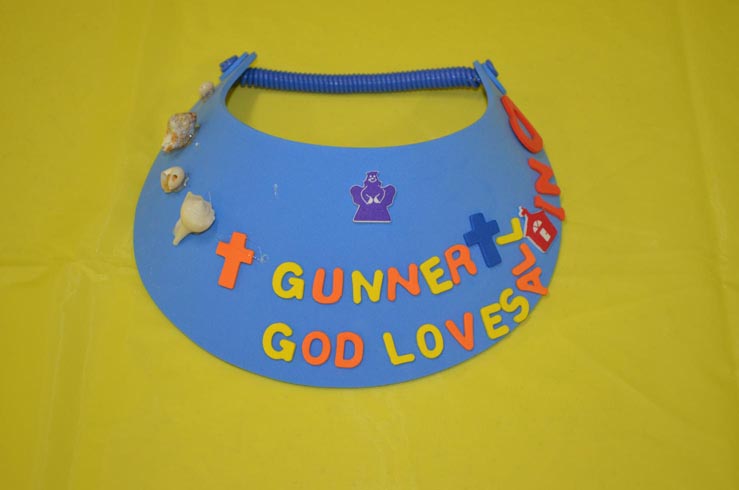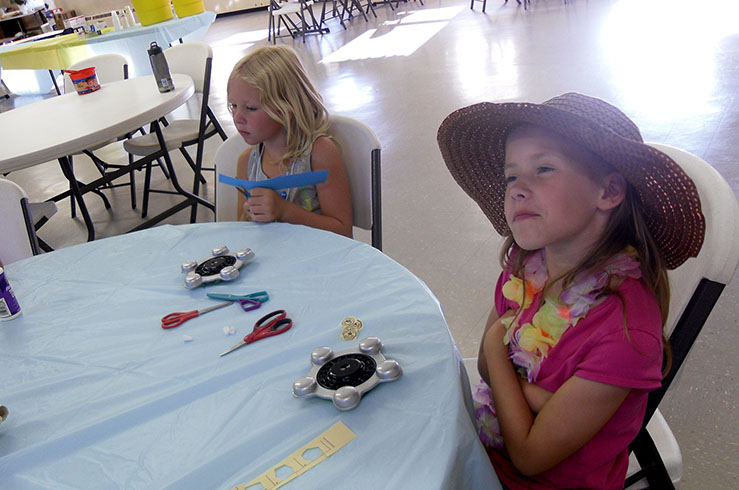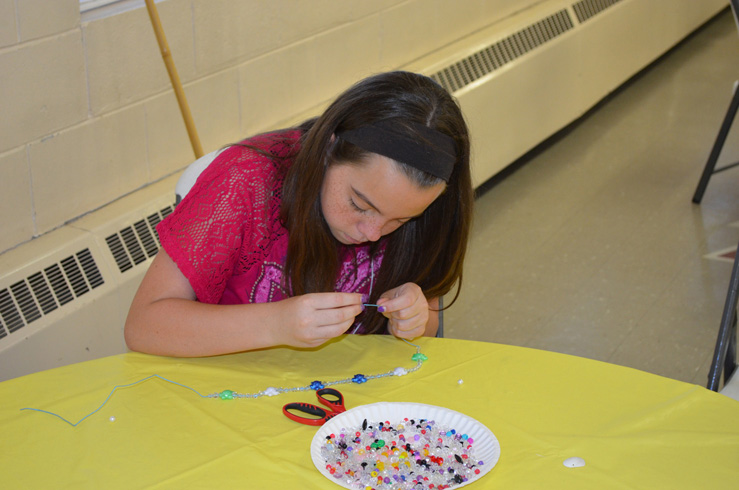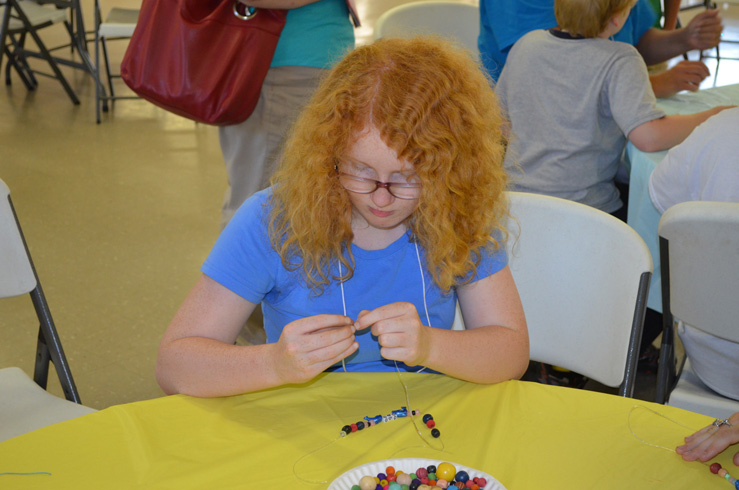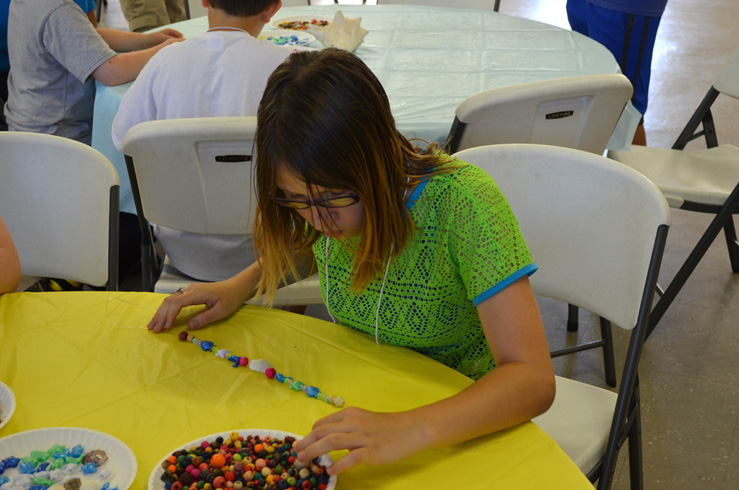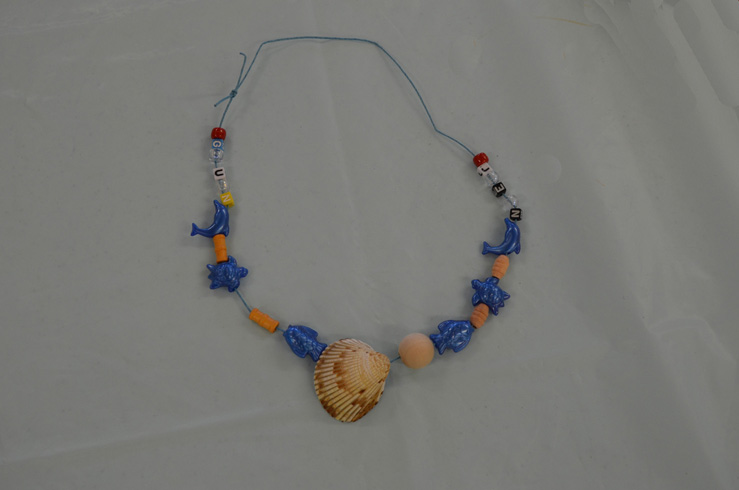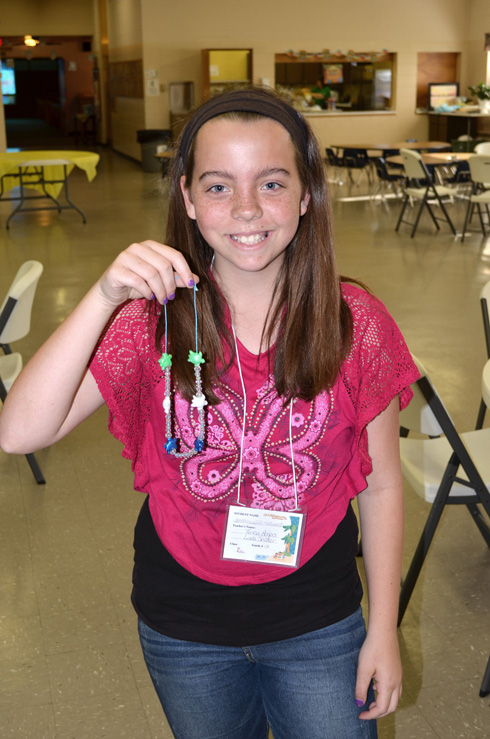 Game Time
As always, one of the children's favorite activities at VBS is the games.
Angela & Mark provided the children with lots of fun game activities while learning the daily lesson from the Story telling of the Shepard & the homeless man..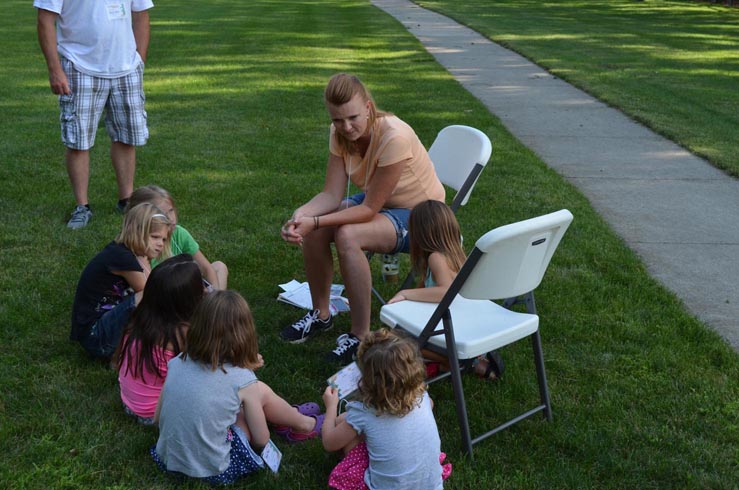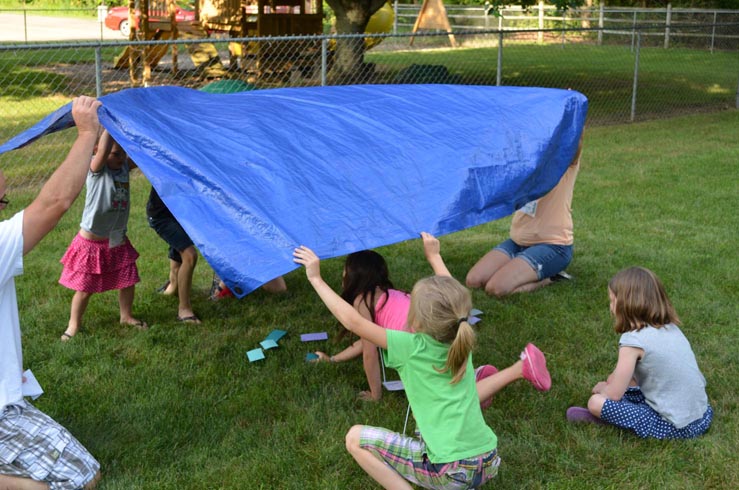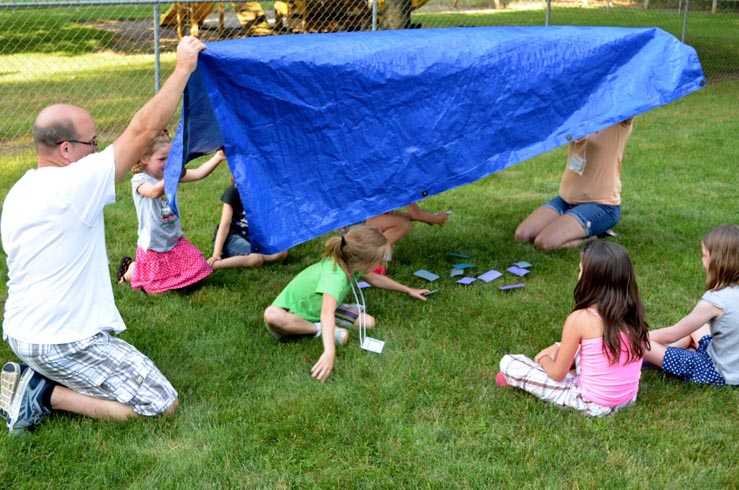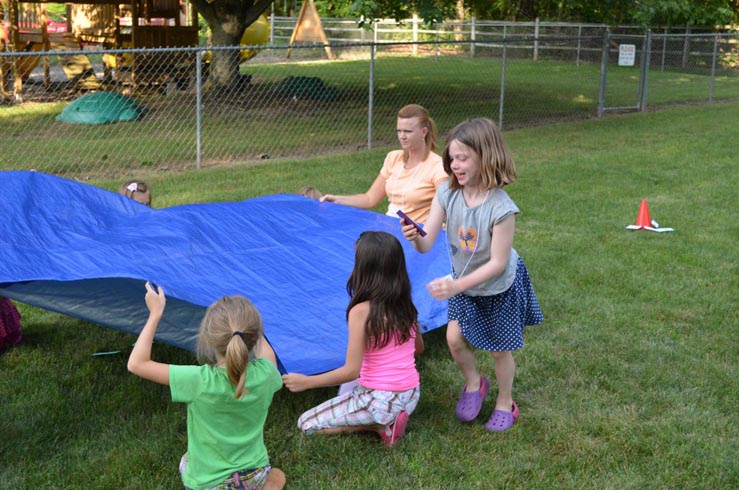 Rain brought the Games for Day 2 inside even though it looks like they had the perfect accessories for the wet day.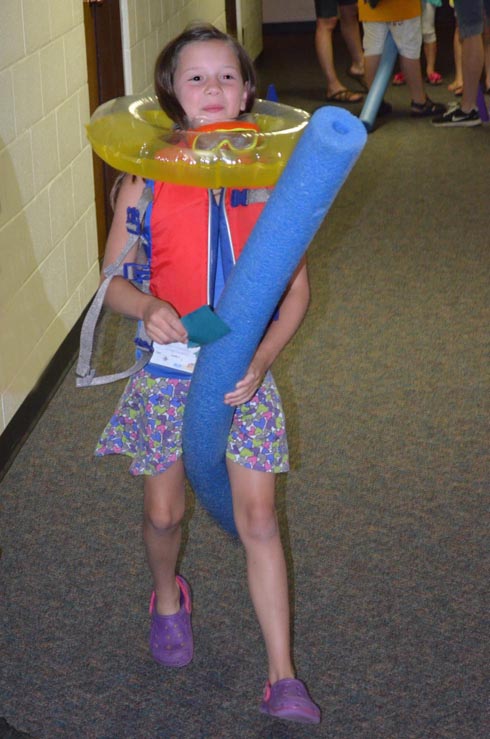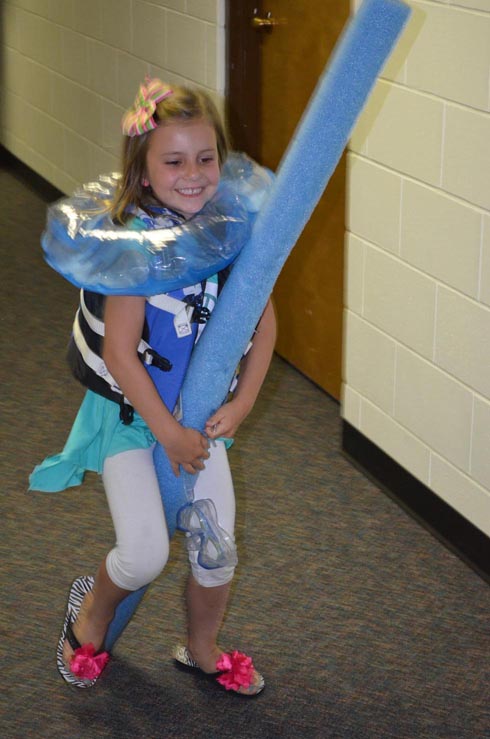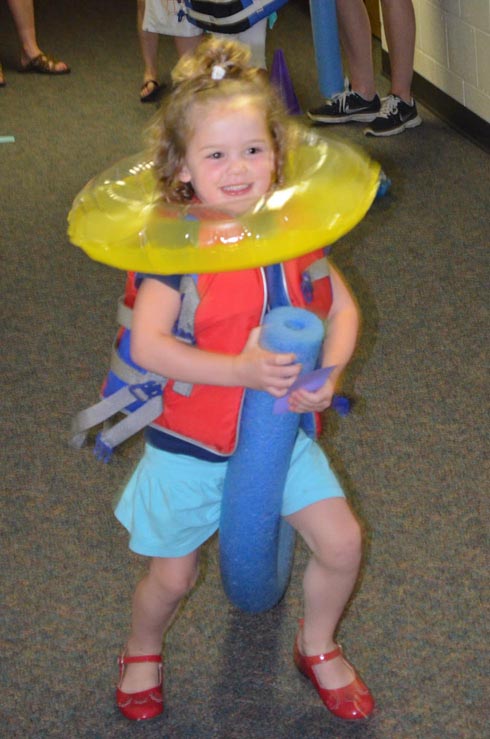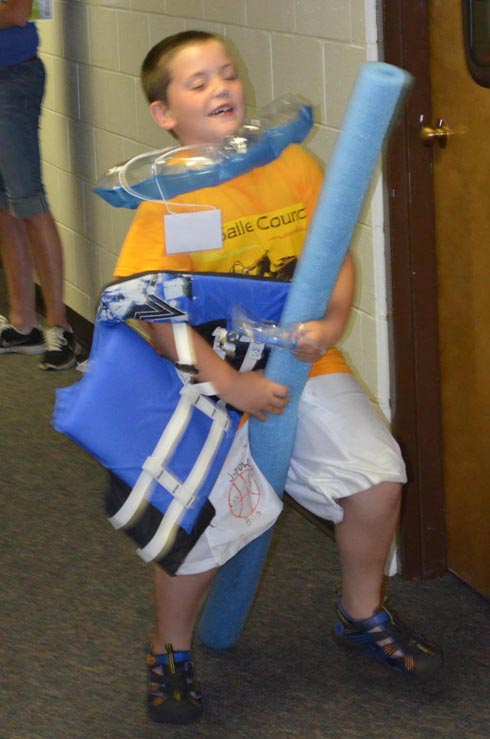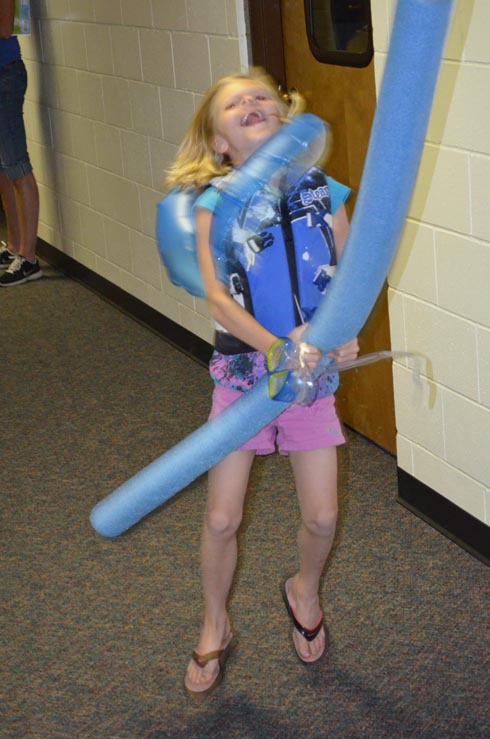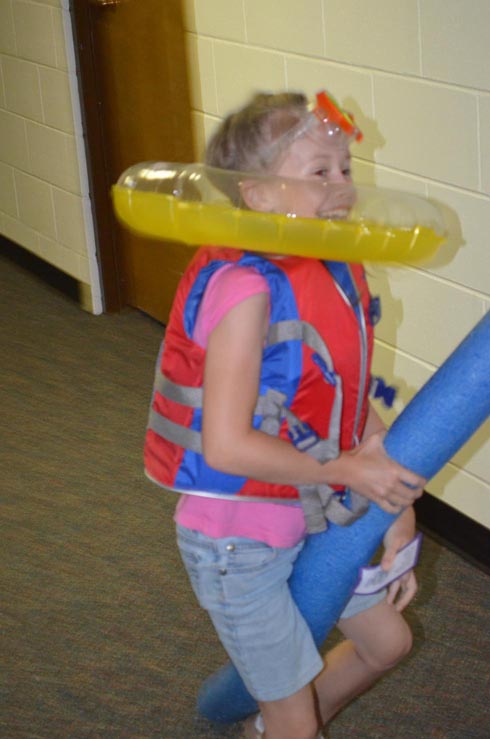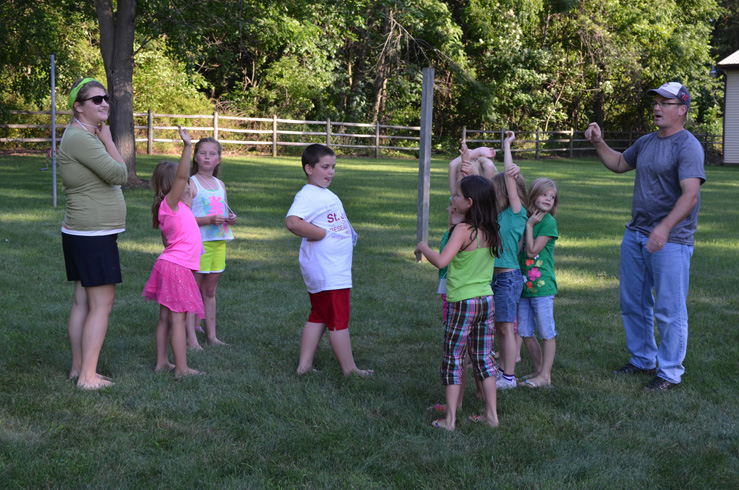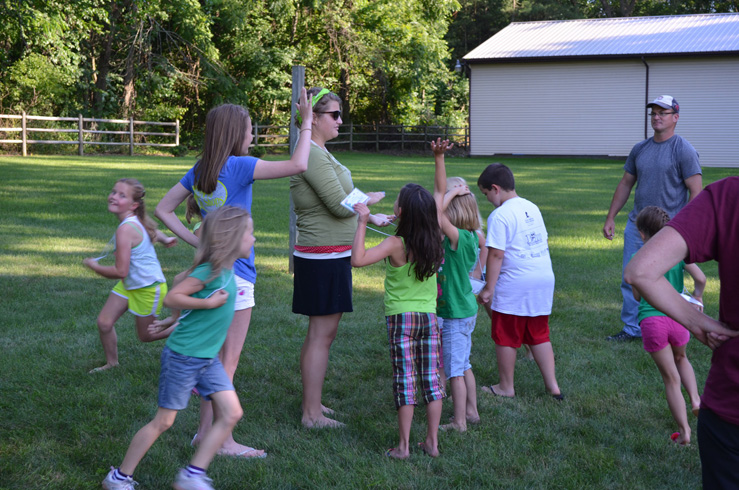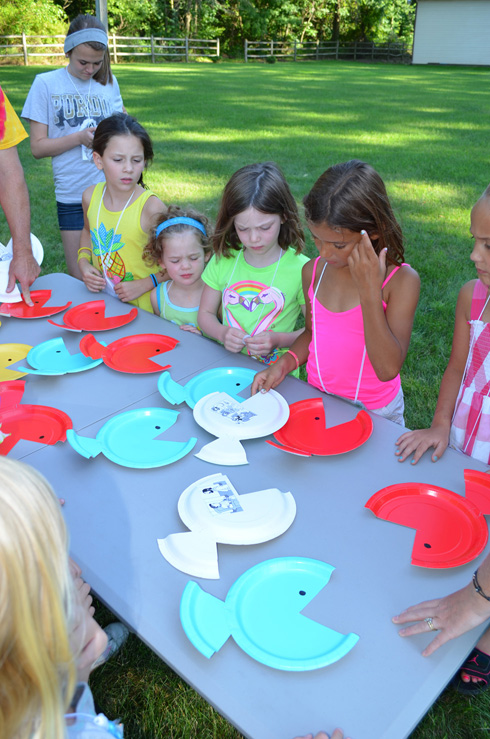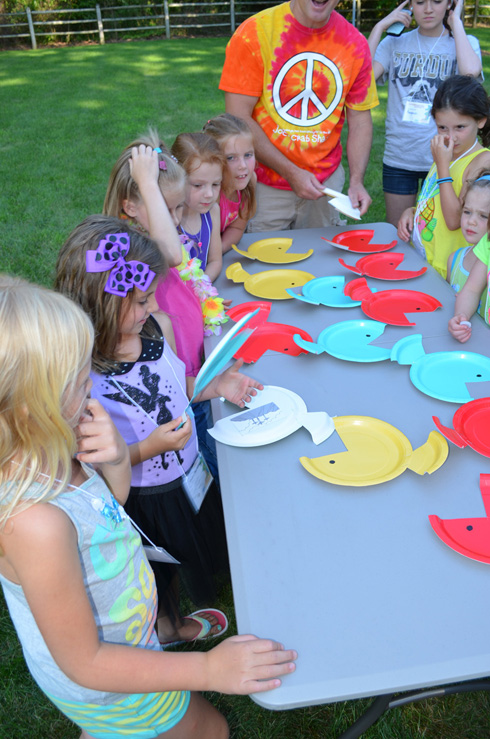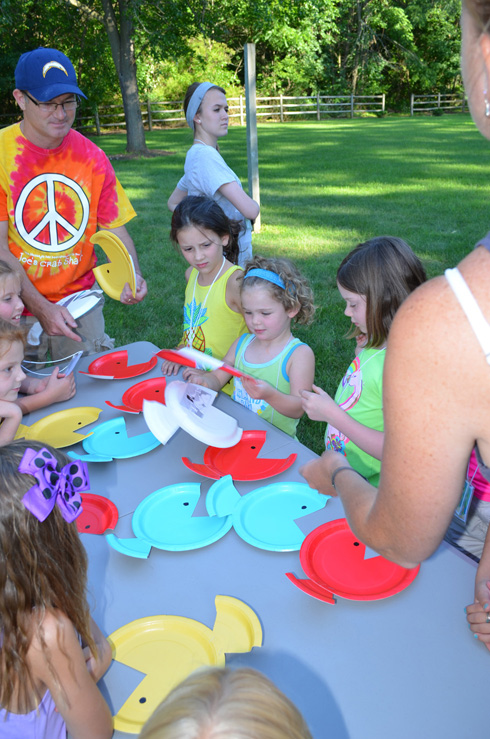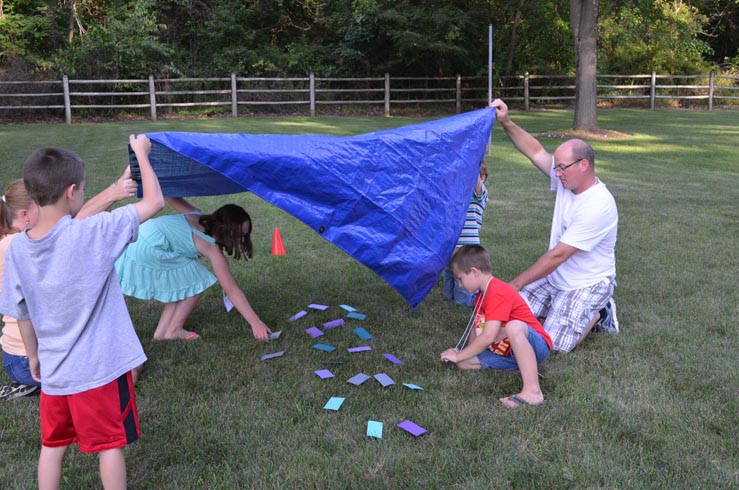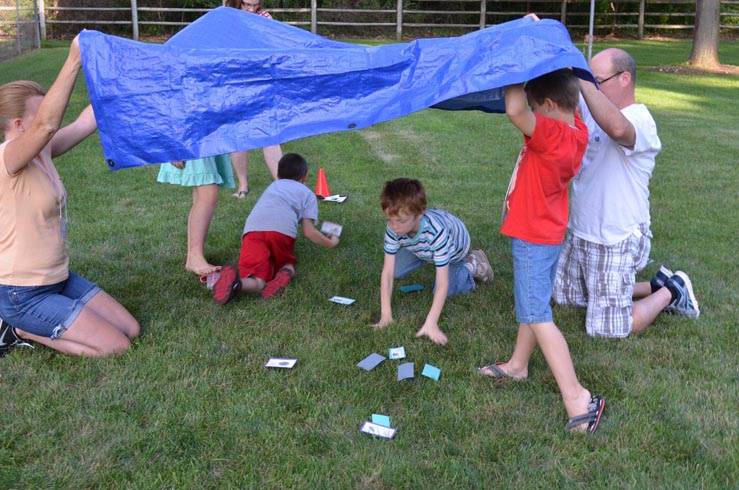 Sorting out the clues.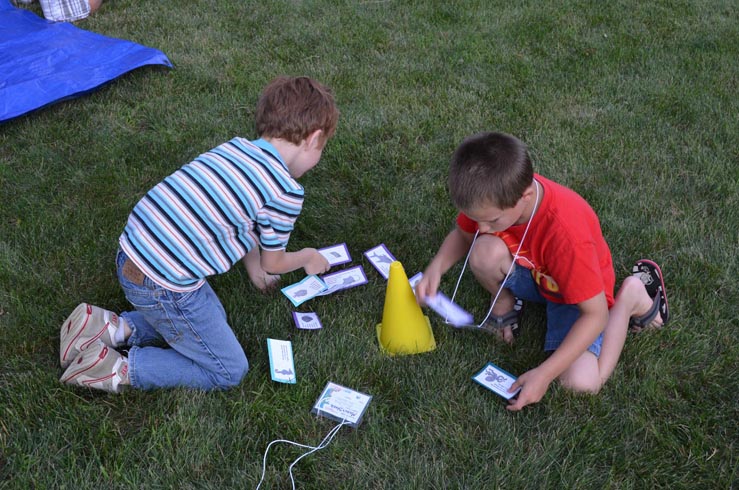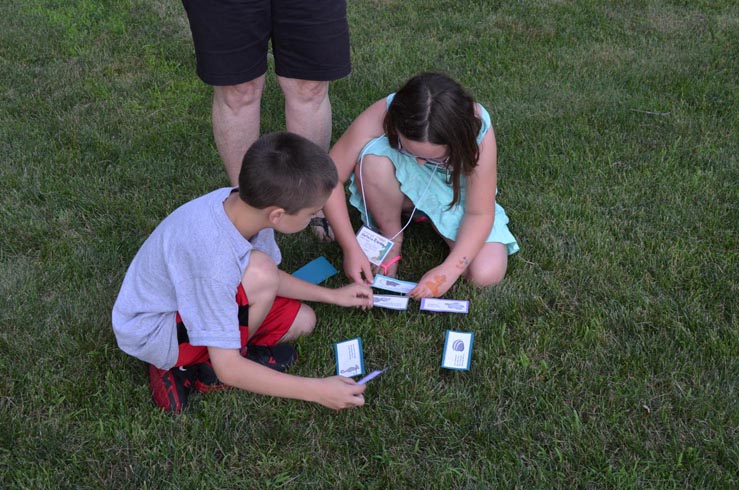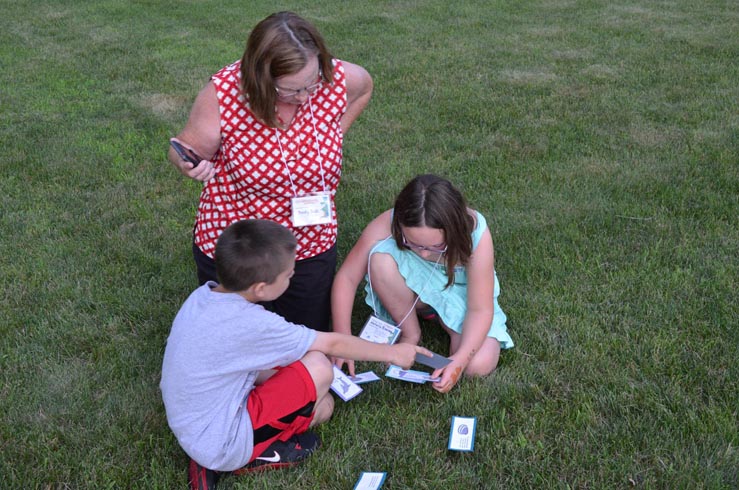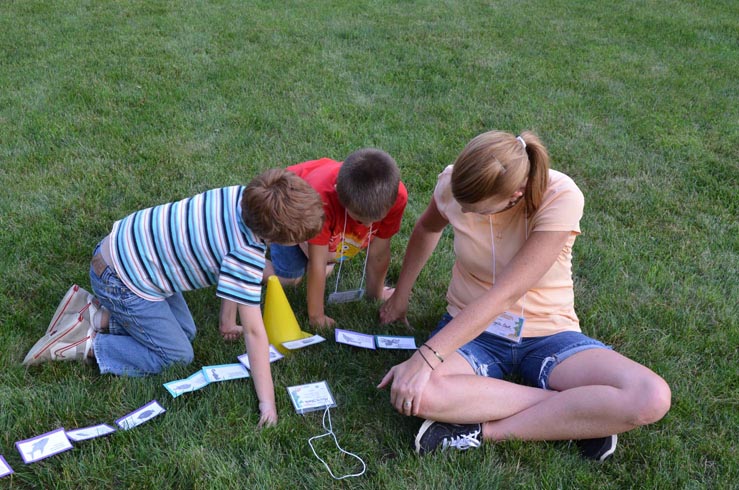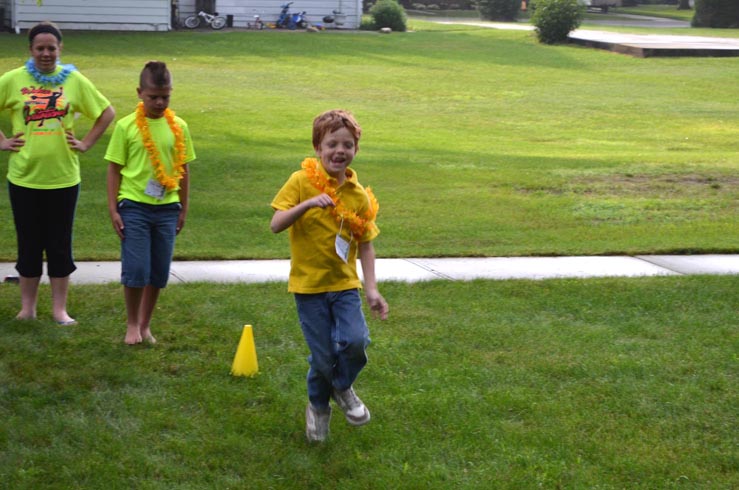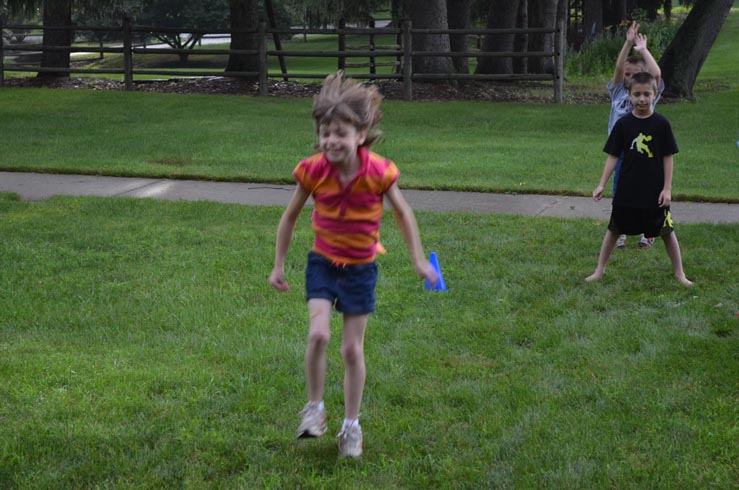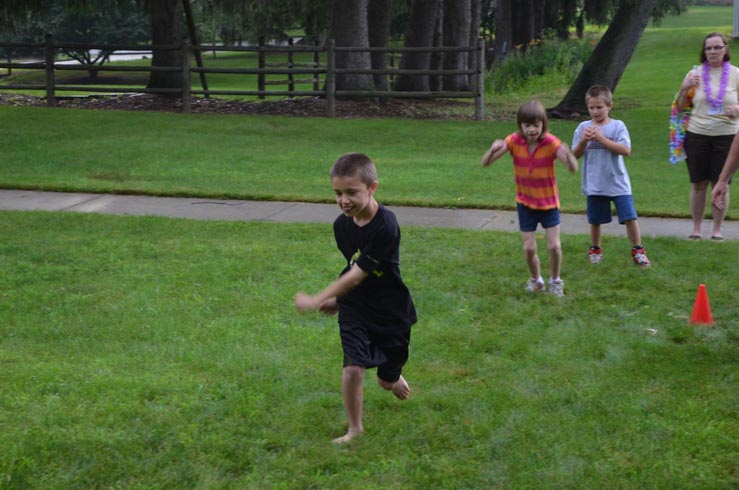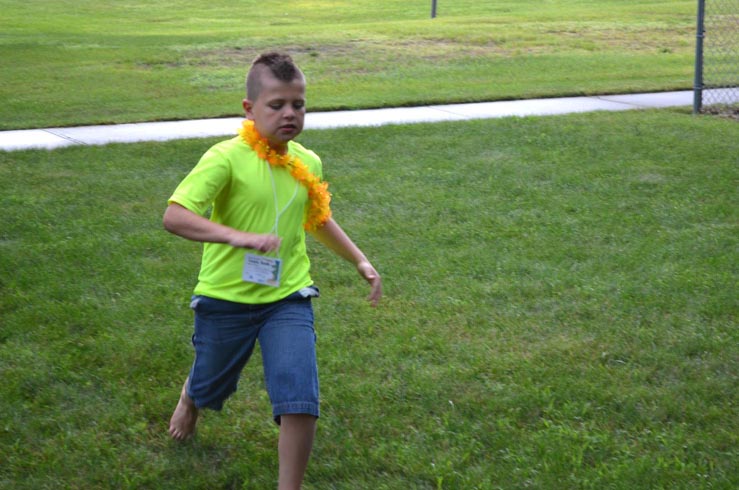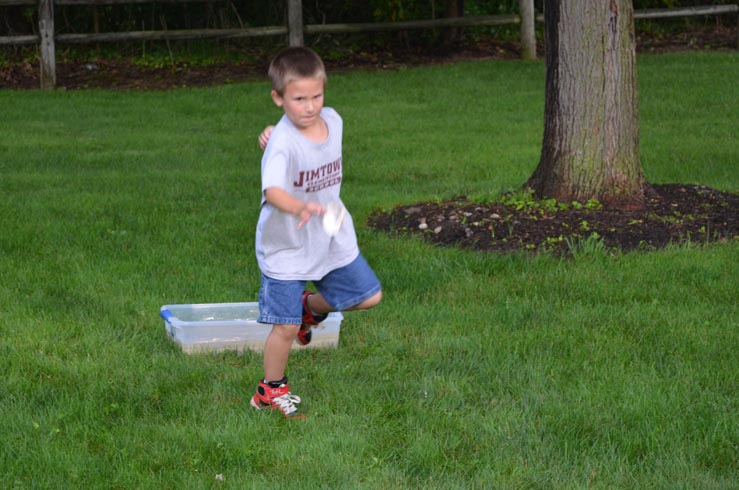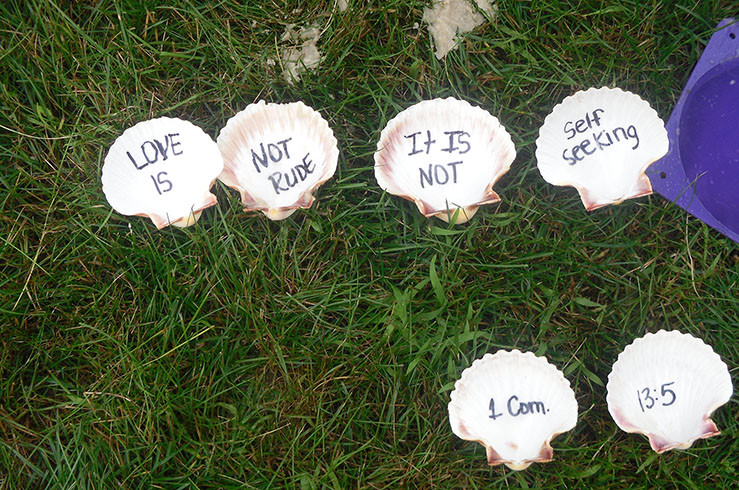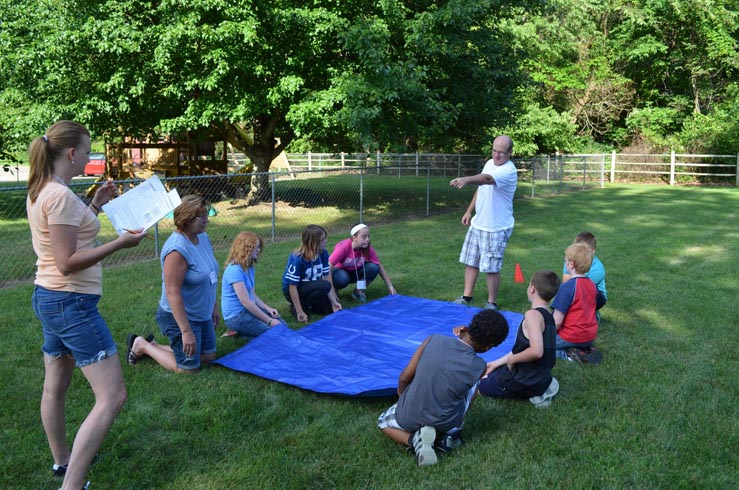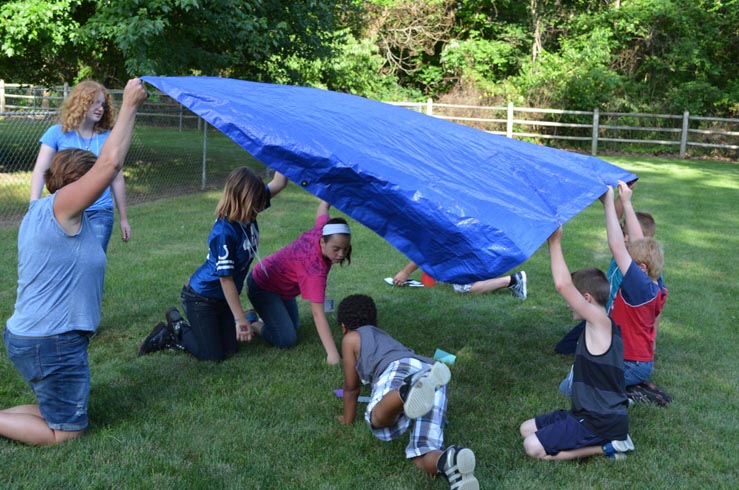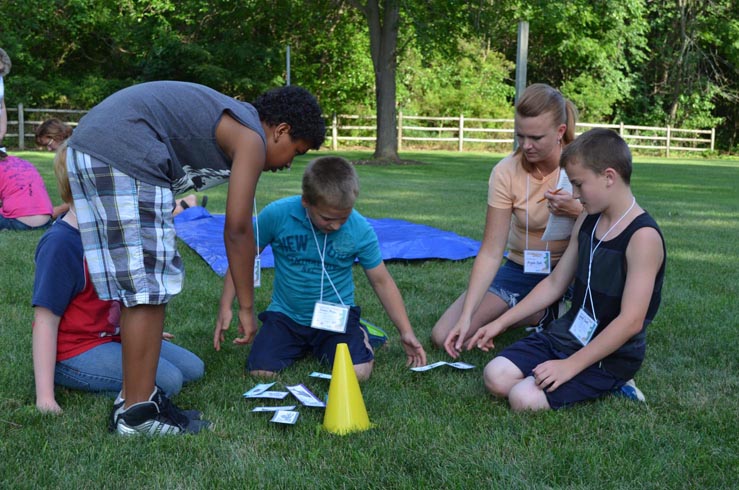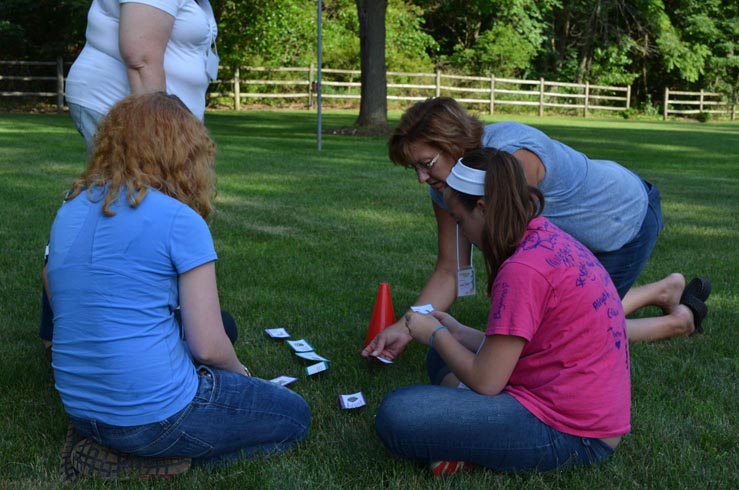 Rain takes the Games indoors today.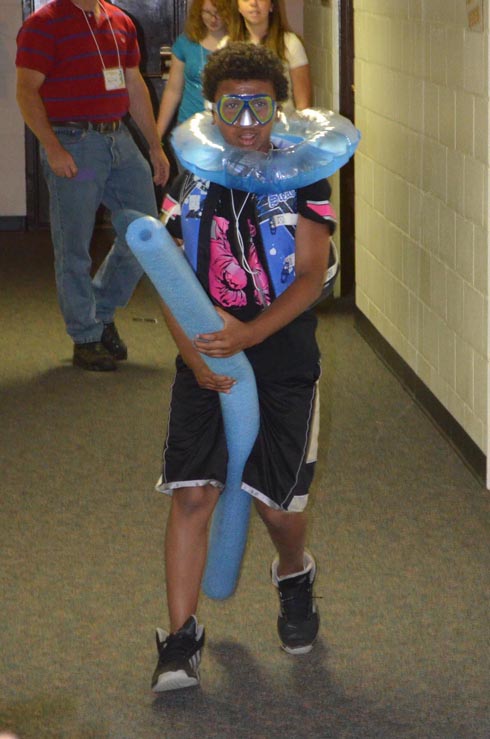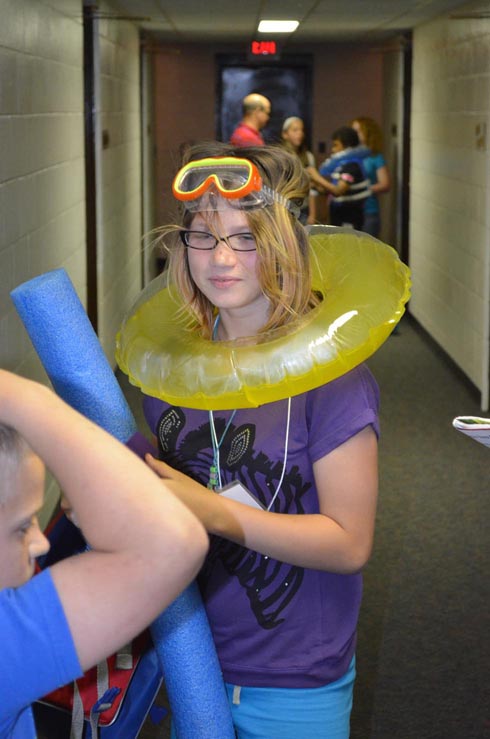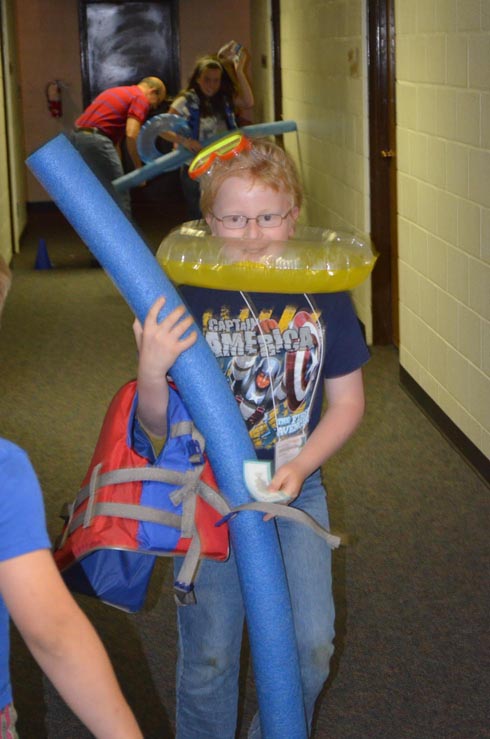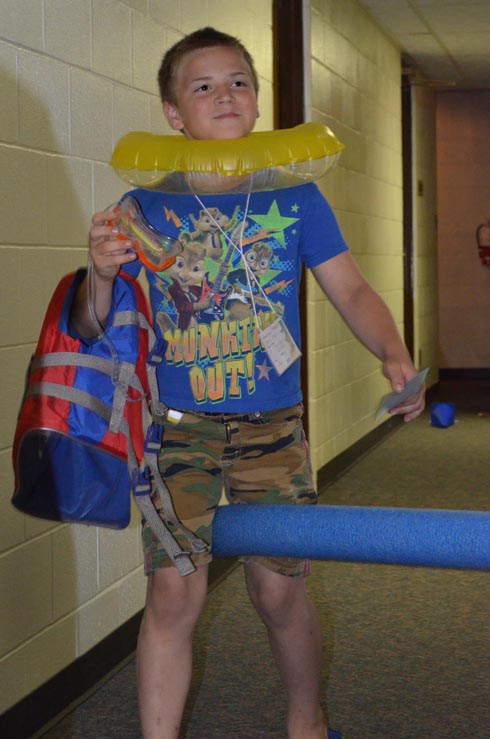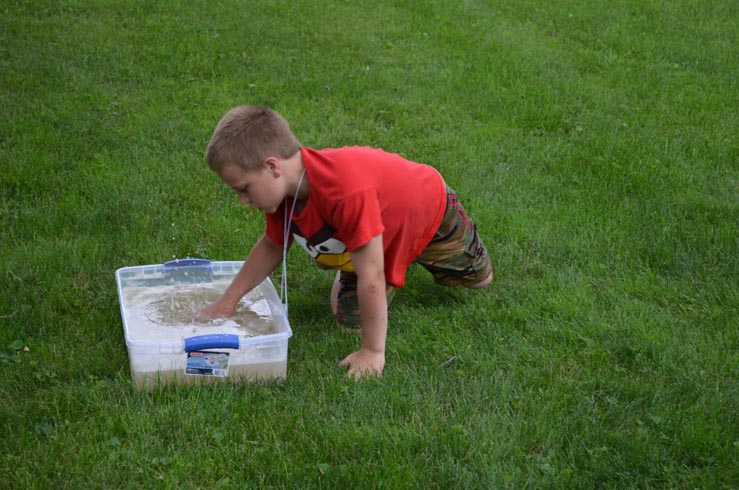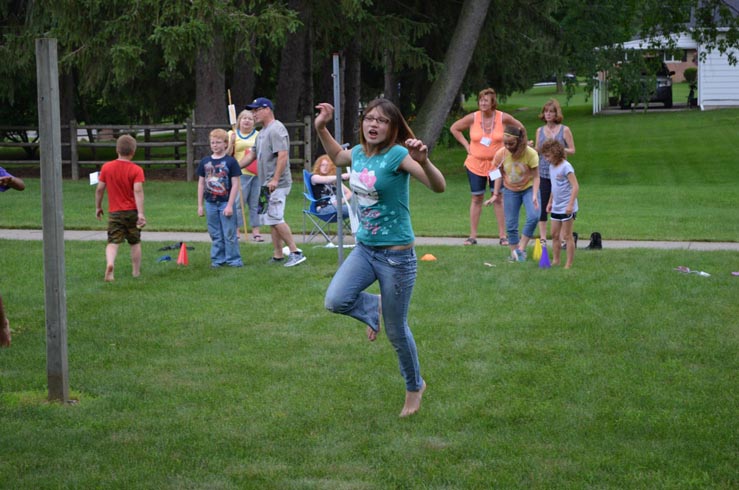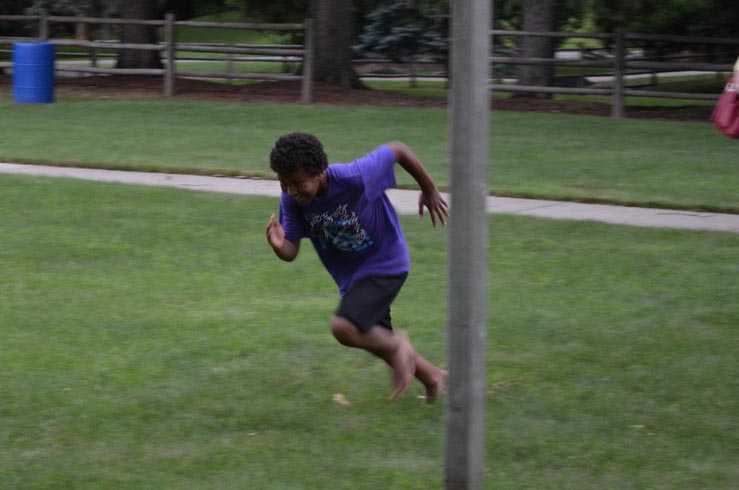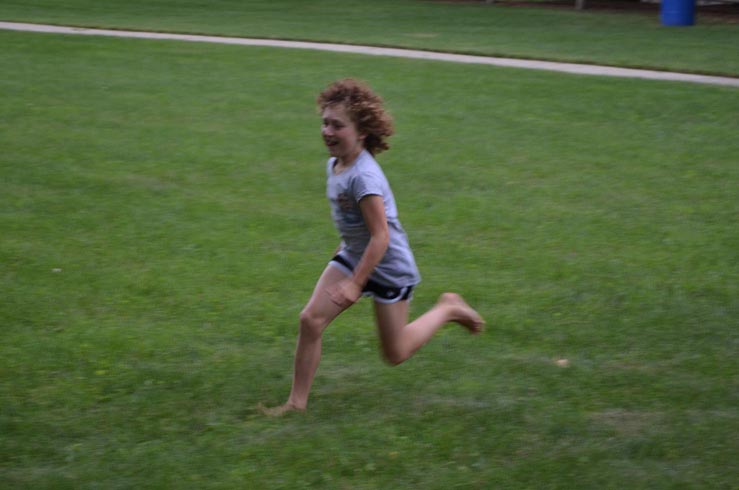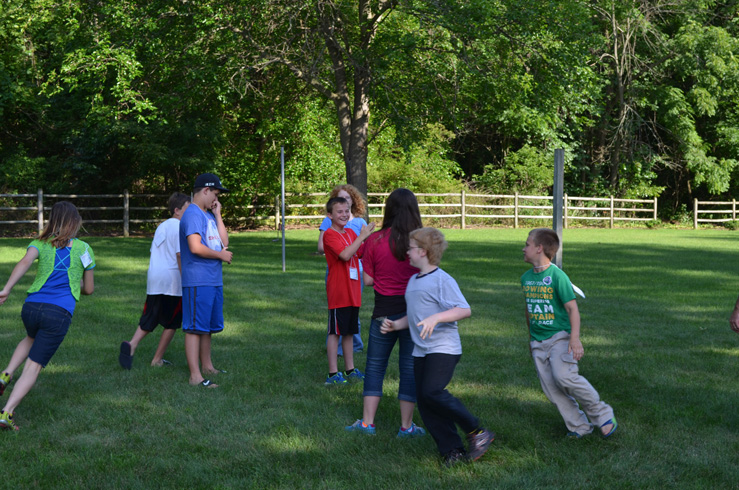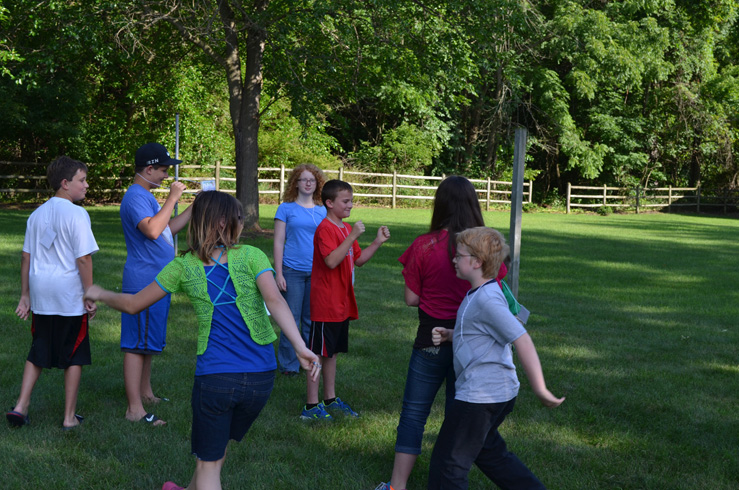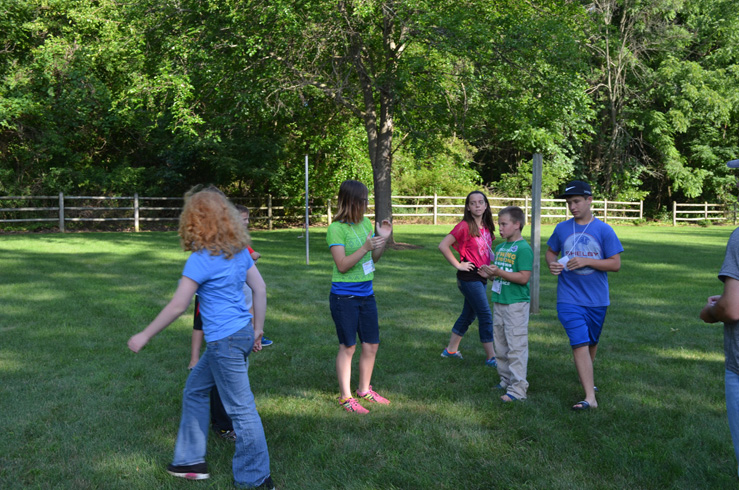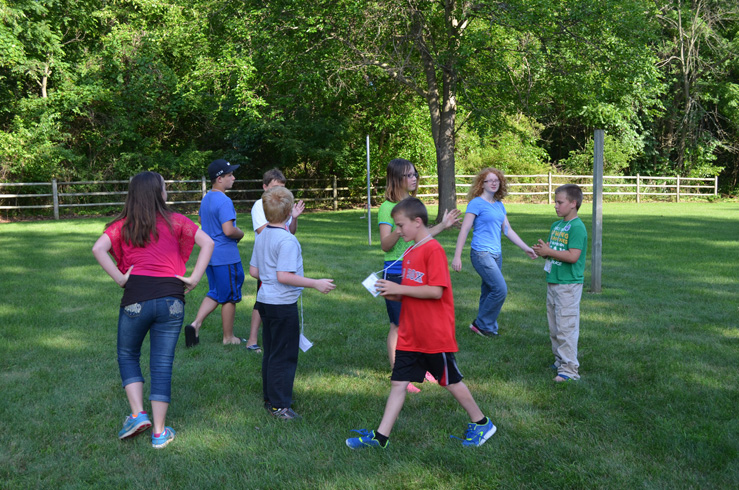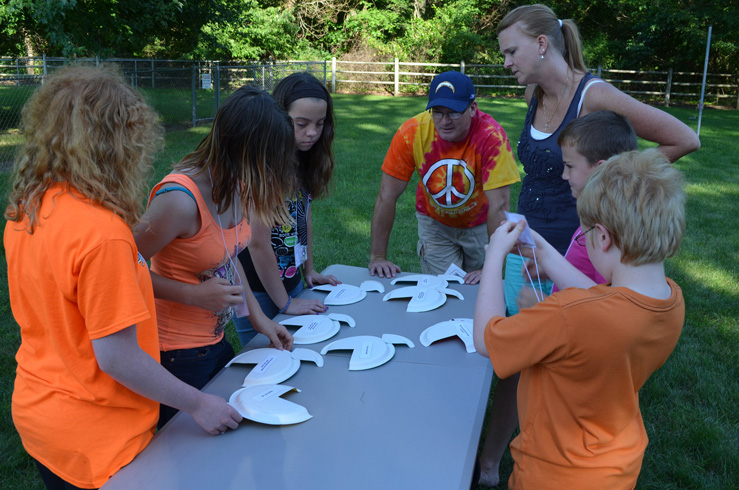 Story Time
The children went to Story Time to hear about God's Love
from a Shepard and a homeless man.
On Day 1, the Shepard tells the children of God's Love; how he loved us so much that he sent his son, Jesus, to take away the sins of man.
(Matthew 1:18-25, Matthew 3:1-14, Matthew 4:23-25, Luke 1:11-60, Luke 2:1-20)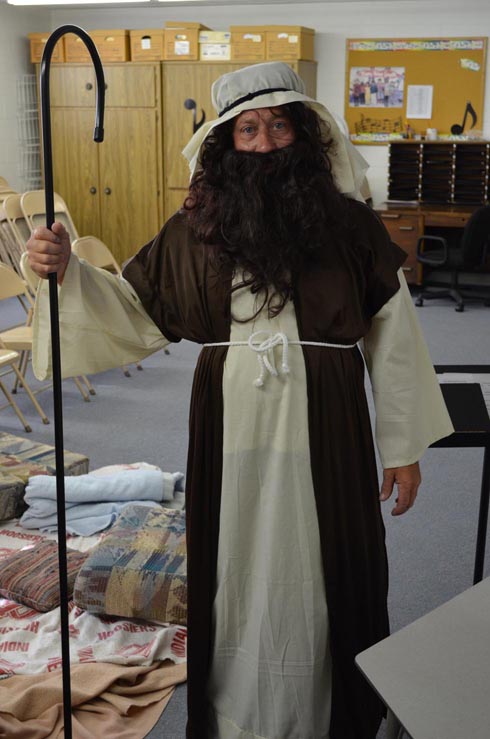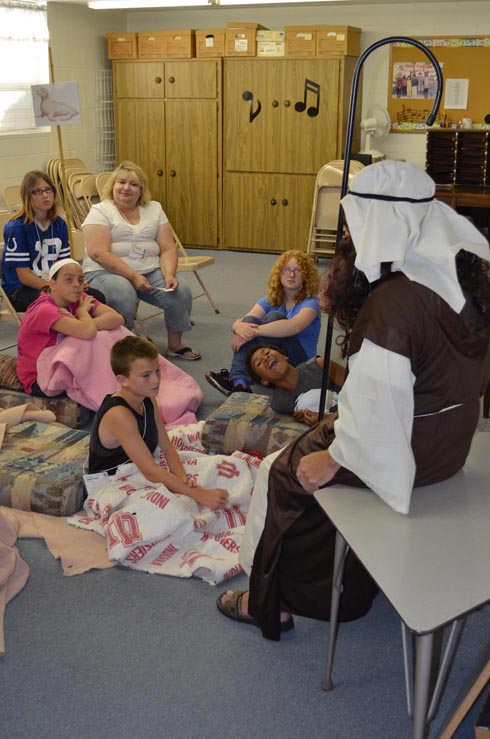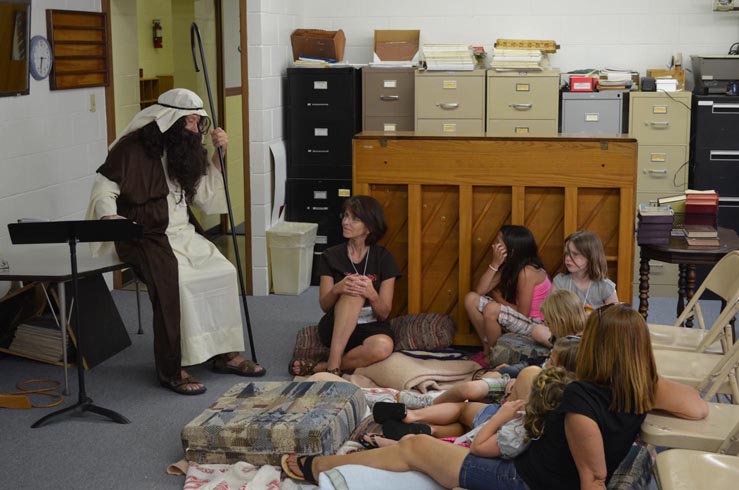 On Day 2, the Shepard showed the children how Jesus demonstrated God's patience and kindness to those he knew as well as to strangers.
Jesus helped a young girl and a sick woman.
(Matthew 9:18-26, Mark 5:21-43 & Luke 8:40-56)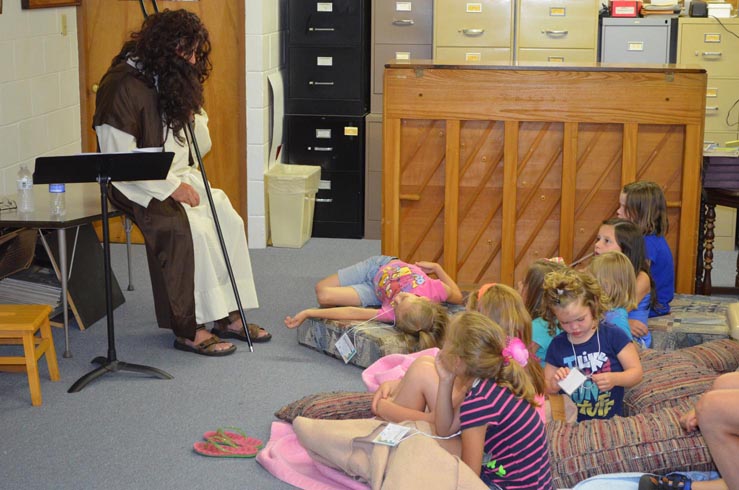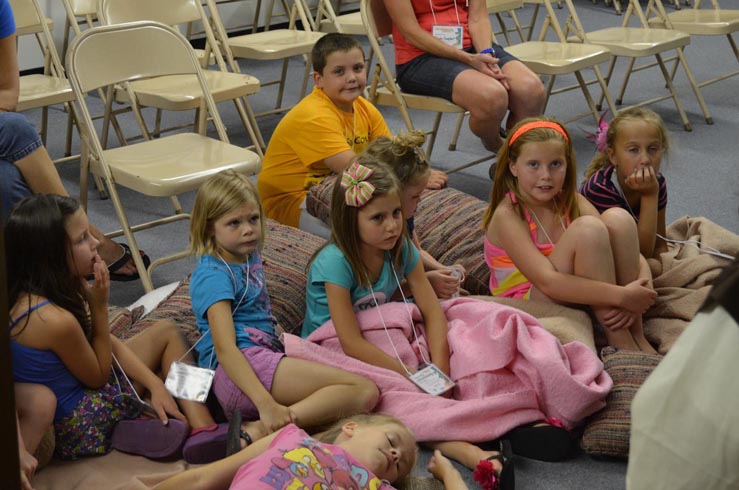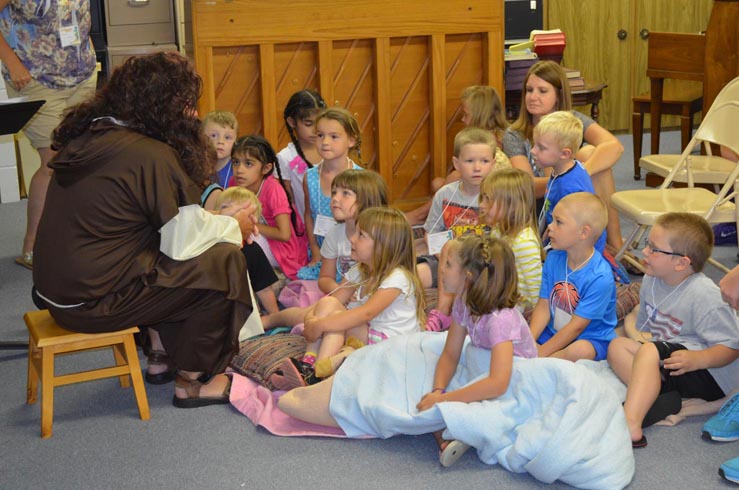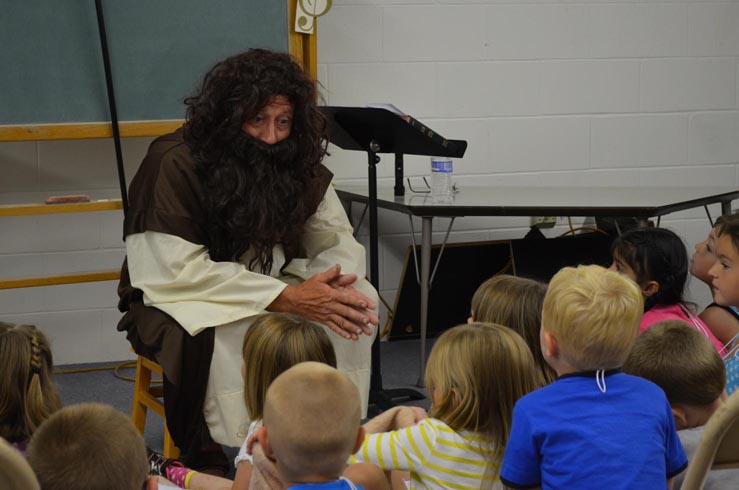 On Day 3, a homeless man told the children of how God's love is available to everyone.
He told the story from John 4:1-42 about how Jesus cared for a Samaritan Woman.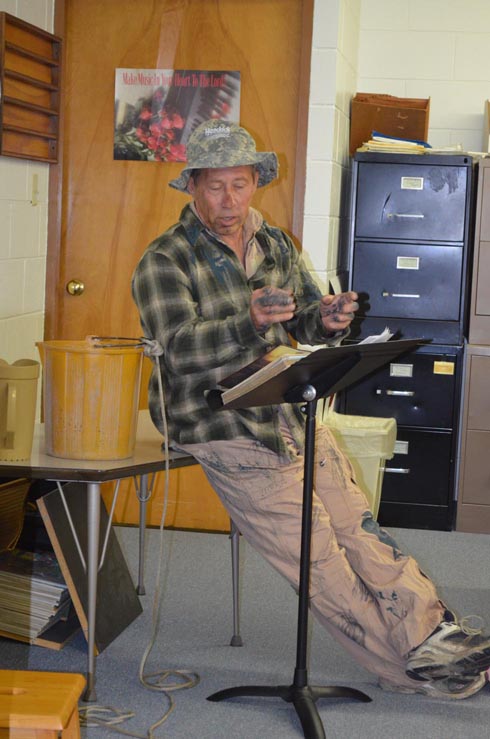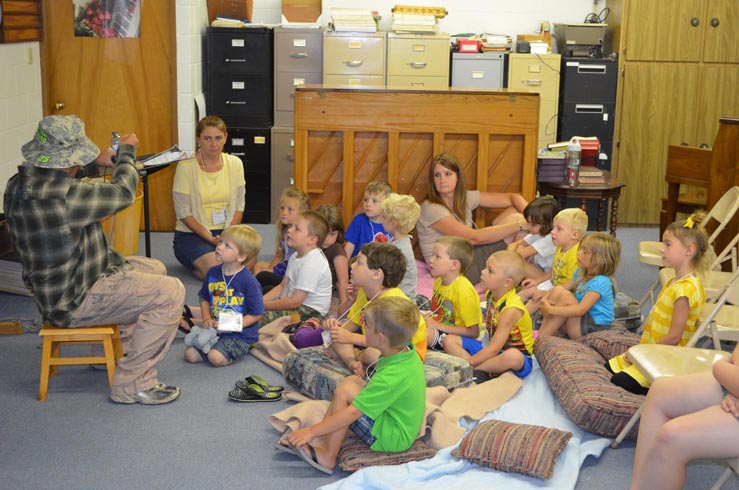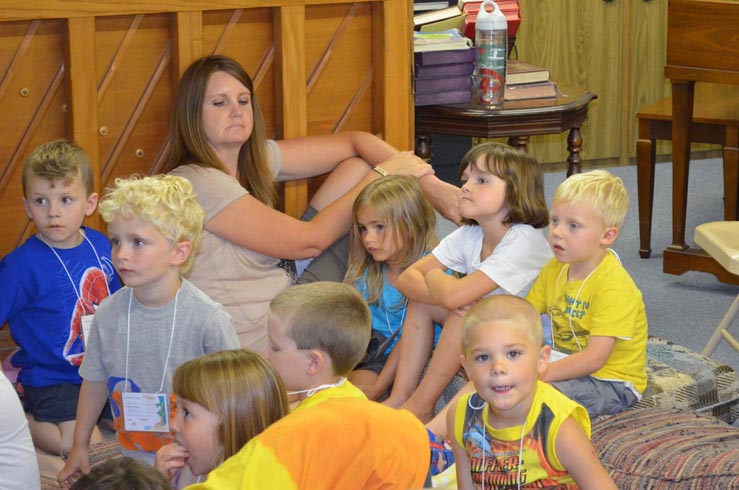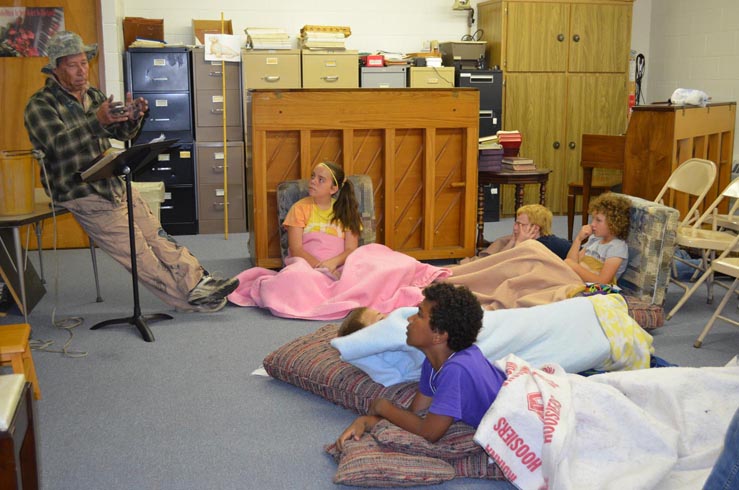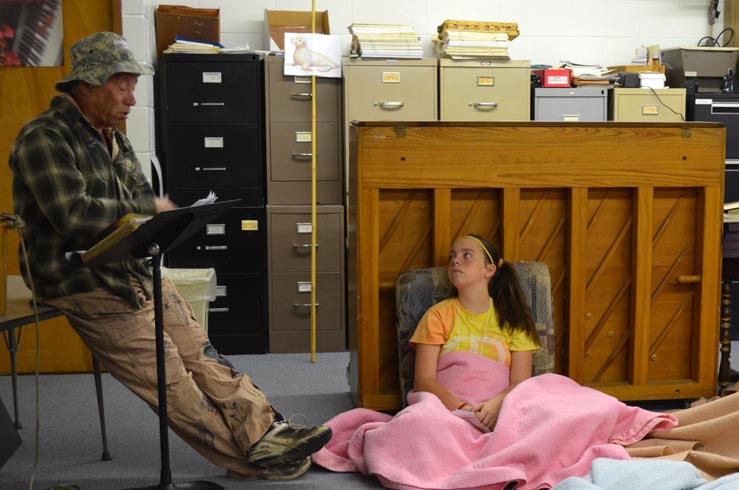 The Shepard returns on Day 4 telling of how Jesus showed Zacchaeus and shows to us that if we are truly sorry for the wrong things we do, God will forgive us.
(Luke 19:1-10)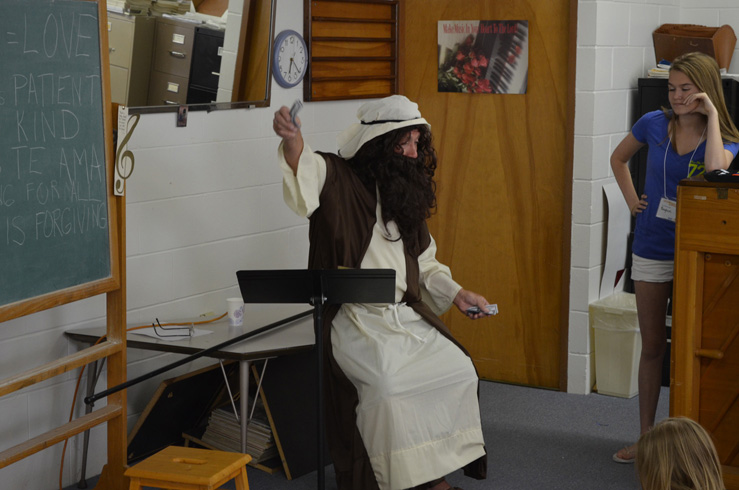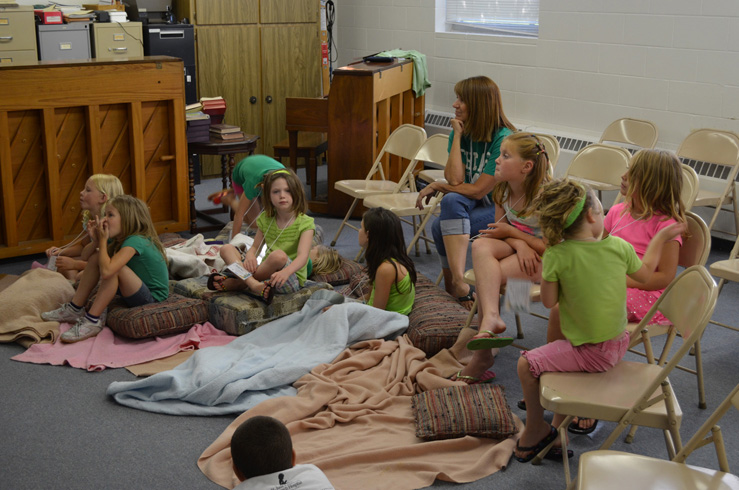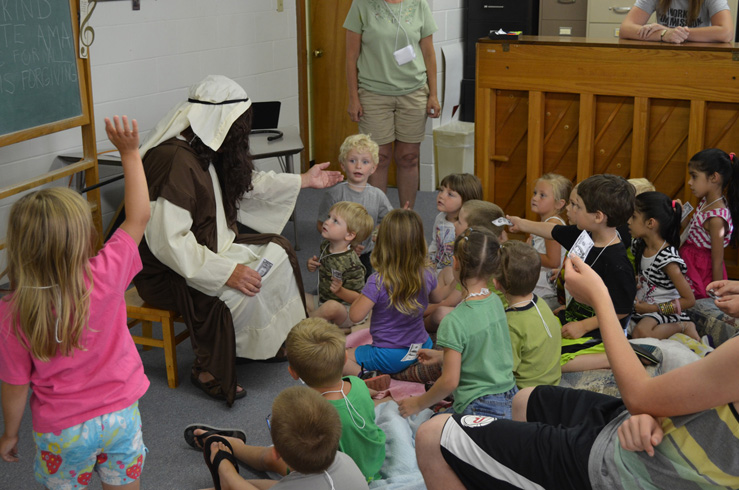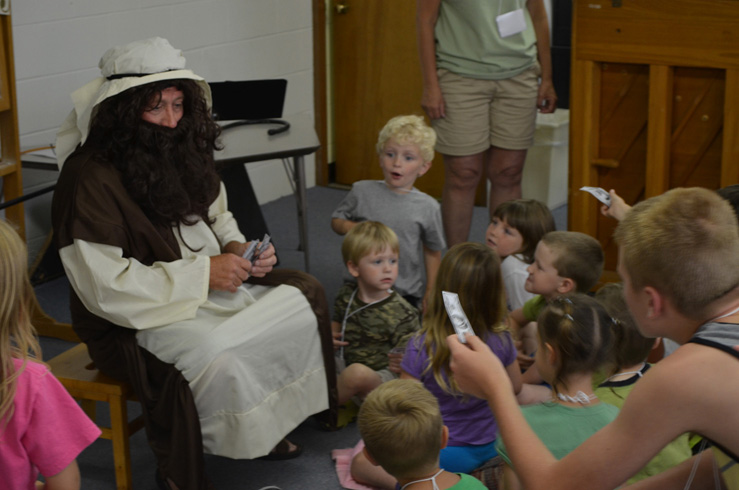 And on Day 5, the Shepard tells the children that although we do not see Jesus, he is still with us. Show love to others and believe in God and you can be a member of God's family.
(Mark 14:27, Mark 16:20, Luke 22:47, Luke 24:53, John 21:15-17)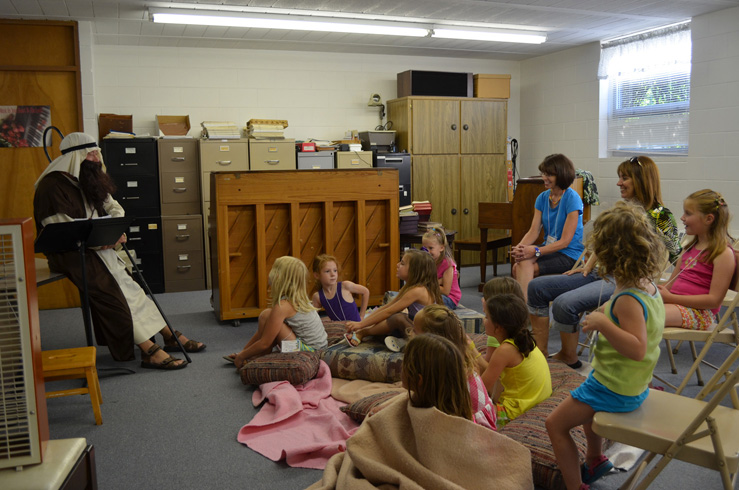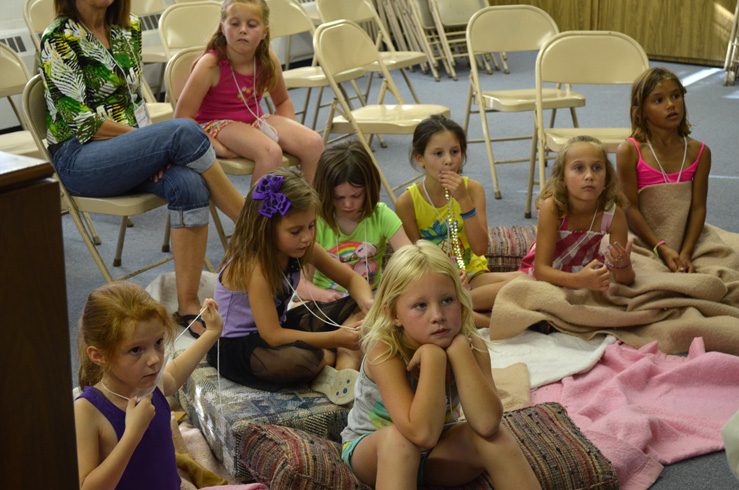 Program for Parents, Families and Friends
At the end of the last day, the children entertained their parents, families and friends with the songs they learned during the week.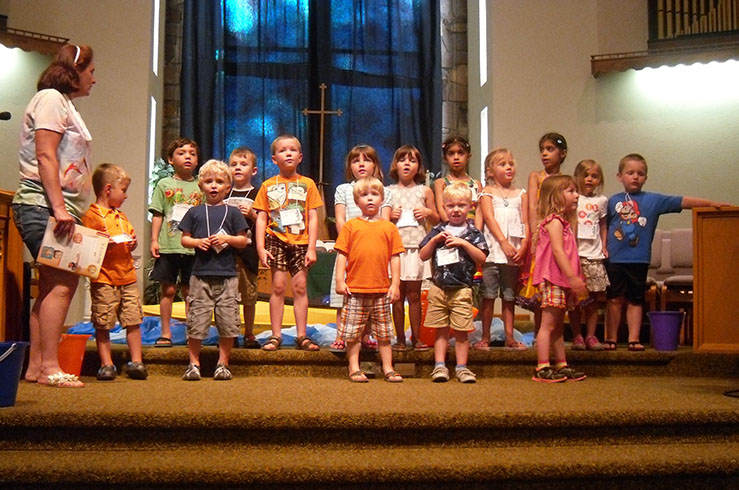 And then came the finale that the children enjoy most.
Earlier in the week the kids were asked to bring their friends and if the attendance on any night reached 44 children, then kids from each group would be selected to throw a cream pie in Maggie's face. If the attendance reached 55, then Pastor Paul would also be a target.

Well, the attendance didn't quite make it to 44 but being good sports, Maggie and Pastor Paul both agreed to do it anyway. In addition, Katie also volunteered to receive the pies.
The pies are ready!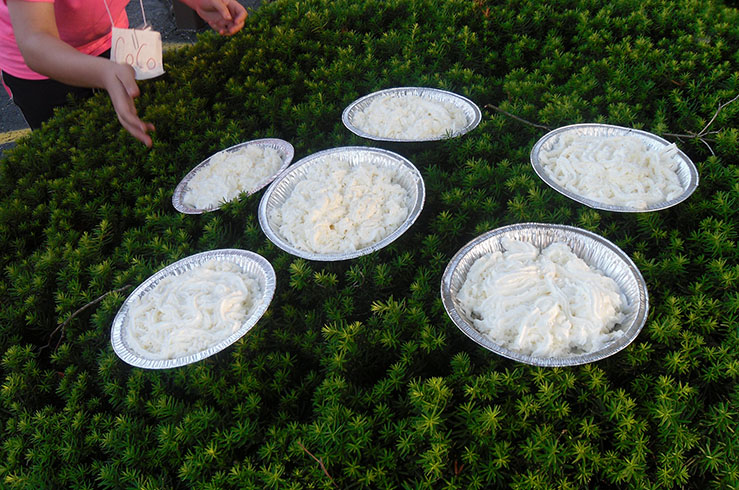 Two children were selected from each age group.
Katie's ready. Paul's ready. But wait! Where's Maggie?!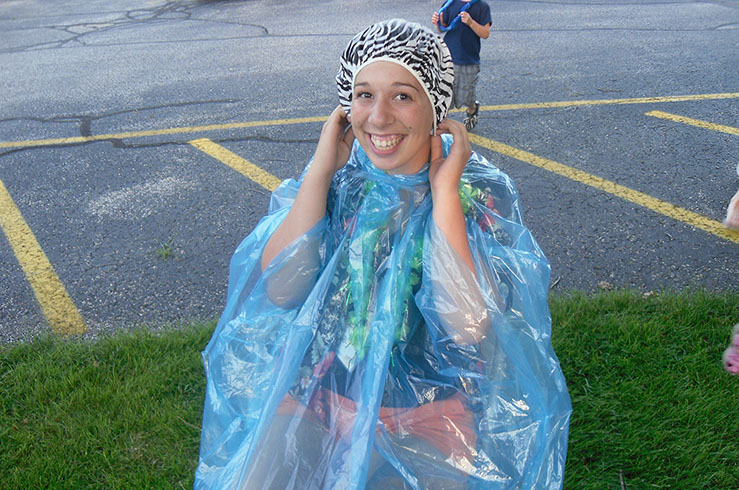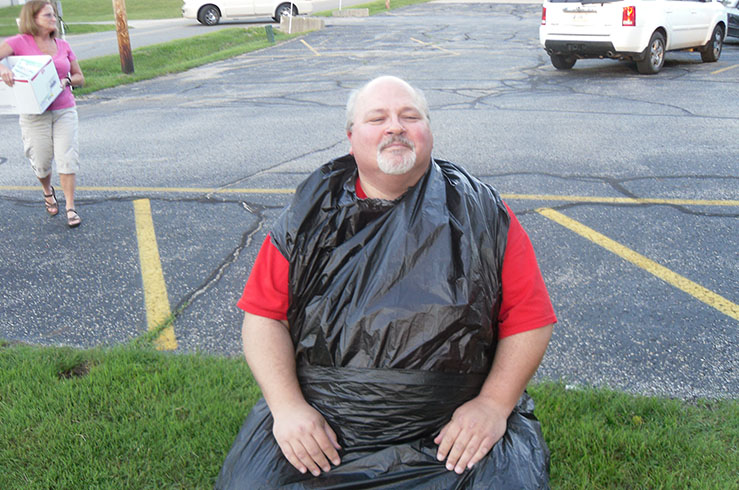 Oooh! She's already been pied!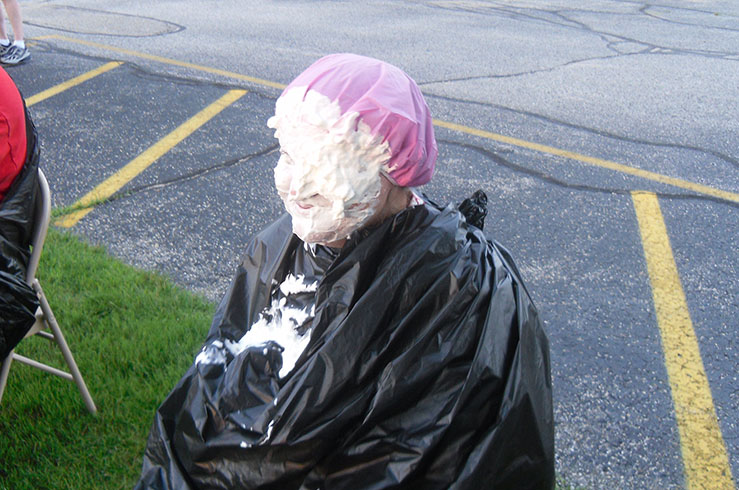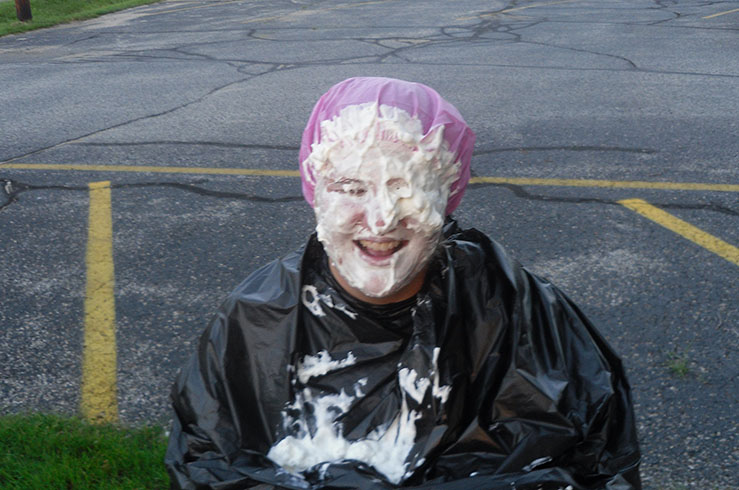 Katie, that must have been a very small pie!
Now that's more like it! And she's even smiling!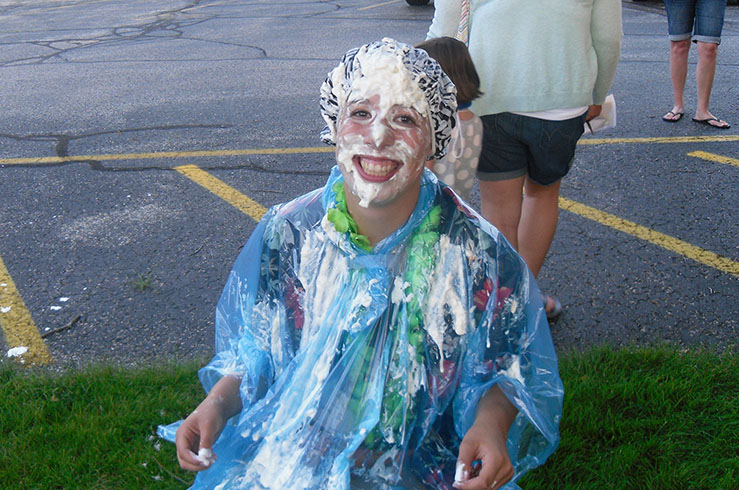 OK, Paul. Your turn!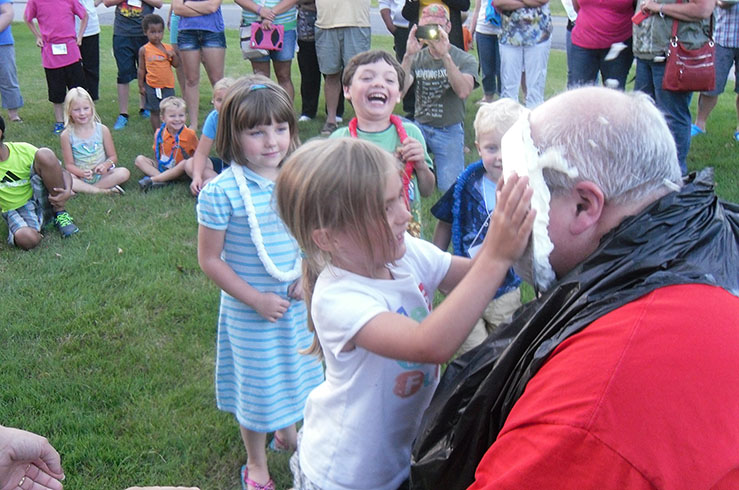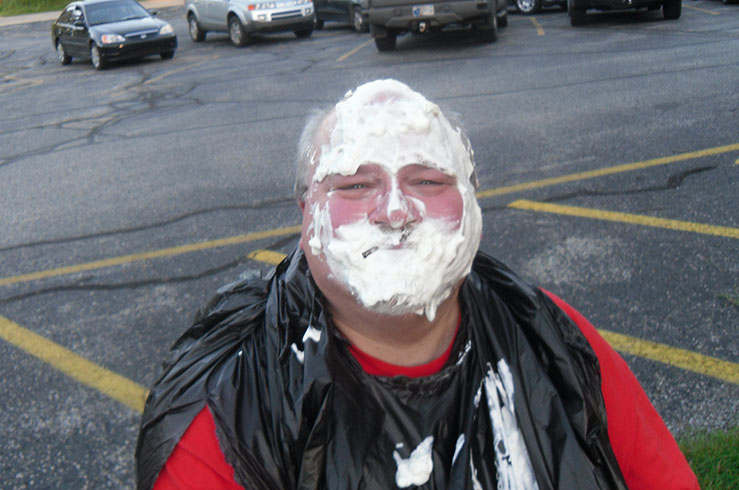 The second pie hits its mark! And the third! You asked for it, Paul!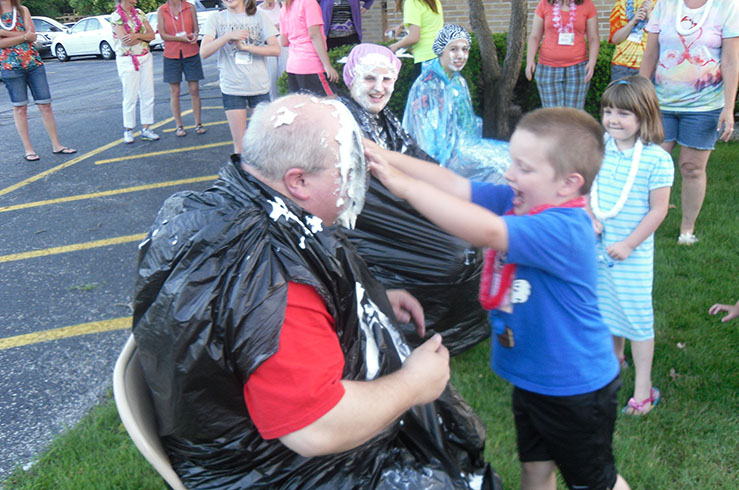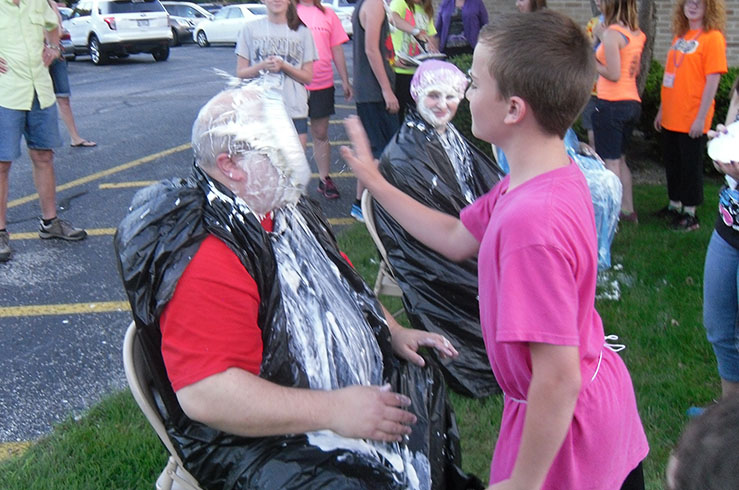 Now that was FUN, right kids?
Lord, we thank you for bringing these children to us & giving us the opportunity to teach them how about Your Love and how to be good Christians. Bless these young lives that they may grow to follow You & be good disciples. Amen.
Thank You!
Thank you parents for allowing us to teach your children during their time at VBS 2014, "SonTreasure Island". We hope their experiences during VBS will be a lasting memory that they will pass on to others so that they may understand God's Love.
Thanks to Pastor Paul, our VBS Director and to Maggie as Assistant Director
for the many hours they put in to making VBS a success.
VBS was also a huge success because of this list of outstanding volunteers that gave their time and energy to help with the children or other activities. They truly earned God's love.
Volunteers
Lana Berg
Kathy Hinegardner
Cindy Campbell
Linda Jenkins
Becky Buss
Gary Buss
Geneva Cook
Gail Greenlee
Angela Cook
Jim Eggleston
Rita Peat
Marcia Clark
Teresa Rogers
Roberta Mann
Jill Biller
Corina Aites
Pastor Paul Rogers
Becky Metcalf
Linda Snider
Tammy Sue Moore
Nancy Miller
Connie Starkey
Mark Cook
Marta Clark
Youth Volunteers
Abby Taylor
Paige Miller
Kaylee Poole
Carlee Miller
Katie Beron
Maggie Farwig
Micah Rogers
Jacob Koets
Mariah Rogers
Jacob Biller
Regann Cook
Alaina Williams
Abby Snider
Jacob Cook
Rachel Miller
Brandon Reamer
Cali Campbell
Every effort was made to include in this presentation, photos of each child that attended VBS.
Because of the many activities going on at the same time, it's possible that someone was missed and we apologize for that.
See you next year!!