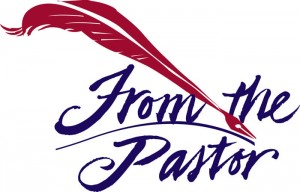 November, 2017
THANK YOU
I thank my God every time I remember you. In all my prayers for all of you, I always pray with joy because of your partnership in the gospel from the first day until now, being confident of this, that he who began a good work in you will carry it on to completion until the day of Christ Jesus. Philippians 1:3-6 NIV
One of the most significant things about November, for citizens of our country, is Thanksgiving. The historical significance of this holiday is remembering the gratitude of the pilgrims for God's provision through the first year of their living in America. When Andrea and I meet with our extended families for Thanksgiving we spend time in prayer thanking God for a variety of blessings.
We thank God for the bounty of the food we are about to eat (or are in the process of eating as people are prone to starting early with dessert or other snacks). Many times we thank God for family members including those who have gone on before us. At different times and in different circumstances, we can be thankful for a variety of things.
I am thankful for the church. I am thankful for the individuals who are a part of Jamestown United Methodist Church. I am thankful for those who invest in the life of the church by their prayers, their presence, their gifts, and their service. It would take quite a bit of space to highlight all of these areas, so let me choose two.
I am thankful for those who pray for the church. Some people have been active in attendance and service in the life of the church in the past and are not as able to do so now. We have several people who are not able to attend, but they continue to pray for the church. It is always encouraging to hear that people have been praying for their church even though they can no longer regularly attend worship. I am thankful for their prayers and for the prayers of all who pray for the ministry carried on here.
I am also thankful for those who invest in the life of the church through their service. There are a number of people who serve the church in a variety of ways. Some serve on the council or different committees. Others serve by helping with a variety of tasks including visiting people, working on the church building and grounds, or helping with a project or a gathering at the church. There are several people who serve in the church on Sunday mornings, including choir members, ushers, acolytes, sound and video technicians, fellowship servers, greeters, communion stewards, and the list goes on and on.
I may not say it often enough, but thank you – every one of you – for your investment in the life of the church.
May you be blessed by all the ways you invest in the kingdom of God. I thank God for you! Thank You!!
Sincerely,

© 2011-2017, All Rights Reserved